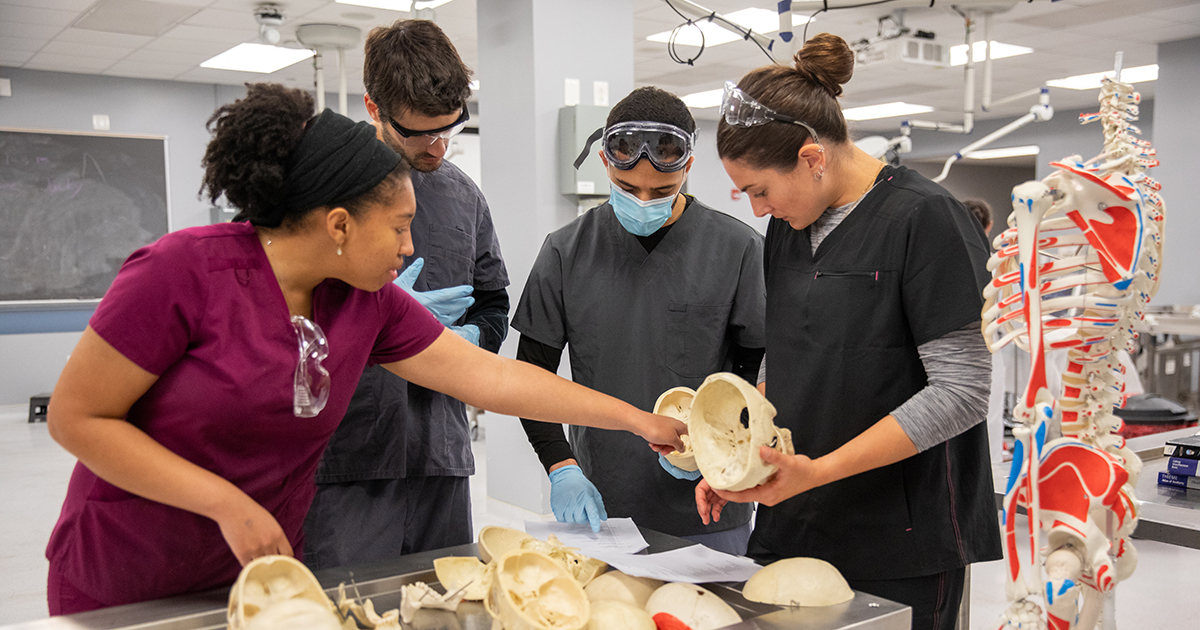 CHS Class of 2023 Spotlight: Kinesiology & Applied Physiology
May 24, 2023 Written by Amy Cherry | Photos by Ashley Barnas
We're honoring the Class of 2023 by shining the spotlight on some of the best and brightest graduates from the Department of Kinesiology and Applied Physiology in the College of Health Sciences.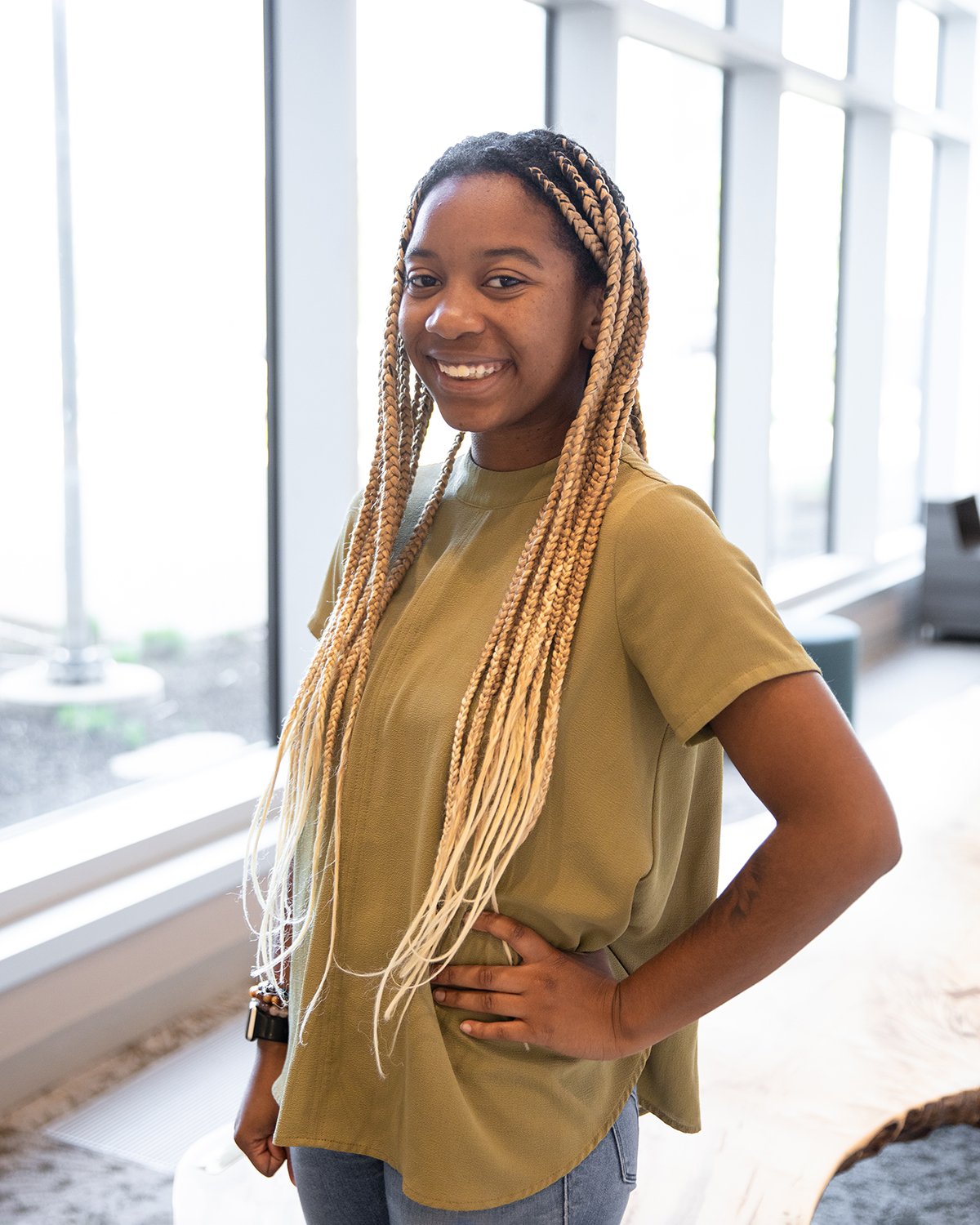 Makenna Dixon | Exercise science major
Three words to describe UD CHS experience: Innovative. Self-discovery. Memorable
Makenna Dixon chose the University of Delaware because of its top-ranked educational programs, but it was UD's undergraduate research opportunities that sealed the deal.
"Not a lot of universities have a variety of research opportunities or experiences for undergraduates, and I've always had a curiosity for research," she said.
Since she was a freshman, Dixon has been highly engaged in the Sensorimotor Control and Robotic Rehabilitation Research Laboratory, working closely with Dr. Jennifer Semrau, assistant professor of kinesiology and applied physiology (KAAP).
"We look at different types of sensory-motor control components and behaviors within the stroke population using technology-based assessments," she said. "We use a KINARM exoskeleton robot to assess upper-limb impairment in that population."
Conducting research has taught Dixon about patience and enhanced her interpersonal communication skills; she also learned about coding.
The exercise science major is off to Washington University St. Louis, where she will be enrolled in the school's dual Doctorate of Physical Therapy (PT) and the Ph.D. in Movement Science.
"There, I'll be able to be a clinician but also a researcher and can apply what I've learned in the clinic to my research and determine different rehabilitative treatments that should be further investigated or determine whether there are better avenues to help different populations in the clinic.
She was inspired to enter the physical therapy field in high school when she accompanied her mother to PT appointments for treatment of arthritis.
"I saw a lack of diversity within the healthcare field, especially in physical therapy. So, I really wanted to pursue this career because I find it to be fun, but I also want to diversify the field and find different initiatives to provide knowledge for individuals of color, especially women, to have opportunities to pursue their dreams in healthcare."
During her junior year, she took the Physical Therapy Practicum class and spent 50 hours in UD's Physical Therapy Clinic. That experience and her rigorous coursework prepared her for the next step in her journey. One valuable lesson she'll take with her on the next stop on her journey:
"There's no one way to rehabilitate someone. You must get to know them and understand them to determine their best course of treatment," she said.
She also loves the feeling of helping someone recover.
"A lot of student-athletes come through the sports and orthopedics side of the clinic. Seeing their progression across the semester was pretty cool," Dixon said. "They couldn't do certain exercises or move their joints at all, and by the end, they can do it, and they're so happy and relieved to not have any pain. It's such a great feeling to help individuals and allow them to do what they love outside the clinic."
During her time at UD, Dixon traveled to Barcelona, Spain, for the International Healthcare Practicum study abroad experience over Winter Session in 2023, led by College of Health Sciences Dean William Farquhar, and Thomas Buckley, assistant professor of KAAP. She called it an eye-opening experience that encouraged her to spread her wings as she heads to the Midwest this fall.
"We took classes in exercise physiology and met with athletic trainers, physical therapists, and Olympians," she said. "I learned so much. The techniques they use in rehabilitation there are very different."
Dixon played soccer for 12 years but chose her career over collegiate athletics, knowing she'd be relegated to play for a Division II school. For fun and stress relief, she's a member of the UD Women's Club Rugby.
"Rugby is an intense sport, but it's a lot of fun to take your aggression out on the field. But also, it's a sisterhood and a great other community and avenue for individuals of different backgrounds and majors to connect."
She called her time here at UD "memorable, innovative, and full of self-discovery."
"The courses were challenging, but I had great professors and mentors help me along the way," she said. "Being involved in different extracurriculars has been another rewarding experience that allowed me to de-stress from school and perfect other skills.
"UD has been a great experience for me to learn about who I am and whom I want to be for my future self; it's allowed me to grow in many ways I didn't know I could."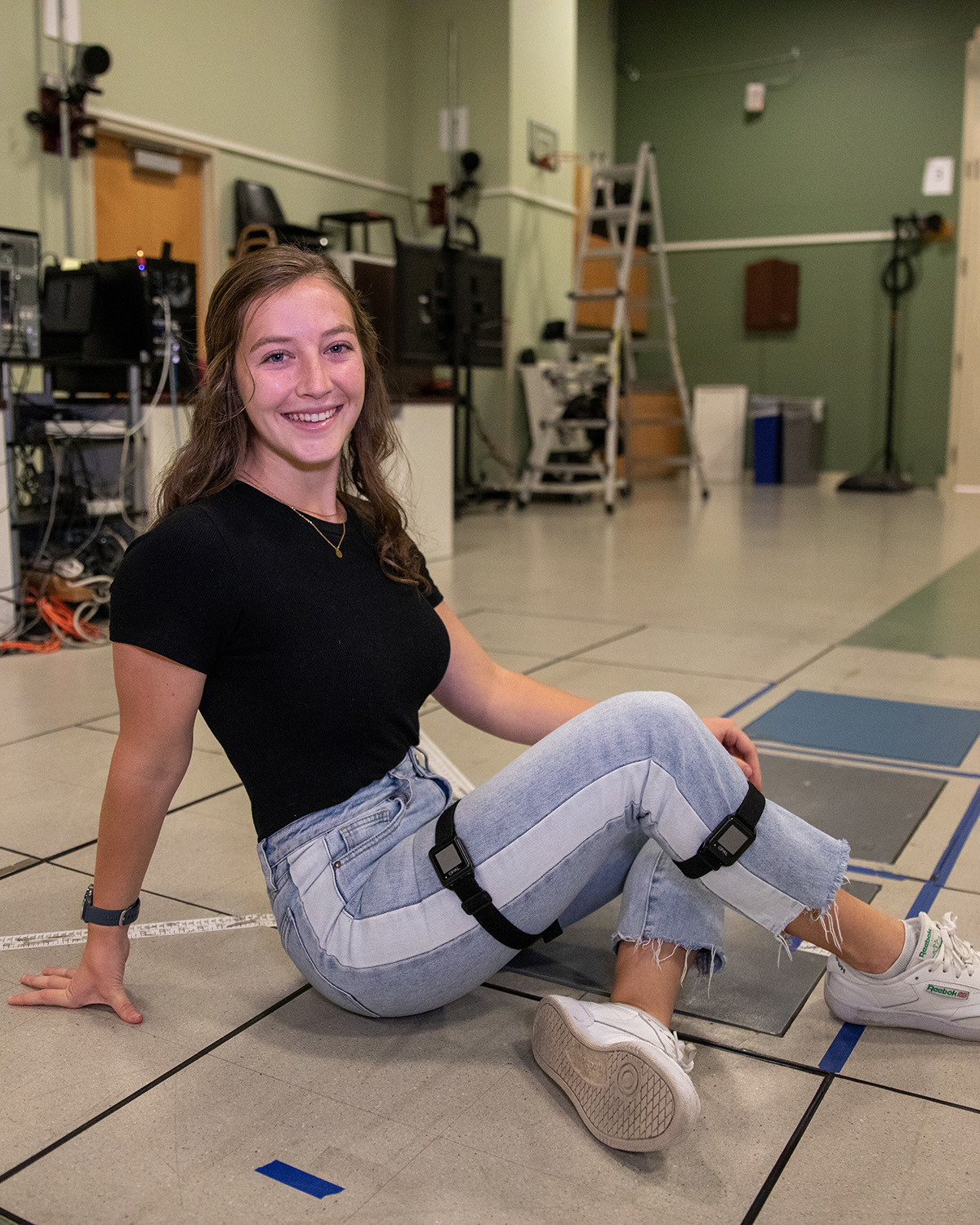 Jenna Mlecko | Exercise science major
Three words to describe her UD CHS Experience: Amazing learning opportunity
Jenna Mlecko of Pittsburgh came to the University of Delaware for its top-ranked Physical Therapy program.
She majored in exercise science knowing she wanted to go to graduate school here. She found out in October of 2022, that her wish would come true.
"The exercise major brings together a great combination of the sciences--core biology, chemistry, and anatomy, but also biomechanics and motor control, which has given me a glimpse into different types of physical therapy," Mlecko said. "Biomechanics had a more orthopedics focus while motor control had more of a neuro focus, so I got to see how all the pieces come together."
Mlecko has been an athlete her whole life. She runs cross-country and track for UD's club team and has been fortunate not to suffer from any major injuries during her athletic career. That inspired her career path.
"Motion is very freeing for some people, so I want to help people independently live, or if they're a younger athlete, get back to competition," Mlecko said. "That's a big mental health part of people's lives that they don't think about; they don't think about how much movement affects them until it's taken away."
Mlecko has spent four years working in the Gait Biomechanics Research Lab, run by Kinesiology and Applied Physiology Assistant (KAAP) Professor Dr. Jocelyn Hafer. There, she works with wearable sensors to study everyday walking patterns to detect knee osteoarthritis earlier.
"It's a really new field because it's hard to know exactly what they're doing outside a laboratory setting, so you have to build strong enough algorithms to detect that activity before you send the sensors home with people," she said.
Through spending time in Hafer's lab, Mlecko has developed a love for coding. She pointed to her mentor, Julien Mihy, a doctoral student in biomechanics and movement science, who inspired her to take a coding course her first summer in the lab.
"It's really cool to be that deep into the data processing side of research," Mlecko said. "You get to set thresholds for how walking is detected. It's a lot of trial and error and problem-solving to get the best results."
She's currently working on a code that aims to detect when people are walking upstairs using acceleration and angular velocity data.
"It feels like such a little piece, but when you think about how many other little pieces had to go into this big picture that's growing, every university around the country is adding little pieces to this research," Mlecko said. "But in a few years if we could have that early detection of knee osteoarthritis, it could change so many people's lives."
Time spent in Hafer's lab has also altered her career path.
"I always thought PT school was the end goal for me, but now I'm considering a doctorate in biomechanics and movement science," she said.
Her dream job is to do everything.
"I want to be a hands-on clinician and conduct research, but I'm not sure where my Ph. D. might take me," she said.
During her time at UD, Mlecko was also a part of MEDLIFE, an organization that takes groups of students to different countries to establish remote medical clinics. In the winter of 2022 in lieu of studying abroad, she traveled to Ecuador and worked in remote Andean communities. She called the experience eye-opening.
"We got to help a lot of patients who haven't seen a doctor in years. It was an amazing experience; it was something that I never would have dreamed of doing," she said. "I learned a lot about healthcare systems in different countries and the interactions those systems have with community members and how they work together to build helpful services."
As she prepares to enter UD's PT program, Mlecko had this message for her undergraduate alma mater:
"Thank you for pushing me," she said. "Coming into college, I had no idea I would get involved in all the things that I've experienced, and so many opportunities have come along that I've grabbed onto, and it's really changed my career path and how I see the world."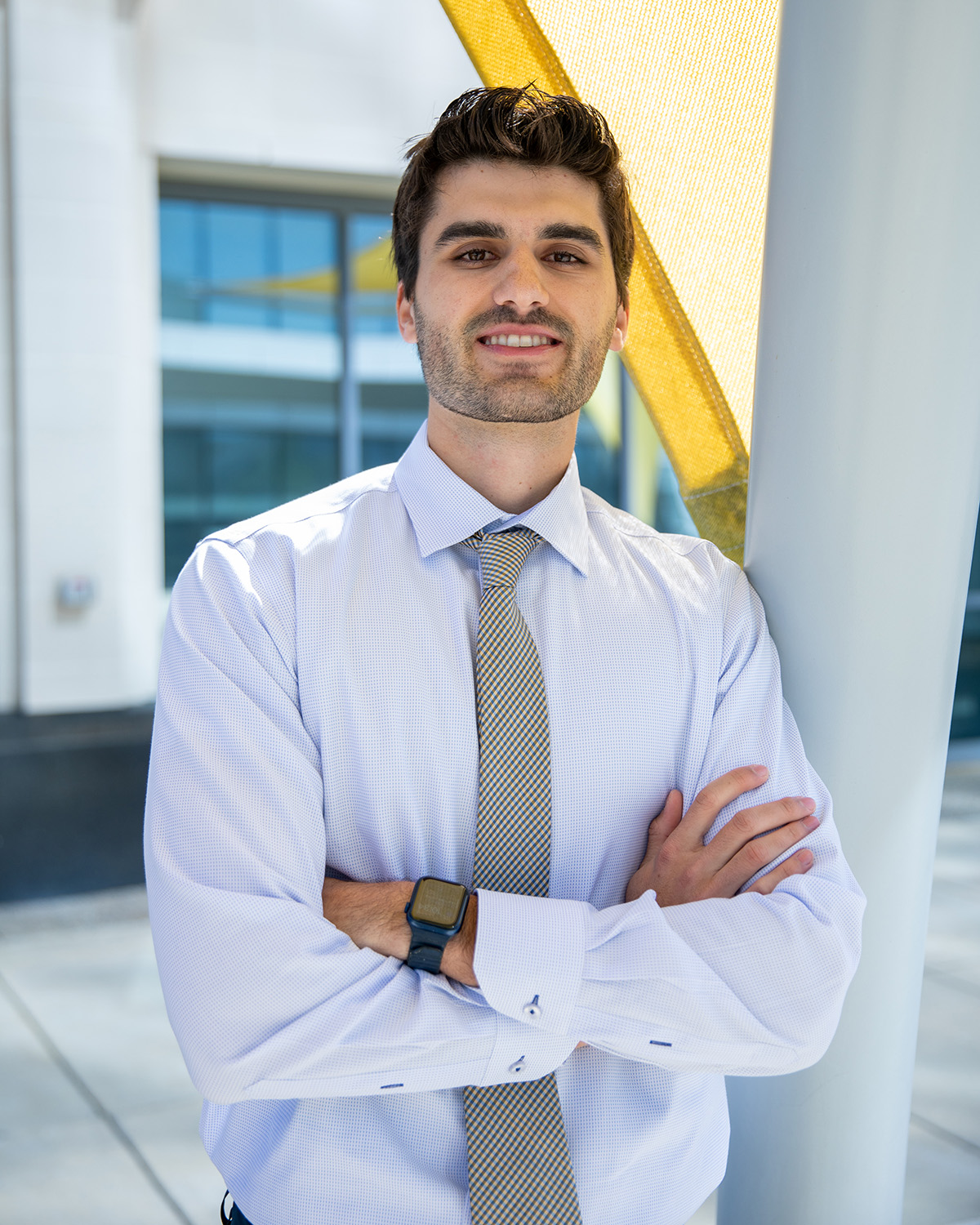 Jake LaMonaca | Human Physiology & Liberal Studies Double Major
Three words to describe the UD CHS experience: Rewarding. Unique. Fun
From the moment Jake LaMonaca, a Jersey Shore native, stepped foot on the University of Delaware's campus four years ago, he knew it was the right choice.
"I loved everything about the school; it felt like home as soon as I came here. I didn't even look at any other schools," he said.
He enrolled as an exercise science major, but when the Department of Kinesiology and Applied Physiology (KAAP) introduced the human physiology major, he immediately switched.
"I'm really passionate about the human body—everything about it."
His favorite class, far and away, has been functional human anatomy.
"It's been outstanding. It's very difficult, but it's been extremely rewarding to see the human body in person. Textbooks don't do the human body justice at all," he said. "We're so fortunate to have generous donors who donate their bodies to science. To get the opportunity this opportunity ahead of medical school is a huge leg up."
LaMonaca has been an athlete his entire life. He played basketball and baseball in high school. At UD, he played intramural basketball and flag football, calling it "the most fun he's ever had."
"Intramural sports helped me achieve that school/life balance," he said. I never feel like I'm drowning in work because I've been able to supplement it with having fun with intramurals or spending time with lifelong friends whom I'll stay in contact with."
He aspires to become an orthopedic surgeon because it's a career path that marries his love of athletics and medicine.
"If I can't ever play professionally, I want to be involved in the sports world," he said. "I've also always been interested in patient care and injuries. I want to help athletes get back on the field by becoming a sports medicine orthopedic surgeon. This profession ties all that together and is a perfect fit for me."
After graduation, LaMonaca is taking a gap year to apply to medical school. He has his eyes set on staying local and is considering Thomas Jefferson's Sidney Kimmel Medical College, Rutgers New Jersey Medical School, and Rowan-Virtua School of Osteopathic Medicine. He said UD's Medical Scholars Program has been a great asset.
"My advisors, Dr. Saskia Richter and Ms. Caroline Tillman, have been so supportive of me throughout this entire journey and have really guided me and set me up for success."
He said the Phi Delta Epsilon International Medical Fraternity and the Making Doctors Club also helped him on the road to medical school.
"The club's mentor/mentee program connected me to students who are on the same path as me; they helped me with strategies to approach the MCAT and to identify volunteer opportunities I should pursue," he said. "Now I'm on the other end of that, guiding freshmen and sophomores on the same path."
All these studies and experiences have converged to give LaMonaca confidence in what lies ahead.
"I feel extremely prepared to step into the world and professional school. I've had great professors who are really passionate about what they do, who have helped me put my best foot forward and be successful," he said.
He called his UD experience "rewarding, unique, and fun," and offered these parting words to his soon-to-be alma mater:
"Thank you. I'm extremely grateful for the endless opportunities you've provided for me, the great education, and the outstanding people I've met.
"I'm ready to take that next step, and UD has done everything it possibly could to make me feel ready for that."
Jamie Morin | Sports Health + Athletic Training
Three words to describe the UD CHS experience: Educational. Fun. Relationships
Jamie Morin has been an injury-prone athlete for most of her life. She suffers from unstable joints due to a genetic condition. Over the years, she broke her wrist, dislocated her knee and shoulder, and suffered from a concussion playing field hockey and softball in high school and club softball at the University of Delaware. Her love of athletics and her injuries inspired her career path.
"Losing something you love because of an injury at a young age is tough," she said. "I spent a lot of time with an athletic trainer, and I was really grateful for his ability to return me to doing something that I really love during a time when you're feeling like you might never get there."
The Vermont native initially came to UD considering a career in physical therapy but realized the Sports Health and Athletic Training 3+2 Program was the ideal program for her.
"It's all been rewarding but having clinical right off the bat starting as a freshman and getting to experience what life is like as a collegiate athletic trainer has been awesome," Morin said. "Getting a taste of that and seeing how athletic trainers and master's students are changing these athletes lives and letting them continue to play the sport they love so much--is inspiring."
Morin has also loved her time in the Phi Sigma Pi National Honor Fraternity.
"It's really nice to be surrounded by people who are so eager to learn about anything—even things outside their major," she said. "They're all so inspiring and successful and being surrounded by driven, successful people really makes me want to do the same."
Some of her favorite classes at UD have been non-major specific. Classes like Women and Gender studies and Classical History of Africa have changed her perspective.
"I came to school expecting to learn about athletic training, but the opportunity to take classes unrelated to my major has made me feel more well-rounded," she said. "Both classes helped shape my world view and cultured me."
Morin has spent clinical rotations with the UD Women's Basketball Team and more recently at St. Andrew's School in Middletown.
"The facilities at St. Andrews are amazing," she said. "All the sports fields surround the gym the athletic training room. We can see all the sports from outside, and we don't have to attend practice, so we can spend more time with the athletes doing longer-term rehabs. That really helps foster relationships."
This summer, Morin will get her first exposure to athletic training in professional sports. She's interning with the NFL's Buffalo Bills.
"I want to be a sponge and soak it all up and see how they do things on the professional level," she said. "When people are getting paid millions and millions of dollars and their health determines whether they can do that, I think it will be interesting to see how things are done differently than on the collegiate level. I'm expecting a fast-paced environment and immersing myself in it."
She'll take with her a wealth of knowledge and expertise, but an observation that stands out:
"I've learned that a lot of athletic trainers do things differently, and that's OK as long as you're working toward the same goal of bettering the athlete," she said.
She also thanked UD for five great years.
"I've learned so much, and I've really come to love Delaware. I love Vermont, but I also love Delaware—two small states," she laughed. "Thank you for introducing me to so many amazing people; thank you for teaching me so many things classroom-related and beyond. I've learned so much about myself at UD."
Sarah Winiker | Human Physiology Major
Three words to describe the UD CHS Experience: Enriching. Memorable. Unexpected
Sarah Winiker isn't your average college student. She's among an elite few on-call as an emergency medical technician (EMT) with the University of Delaware's award-winning, student-run, volunteer Emergency Care Unit (ECU). She got her EMT license in her native Massachusetts, which gives her reciprocity to practice as an EMT in Delaware.
"The organization is very intense, and there's a lot of training," she said. "We function as a part of the 911 system in New Castle County, so if all the Newark ambulances from Aetna are out, our ambulance responds into the city, and we see all the cases a normal ambulance would."
She called the experience amazing.
"I have gained so much confidence interacting with patients that I could not have gotten anywhere else," she said. "I have my own patients and being able to hear them say, 'Thank you. You mean a lot. I appreciate what you do,' it's really nice."
She's been with UD's ECU since freshman year with a brief interruption brought to you by COVID. As a freshman, Winiker enrolled as a medical diagnostics major but quickly switched to the human physiology major when the Department of Kinesiology and Applied Physiology (KAAP) introduced it during her sophomore year.
"The human physiology major was more focused on anatomy versus microbiology. With anatomy, I can consider the being and there's more clinical relevance for my future career, so it was a perfect fit," Winiker said.
She specifically stressed the value she found in the functional human anatomy course.
"Spending time in a cadaver lab is something all medical school students have to do, and it's great that we have the experience early so we're ready and have a strong understanding of what it means to be using cadavers and having donors."
Winiker is involved in research with KAAP Professor Shannon Lennon in the Cardiovascular Nutrition Research Lab, investigating the adverse effects of potassium on sodium in the diet. She also was the service chair for the Phi Delta Epsilon International Medical Fraternity for two years.
"Having a community, where everyone was there to support each other and not compete against one another made the journey to medical school a lot easier than I think it would have been otherwise," she remarked.
But it was her time with UD's ECU that solidified her path forward. This fall, Winiker is off to Thomas Jefferson Sidney Kimmel Medical College. She's interested in becoming a surgeon, potentially working in the trauma unit. She's so grateful to UD for helping her get there.
"Thank you for building my confidence so that I'm ready for medical school and for giving me all of the opportunities that made me the person I am today."
CHS Class of 2023 Convocation Video
The top graduates across departments in the College of Health Sciences class of 2023 share their memories and what had a lasting impact on their time at the University of Delaware.
2023 CHS Senior Video: youtube.com/watch?v=zLwMSPqwllo