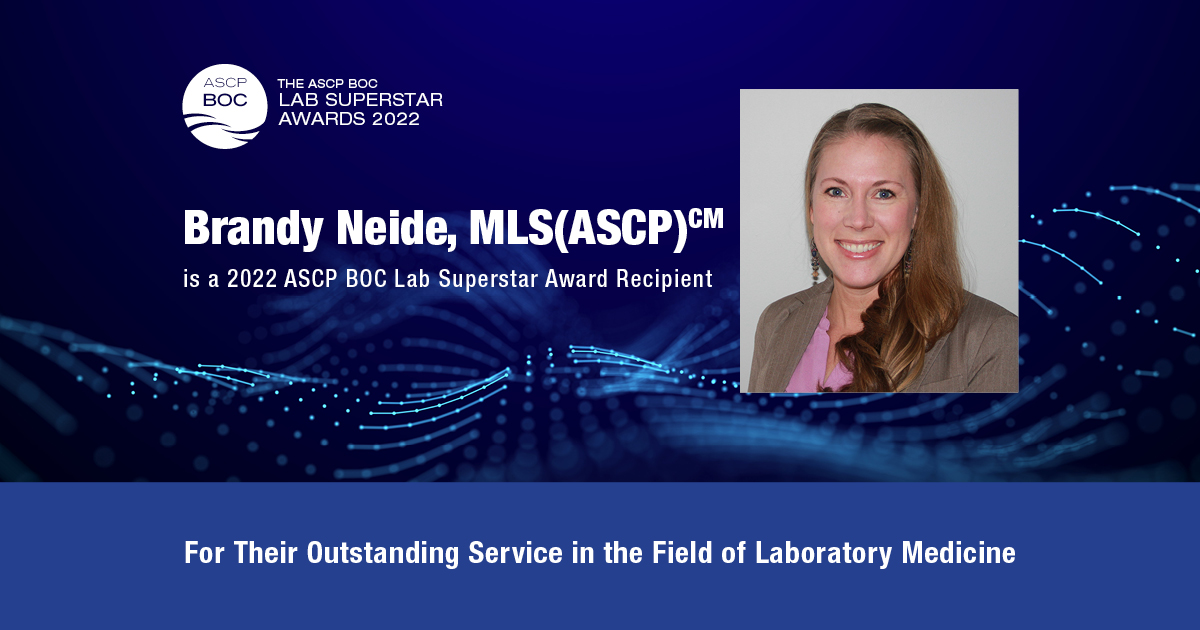 CHS Medical Laboratory Science graduate named 'Lab Superstar'
February 21, 2023 Written by Amy Cherry | Graphic by ASCP BOC | Photo submitted by Brandy Neide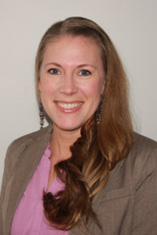 University of Delaware College of Health Sciences alumna Brandy Neide (Class of 2003) recently received the 2022 Lab Superstar Award from the American Society for Clinical Pathology Board of Certification. Neide was among five honorees recognized nationally for outstanding service in the field of laboratory medicine.
"There are so many wonderful people in our field doing great work, so I was both surprised and humbled to receive this national honor," Neide said.
Neide, who was a medical laboratory science (MLS) major at UD, has worked for Children's Hospital of Philadelphia for two decades. She first took a position in the hospital's virology lab immediately after graduation from UD. She currently serves as the director of laboratory operations in the Department of Pathology and Lab Medicine at CHOP. The strategic role allows her to focus on leading the department into the future and supporting hospital growth.
"My UD education prepared me for my current role in so many ways," Neide said. "My Medical and Molecular Sciences professors were so passionate about the field and really promoted visibility in the field; that still resonates with me today and impacts how I approach my work."
Esther Biswas-Fiss, chair of the Medical and Molecular Sciences Department (MMSC), is proud of Neide's accomplishments in the field of medical laboratory science.
"We are thrilled to learn that Brandy has won this prestigious award. Brandy's accomplishments exemplify that UD's Medical Laboratory Science programs are achieving the goal of training the next generation of leaders in the field of laboratory medicine. I hope her story will inspire others to follow in her footsteps," Biswas-Fiss said. "It is always so rewarding to see the accomplishments of our graduates as they move on in their careers. That MMSC was a part of that is extremely gratifying and a testimony to our excellent team of faculty and staff who educate our students.
Neide likes the behind-the-scenes aspect of the medical laboratory science work but acknowledges how important it is for the MLS to be visible to inspire the next generation of medical laboratory scientists.
But being the unsung heroes of the COVID-19 pandemic was a challenge for Neide and her staff.
"We did our best to prioritize the needs of our staff amid rapidly changing conditions and tried to find ways to offer more flexibility and support. That's really challenging when you are 'location critical,'" she said.
To combat burnout, she stressed staying connected to the hospital's mission.
"We maintained steady focus on why we're doing this and to think of the value we were adding," Neide said. "We were contributing to something that was bigger than all of us and bigger than the moment we were in."
The shortage of medical laboratory scientists across the country came more into focus during the pandemic and persists today.
"We had to look outside of our normal pipelines and bring in people from different fields like biology and molecular science and train them; these were people who didn't really know what medical laboratory science was prior to finding themselves in a diagnostic lab," she recalled.
Neide said both the industry and higher education institutions need to do more to ease the ongoing workforce shortage.
"The pandemic has given a lot of attention and recognition to the work of the MLS, and we need to continue to push that forward. We need to sustain the momentum we gained during the pandemic.
"I think that the healthcare industry and hospitals are recognizing the value of laboratory staff," Neide said. "But in the future, the MLS profession needs to find creative ways to retain staff like incorporating telework where we can because people are looking for that, and while that's not the nature of our work, there are opportunities in digital pathology and other areas. We need to consider work/life balance and professional development to allow for growth in place."
Easing the shortage, though, starts with raising awareness, and that needs to begin in high school. Neide herself is a prime example – she entered college as a biology major and quickly transferred to MLS as a freshman at UD when she learned more about the rewarding career path. 
"We need to start the pipeline before college. We need to get out into our high schools and talk about medical laboratory science," she said. "There are many kids who are interested in biology and major in biology in college but have no clue that laboratory science exists. I know because I was one of them, and I'm so glad I was able to find my dream career path," she said.
Neide and her husband are Double Dels, who met in UD's MLS program. William Neide currently works as a Laboratory Section Chief at Penn State Hershey.
"I'm very thankful for UD and have endless gratitude to the Medical and Molecular Sciences Department," she said.