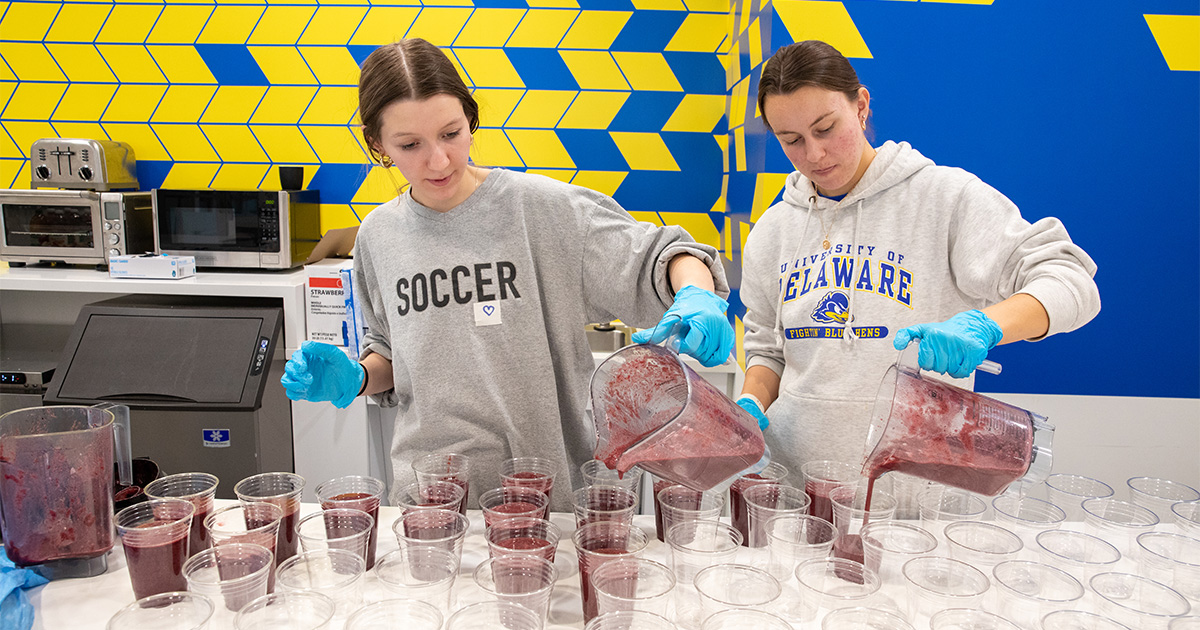 Fuel for the Future
March 21, 2023 Written by Amy Cherry | Photo by Ashley Barnas
UD nutrition program brings together students from the College of Health Sciences and Department of Athletics
Jason Kolar has been playing lacrosse since he was 7 years old. Both his uncles played Division I lacrosse, and now he's following in their footsteps on scholarship at the University of Delaware.
UD's lacrosse team practices 20 hours, six days a week. Kolar would have Chick-fil-A before practice and often felt fatigue when running. After suffering two stress fractures, the sophomore international relations major knew something was wrong.
"I felt a mushy feeling and bendiness in my fibula; it didn't feel normal," Kolar said.
He was diagnosed with Hashimoto's thyroiditis, an auto-immune disease that runs in the family and leads to inflammation. He linked up with Kelly Rossi, director of the performance nutrition program in UD's Department of Intercollegiate Athletics and Recreational Services. She and UD alumnus Austin Mark, assistant director of performance nutrition, aim to provide nutrition education to athletes so they know what they're putting into their bodies and why.
"We focus on nutrient timing and ensuring the fuel is right for where they are in their day," Rossi said. "So, we're educating them on the ideal nutrients for pre-practice versus post-practice to ensure recovery. We also do a lot of clinical nutrition work with athletes related to specific health conditions, and injury prevention and recovery."