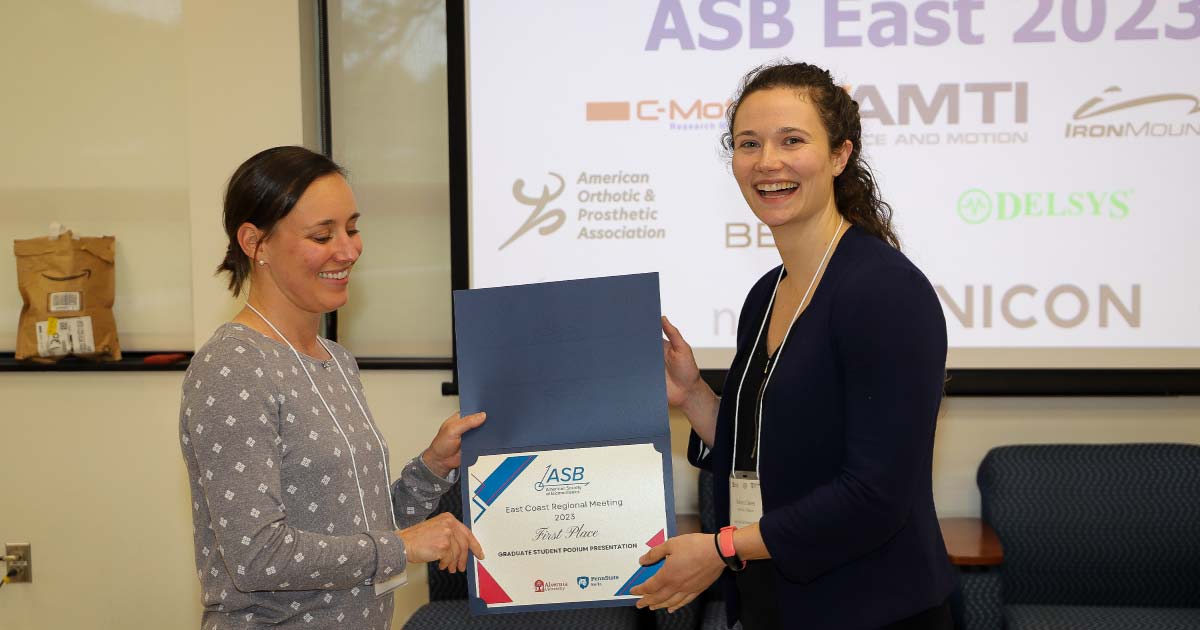 May College of Health Sciences For the Record
June 02, 2023 Written by CHS Staff | Photo by Ashley Barnas
For the Record provides information about recent professional activities and honors of University of Delaware faculty, staff, students and alumni.
Recent appointments, presentations, publications and honors in the College of Health Sciences include the following:
Publications
Jessica Madiraca, associate instructor in the School of Nursing and a graduate student at the Medical University of South Carolina, was lead author in the recently published article "Palliative care interventions in advanced chronic obstructive pulmonary disease: An integrative review." The article was published by the Journal of Palliative Medicine with co-authors Kathleen Lindell, Patrick Coyne, and Sarah Miller from the Medical University of South Carolina. It focused on analyzing palliative care interventions in patients with advanced chronic obstructive pulmonary disease. Through the integrated review, Madiraca and her team discovered that there was no single intervention that was superior to another, and that women are underrepresented in the literature on palliative care interventions. Women typically have worse symptoms, tend to go underdiagnosed and have harsher hospitalization rates. Madiraca stressed the importance of providing palliative care earlier in the disease process that provides emotional, spiritual and mental aid. She aims to make palliative care a larger part of the curriculum at UD, recognizing the impact this can have on providing these patients with a full extent of care.
Honors
Several UD students studying biomechanics and movement science (BIOMS) recently competed at the American Society of Biomechanics East Coast Regional Conference on April 28-29 at Penn State Berks Campus in Reading, Pennsylvania, and took home top awards. BIOMS doctoral student Rebecca Daniels, who works in Kinesiology and Applied Physiology (KAAP) Associate Professor Christopher Knight's Exercise Neuroscience Research Laboratory, took home first place for her graduate podium presentation. Her research, funded by local community partner Shake It Off, focuses on how motor segmentation predicts motor symptoms in people with Parkinson's disease. "I feel honored that my presentation was recognized in this way considering the high quality of student work on display at the conference," Daniels said. "There was a huge UD presence at this conference, including a lot of really talented students, and I've had such a vibrant research experience here at UD." Doctoral student Nancy Nguyen, who works in KAAP Assistant Professor Jeremy Crenshaw's Falls and Mobility Lab, took home first place in the graduate poster competition. "This conference was an outstanding opportunity for students to present and discuss their research as well as network with other researchers and industry partners in the region," Crenshaw said. "Many of the students were recognized for the quality of their research, and I think they left the conference with more confidence, enthusiasm, and ideas for future studies." Master's student Zahra McKee, who works in KAAP Assistant Professor Elisa Arch's Orthotics and Prosthetics for Enhanced Mobility Lab, took home second place in the graduate poster competition for her work in the Archer lab. Senior Jenna Mlecko, an exercise science major, preparing to enter UD's top-ranked Physical Therapy Program, placed first in the undergraduate poster contest. Mlecko has been working in KAAP Assistant Professor Jocelyn Hafer's Gait Biomechanics Research Lab using wearable sensors to study knee osteoarthritis since she was a freshman."I was shocked to win first place with so many interesting and unique research projects in this competition," Mlecko said. "Working in Dr. Hafer's research lab has been one of the best experiences during my time here at UD."
Nicole Boylan, graduate student in the Master of Science in Human Nutrition (MSHN) program in the Department of Behavioral Health and Nutrition, received the Arlette I. Rasmussen Graduate Research Award in Nutrition and Dietetics to cover expenses for presenting her research findings at the Pediatric Academic Societies Meeting in Washington, D.C. Boylan collaborated with Jillian Trabulsi, chair and associate professor, and Alisha Rovner, assistant professor, in the Department of Behavioral Health and Nutrition, to conduct secondary data analyses from the National Health and Nutrition Examination Survey (NHANES) pertaining to milk feeding practices of infants under 12 months old. The research examined socio-demographic and household characteristics of infants by feeding type: human milk only, infant formula only, or mixed fed (both human milk and infant formula). Compared to infants fed human milk only, a higher proportion of mixed fed infants were Mexican American and non-Hispanic-Black, had an annual household income near the federal poverty line and a lower proportion of caregivers who were married/living with a partner. Feeding any human milk confers health benefits to the infant and efforts to increase the prevalence of human milk feeding should include a focus on, and provide support to, under-resourced households and underrepresented groups. Boylan cites the research experience as being valuable to her career path as a clinical dietitian.
To provide information for inclusion in For the Record, submit a Communications Request Form here. To view a recent For the Record regarding the entire university, search here.