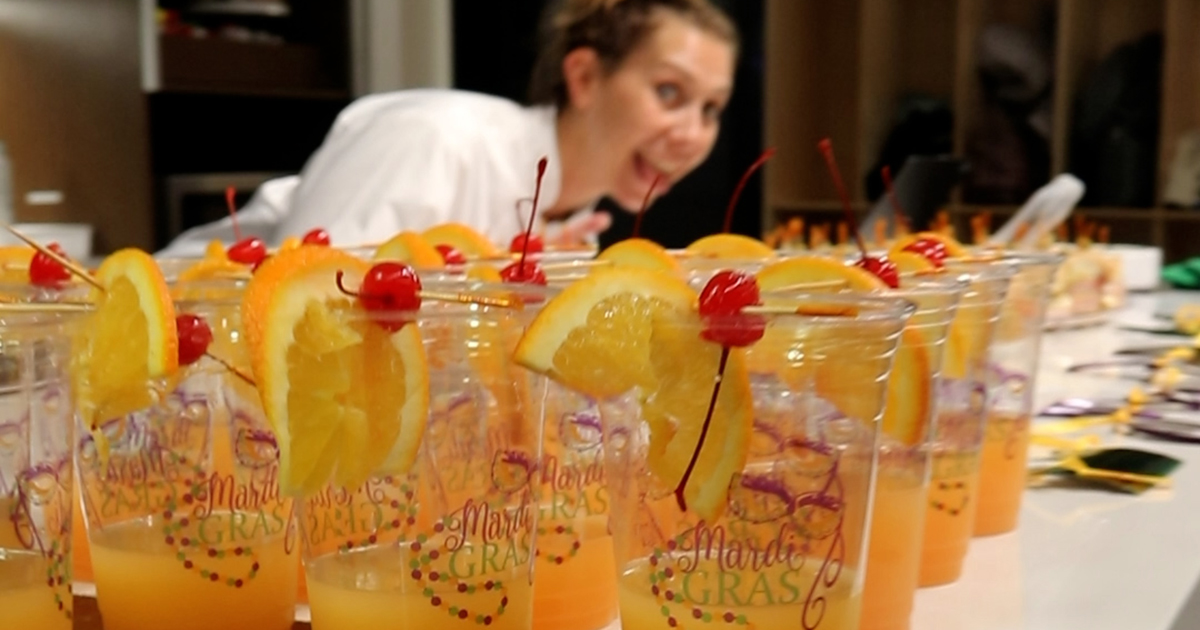 Mardi Gras HealthyU Recipes
February 21, 2023 Written by CHS Staff | Photo by Kristen Troy
Jambalaya
Adapted By Chef Jen Muzzi, RDN/LDN
Ingredients:
1 tablespoon olive oil
1 cup chopped onion
1 cup chopped bell pepper
1 tablespoon minced garlic
½ lb turkey sausage, sliced (andouille or kielbasa)
1 lb shrimp, deveined and peeled
1 cup uncooked brown rice
1 teaspoon paprika
1 teaspoon freshly ground black pepper
1 teaspoon dried oregano
½ teaspoon onion powder
½ teaspoon dried thyme
¼ teaspoon garlic salt
1 bay leaf
2 cups reduced-sodium chicken broth
¾ cup water
1 tablespoon tomato paste
½ teaspoon hot pepper sauce
1 (14.5-ounce) can no salt-added diced tomatoes, undrained
2 tablespoons chopped fresh parsley
Preparation:
On the stove top, heat olive oil in a large Dutch oven or large skillet over medium-high heat. Add chopped onion, chopped bell pepper, minced garlic, sausage and shrimp; sauté 5-8 minutes or until vegetables are tender and shrimp is cooked through.
Add rice and the next 7 ingredients (through bay leaf); cook 2 minutes. Add broth, water, tomato paste, hot pepper sauce, and diced tomatoes; bring to a boil. Cover, reduce to medium heat, and simmer 20 minutes. Let stand 5 minutes. Discard bay leaf. Stir in parsley and serve.
*This recipe can be made as part of meal prep and used for numerous lunches during the week
Mini Muffuletta Sandwiches
From Southern Living Magazine, 4/18/22
Ingredients:
2 cups Italian Olive salad (32 oz jar)
1 Tbsp Chopped fresh basil
1 Tbsp white balsamic vinegar
¼ tsp crushed red pepper (more if desired)
8 sesame seed hamburger buns
½ lb thinly sliced capocollo
½ lb thinly sliced provolone cheese
½ lb thinly sliced deli ham
½ lb thinly slices mozzarella cheese
½ lb thinly sliced dry salami
Wooden picks
16 pimento-stuffed olives, cut crosswise
Preparation:
Place olive salad, basil vinegar and red pepper into food processor and pulse until chopped (~ 4-5 times)
Top the bottom half of the hamburger buns with olive salad mixture. Divide meats evenly in order: capocollo, provolone, ham, mozzarella, salami. Top with 2 Tbsp salad mixture and bun. Cut into 1uarters. Skewer each with a wooden pick and ½ olive.
(optional: traditional bread for muffuletta is a Sicilian seeded round loaf bread. If you can find it, use it!)
Quick Meatless Red Beans and Rice
by Chef Jen Muzzi, RDN/LDN
Ingredients:
½ cup diced celery
1 cup diced onion
½ cup diced green bell pepper
2 tsp minced garlic
2 cups low sodium vegetable broth
1 tbsp Hot sauce
2 tsp Cajun seasoning
2 tsp Worcestershire sauce* (contains anchovy)
1 ½ cans (~ 2 cups) of small red beans or dark red kidney beans
Cooked rice for serving
Preparation:
In a large sauté pan, heat oil over medium heat. Add celery, onion and bell pepper. Sauté until they start to soften, then add garlic. Sprinkle with Cajun seasoning. Then stir in hot sauce and Worcestershire sauce. Sauté until onions are translucent and softened.
Pour in vegetable broth and cook until heated through on medium low heat (~ 15-20minutes). While this is cooking, prepare rice.
Once broth is well heated, add beans and stir. Let mixture cook for 15 minutes over medium low heat.
Serve over desired amount of rice.
Giant Shrimp Po' Boy
By Chef Jen Muzzi, RDN/LDN
Ingredients:
2 lb shrimp, peeled and deveined
2 Tbsp Cajun seasoning
1 loaf French bread
2 heads Iceberg lettuce, sliced very thin
5-6 large slicer tomatoes
1 cup Ketchup
1/2 cup Mayonnaise
1-2 Tbsp Cajun Seasoning
2 Tbsp avocado or canola oil
Optional: Louisiana Hot Sauce
Preparation:
Place cleaned shrimp in a large bowl and sprinkle with 2 Tbsp Cajun seasoning. Heat pan over medium high heat, add 1 Tbsp oil. Add shrimp and cook fully.
While shrimp is cooking, prepare toppings: thinly slice iceberg lettuce, slice tomatoes and set aside. In a medium bowl, whish together, mayo, ketchup and desired amount of Cajun seasoning.
Slice French bread in half and coat each side with mayo mixture. Layer both halves with lettuce, tomatoes then cover bottom have with shrimp. Option to top with hot sauce. Carefully place top half on the sandwich. Slice into desired number of serving sizes.
Hurricane Virgin
Chef Jen Muzzi, RDN/LDN
Ingredients:
1 cup OJ
1 cup Pineapple juice
1 cup Carbonated water
¼ cup Grenadine
¼ cup lime juice
2 cups Passionfruit juice
Garnish each glass:
3 skewered Maraschino cherries
½ Orange slice
Preparation:
Combine all in a pitcher and mix well, finish with ice to fill. Pour into glasses and garnish as directed.
King Cupcakes
By Chef Jen Muzzi, RDN/LDN
Ingredients:
1 and 2/3 cup all purpose flour
1 ¼ tsp baking powder
½ tsp salt
1 cup granulated sugar
6 tbsp butter softened
1 cup milk
1 ½ tsp vanilla
2 large eggs
Cinnamon swirl:
2 Tbsp brown sugar
1 Tbsp granulated sugar
1 Tbsp cinnamon
Icing:
4 Tbsp butter (1/2 stick), softened
4 oz cream cheese, softened
½ tsp vanilla
1 ½ cups confectioners sugar (can use up to 2 cups for desired sweetness)
1-2 tbsp milk
Garnish:
Purple, green and yellow colored sugars
Preparation:
Heat oven to 350⁰F. Beat butter in bowl with electric mixture. Add sugar and beat until o combined. Scrape bowl and beat again if necessary. Add eggs, one at a time, beating after each one. Then add milk and vanilla, beat until incorporated.
Mix flour, baking powder and salt in bowl. Add into wet mixture and mix until incorporated. Do Not overmix.
In a small bowl, mix cinnamon swirl ingredients.
In a muffin pan light greased or lined with muffin liners, evenly distribute mix into cavities to ½ full. Dollop cinnamon swirl in each one. Top with remaining batter. Using a toothpick, swirl the batter lightly to distribute cinnamon mixture.
Bake in oven for 23-25 minutes or until lightly browned and springs back to the touch. Cool on a cooling rack.
Prepare the icing:
Beat butter and cream cheeses until well blended. Add confectioner's sugar in batches, beating well. Add vanilla and beat. Add milk until it's a spreadable consistency.
Garnish
Using a small offset spatula, spread frosting over cupcakes. Design with sugars in stripes, spirals or with 1 color each.
Air Fried Beignets
Adapted by Chef Jen Muzzi, RDN/LDN from Emeril Lagasse
Ingredients:
3/4 cup lukewarm water
1 package active dry yeast
1/4 cup sugar
4 tablespoons softened butter, plus more for greasing
1 egg
1 ½ tsp vanilla
1 cup evaporated milk
4 cups all-purpose flour, plus more for dusting
1/2 teaspoon salt
½ cup confectioners' sugar
¼ tsp nutmeg
½ tsp cinnamon
Preparation:
Add the water, yeast and sugar to the bowl of an electric mixer with the dough hook attached. Lightly whisk to combine. Allow the yeast to bloom for 5 minutes, until bubbly. Add the butter in pieces, the egg, milk, and half the flour and mix on low until combined. Add in the remaining flour and salt and mix on low until combined. Increase the mixer to medium and mix for 5 minutes until soft dough is formed. Transfer the dough to a lightly floured surface and knead gently into a ball. Grease a medium bowl with butter, add the dough, turning around to coat. Cover with a kitchen towel or plastic wrap and set aside in a warm place until doubled in size, about 1 1/2 to 2 hours.
After the dough has proofed, punch down the dough, cut it in half, and knead gently to form two balls. Leave one ball covered with a clean towel in the bowl, and place the other half on a lightly floured work surface. Use a rolling pin, roll out the dough to a 1/8-inch thickness. Cut the dough using a sharp knife into 2 1/2-inch squares. Repeat with the remaining ball of dough. Allow the beignets to rest at least 10 minutes before frying.
Preheat AirFryer to 330 degrees F
Cook the beignets in batches of 3-4 at a time. Set time for 10 minutes. Dust generously with confectioners' sugar and spice mixture sifted through a fine mesh sieve. Continue with the remaining pieces of dough.