Women's History Month Department Chair Spotlights
March 13, 2023 Written by Amy Chery | Photo by Evan Krape
March is Women's History Month. Founded in 1987, this month is a time to recognize important contributions women have made in history and in contemporary society.
This year's theme is "Celebrating Women Who Tell Our Stories," and the National Women's History Alliance notes women's stories "expand our understanding and strengthen our connections with each other."
The College of Health Sciences is fortunate to have many strong women in positions of leadership, who've had a profound impact both in the workplace and in their communities. Each week, during Women's History Month, CHS will profile one of our department chairs, in hopes their stories of success will inspire others.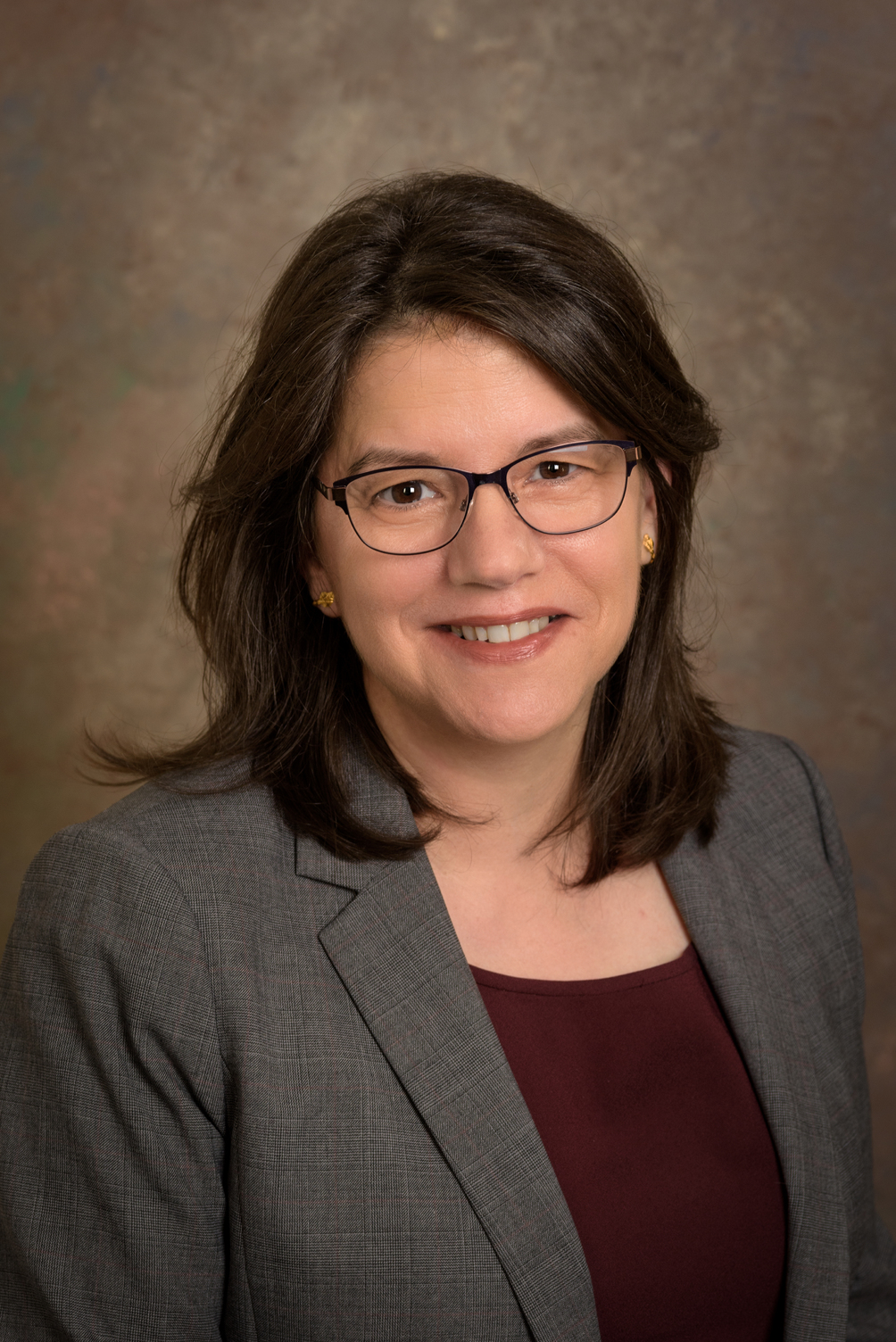 Esther Biswas-Fiss, Chair, Medical and Molecular Sciences Department
Esther Biswas-Fiss remembers her father was always up well before sunrise each morning. He'd get up at 4 a.m. to take a bus to work six days a week to drive a taxi. Her mother was an industrious stay-at-home mom, who sewed curtains and served as a Girl Scout leader.
"I saw how hard my father worked, and both of my parents were very smart, but because of circumstances, growing up during the Great Depression, they didn't have the opportunity to complete their education," she said.
She learned from both of her parents that failure was not an option. Biswas-Fiss was not just a first-generation college student; she was the first in her family to finish high school.
"It was very tough, but I learned that tenacity and perseverance were really the most important skills that you could have when you pursue a career, particularly in academia," she said.
She attended two years of community college before enrolling at the University of Washington.
"I was always concocting experiments at a young age and was interested in science, technology, engineering and math (STEM). I was interested in health, but at the University of Washington in the eighties, you had three choices: chemistry, biology, or physics."
In retrospect, she believes Medical Laboratory Science would have been the more appropriate major for her, but the field suffered from then what it suffers from now: a lack of awareness.
Instead, Biswas-Fiss majored in chemistry and recalls:
"There were no women faculty," she said. "I had no role models."
This jarring reality would later inspire some of her proudest accomplishments.
After getting her bachelor's degree, Biswas-Fiss worked as a chemist for Barns-Hind/Hydrocurve, conducting stability testing for pharmaceutical products. She found the career not intellectually stimulating enough for her, so she went back to school to obtain her master's degree in biochemistry at the University of Maryland.
"At that time, the biotechnology revolution was happening, and PCR was being invented along with all kinds of cool things that we take for granted that make medicine and laboratory testing possible."
She worked as research associate for a time before hitting another roadblock.
"I realized again that there were limitations to what I could do because of how much education I had," she said.
Biswas-Fiss went on to pursue her doctorate in molecular bioscience from Rutgers University. During the first six months of her Ph.D., her mother was diagnosed with stage four lung cancer. She also had a 2-year-old daughter.
"I hit a major challenge and asked myself: Am I going to let it derail me, or will I figure out a way to make it work?"
Determined to finish her degree, she took the redeye to Seattle every Friday with her daughter to visit her mother.
"I knew that if I dropped out of the Ph.D. program, I wouldn't go back."
Some of her toughest moments help her relate better to her students.
"When I have a student and they're going to get a 'C' or maybe they won't pass the class, I can really relate to that.  I urge them to stick with it and get the resources they need," she said. "Life will always be full of challenges."
While pursuing her doctorate, she began guest lecturing as part of her coursework in the Medical Laboratory Science program at Thomas Jefferson University (TJU). It's a moment she refers to as "serendipity" that inspired everything that came next.
"That was where I learned that there's actually a laboratory-based profession that bridges research and patient care with laboratory testing," she said. "I learned about the fundamental role that the medical laboratory scientist plays and the shortages in the field that were tied to a lack of awareness."
After obtaining her Ph.D., Biswas-Fiss took a full-time faculty position with TJU and served as the founding director of their biotechnology program.
She loved every minute of her time there but remembers the distinct day that a "little bird" came to her window. Once again, cue serendipity.
"A Blue Hen named Susan Hall [CHS professor emerita and former associate dean of the College of Health Sciences] knocked on my window and asked if I would be interested in a position at the University of Delaware," she said. "I thought it would be interesting to come to an institution that was a full-service academic university as opposed to an academic health center."
In 2016, Biswas-Fiss became chair of the Medical and Molecular Sciences Department, and since then, has seen the department experience tremendous growth under her leadership.
"We tripled our number of undergraduate students from 300 to 900 students. In addition, we added another major – applied molecular biology and biotechnology, which complements ongoing initiatives on campus like the National Institute for Innovation in Manufacturing Biopharmaceuticals (NIMBL). It also synergizes with the growth of the biotechnology as a workforce field in the state of Delaware.
"We added four master's programs, and we went from having two Ph.D. students to having 14 Ph.D. students," Biswas-Fiss said. "I'm also proud that our graduate program has one of the highest underrepresented enrollments in CHS."
Early in her career, Biswas-Fiss remembers late nights that stretched into the early morning hours, working to secure grants with her 5-year-old daughter asleep alongside her. Now an accomplished researcher, Biswas-Fiss has served as principal investigator on several foundation-funded, NIH-funded and industry-funded grants.
Her current research centers around the genetics of inherited eye disease, including age-related macular degeneration, and has led to effective measures of the consequences of disease-associated mutations to predict their significance in terms of disease severity and clinical pathogenicity.
"Our work should improve the outcomes of genetic testing and diagnosis for inherited retinal disease, ultimately leading to better patient treatment and management options," Biswas-Fiss said. "Knowing the risk of inherited blindness may help direct patients to new clinical trials thereby speeding the development of novel therapies."
Biswas-Fiss called her collaborative research to translate the impact of genetic variation on visual disease "rewarding."
"Our laboratory has made small but significant contributions in this important field, but the impact I make on helping students to advance, who might not otherwise do so, is probably the contribution I'm most proud of," she said.
In the future, Biswas-Fiss hopes to continue to bolster the department's research enterprise and increase graduate education opportunities.
"We've added some degrees that allow people who've earned a bachelor's degree in biology or chemistry to come back and retrain in biotechnology or medical laboratory science, which will hopefully alleviate some of the critical workforce shortages we see in that profession," she said.
But the lack of women surrounding Biswas-Fiss during her undergraduate studies left an indelible mark on her. It's why she doesn't take being a woman in a position of leadership lightly.
"It's a big responsibility, and I feel blessed to have that opportunity," she said. "It's important that when students look around that they see faces like their own, so outreach is another area that I'm really passionate about."
In addition to creating pathways for laboratory scientists, Biswas-Fiss is proud to have made a difference for students from underserved backgrounds. She points to pipeline programs she's helped establish at UD and Jefferson.
"During my time at Jefferson, I reached out to community colleges to connect with people; it was really tough for me to make the transition from a community college to a four-year institution, so I wanted to build that pipeline," she said. "At UD, I've helped to establish pipelines from high school to college and from two-year colleges to UD to let students, who don't know about certain professions, understand the options available to them."
For those who want to follow in her footsteps, her advice is simple:
"Be open to serendipity. Be open to opportunities as they present themselves to you."