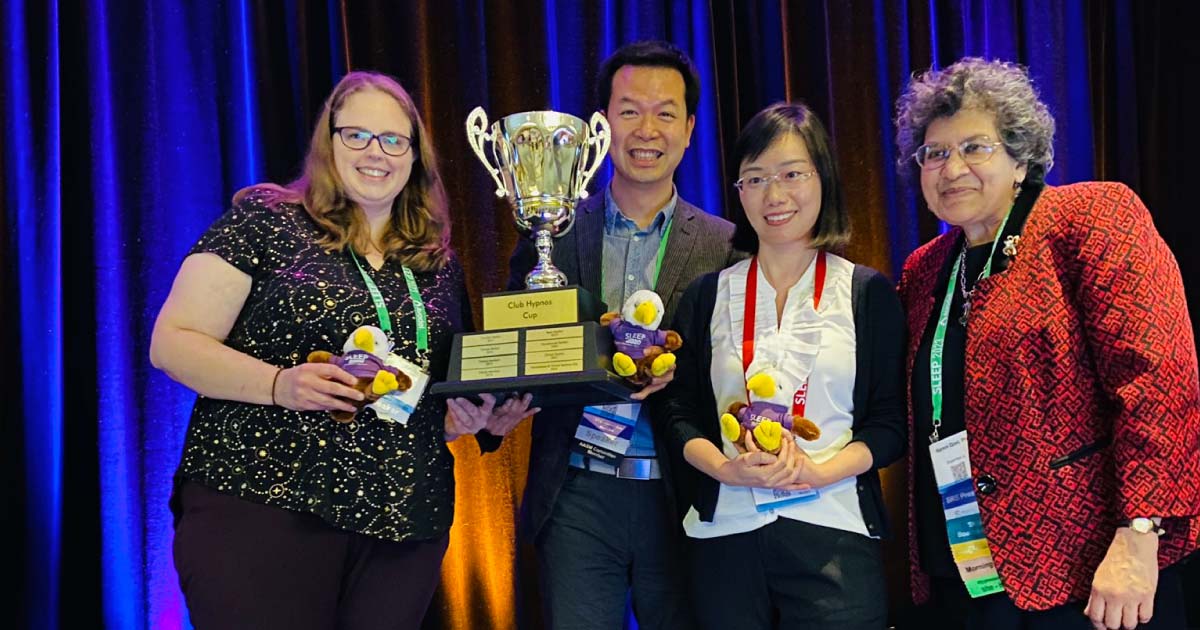 June College of Health Sciences For the Record
July 03, 2023 Written by CHS Staff | Photo by Sleep Research Society Staff
For the Record provides information about recent professional activities and honors of University of Delaware faculty, staff, students and alumni.
Recent appointments, presentations, publications and honors in the College of Health Sciences include the following:
Publications
Anshul Rana and Roxanne Evande, graduate students in the Department of Medical and Molecular Sciences, were lead authors in the published article "Protein–DNA Interactions Regulate Human Papillomavirus DNA Replication, Transcription, and Oncogenesis." The article was published by the International Journal of Molecular Sciences with co-authors Esther Biswas-Fiss, chair and professor, and Subhasis Biswas, professor in the Department of Medical and Molecular Sciences. The article is a comprehensive review of the complex regulatory mechanisms involved in human papillomavirus (HPV) infections for the development of cancer, focusing on how the E2 protein uses two different mechanisms to hijack human host cells and over time, transform them into cancerous cells. More than 90 articles were reviewed from 1990 to 2023 to acquire information over a wide-spanning period. The long-term goal of this research is to bring scientists closer to understanding how HPV and related E2 proteins lead to the development of cancer, and use this knowledge to develop comprehensive treatments for the more than 150 variants of HPV that can affect the human body. 
Presentations
Xiaopeng Ji, assistant professor in the School of Nursing, was awarded the Club Hypno Cup for presenting her peer-selected study on sleep and cardiometabolic health disparities as part of 2023's data blitz competition hosted by the Sleep Research Society. The study was co-authored by Lauren Covington, also an assistant professor in the School of Nursing, Freda Patterson, associate dean of research in the Department of Behavioral Health and Nutrition, and Janeese Brownlow, assistant professor in the Department of Psychology at Delaware State University. This cross-sectional research suggested a stronger correlation between unhealthy sleep and increased metabolic syndrome risk for racial and ethnic minorities vs. non-Hispanic whites in emerging adult populations. The 18 to 21 age period is critical as a shifting point where sleep issues typically increase most. "This research helps lead to my next study, an intervention powered by artificial intelligence, to help improve sleep in Black/African American young adults," Ji said. "With increased cardiometabolic risks, this population deserves more attention and can derive the greatest benefits from a targeted intervention." 
Honors
Jennifer Horney, founding director and professor of the epidemiology program in the College of Health Sciences, is one of four public health experts from universities in four states leading the Public Health Extreme Events Research (PHEER) network. The new, federally funded network aims to build capacity at the federal, state, and local levels for faster and more effective responses to public health crises. PHEER members quickly mobilize after natural disasters or other hazards and will use data to inform evolving disaster research agendas and funding decisions and advance the field of public health disaster science. Horney has responded to hurricanes Isabel, Charley, Katrina, Wilma, Irene, and Harvey to conduct rapid assessments of disaster impact on the public health of individuals and communities.  
"Our goal is to bring together a community of researchers and practitioners to build what will be a community-owned asset, in a sense, that works as such before, during, and after a crisis," said Horney, who is also core faculty at UD's Disaster Research Center. PHEER also aims to fill an important research gap and will serve as the coordinating platform for the public health disaster research community of practice with a goal of building the capacity of the public health disaster workforce through hands-on training, experiential learning, and mentorship. 
To provide information for inclusion in For the Record, submit a Communications Request Form here. To view a recent For the Record regarding the entire university, search here.