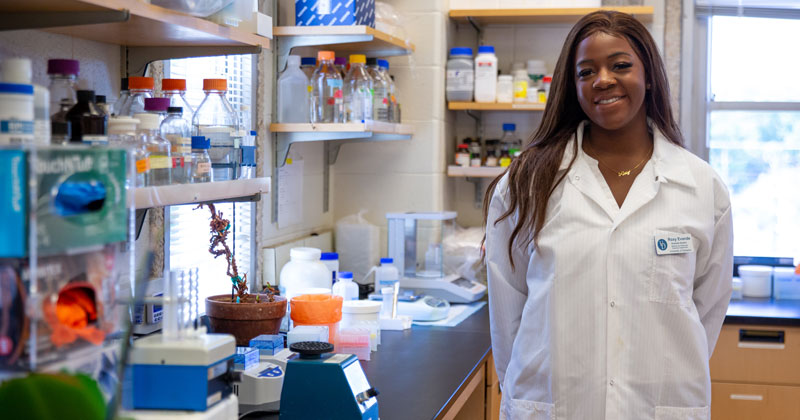 March College of Health Sciences For the Record
April 03, 2023 Written by CHS Staff | Photo by Ashley Barnas
For the Record provides information about recent professional activities and honors of University of Delaware faculty, staff, students and alumni.
Recent appointments, presentations, publications and honors in the College of Health Sciences include the following:
Presentations
The College of Health Sciences' Department of Physical Therapy was well represented at the American Physical Therapy Association (APTA) Combined Sections Meeting, held Feb. 23-25,in San Diego, California. This conference is filled with a huge exhibit hall, hundreds of educational sessions and the opportunity for attendees to learn about the latest evidence. UD presentations were led by Darcy Reisman, chair and professor for the Department of Physical Therapy; Gregory Hicks, professor and associate vice president for clinical and translational research; Karin Gravare Silbernagel, professor and associate chair, as well as associate and assistant professors Ellen Wruble, Eric Stewart and Megan Sions. Additional presentations were hosted by more than a dozen Ph.D. students in the BIOMS program throughout the three-day conference. "The APTA's Combined Sections Meeting (CSM) is the premier physical therapy conference in the U.S.," Reisman said. "This meeting brings the physical therapy profession together to hear about the latest in physical therapy science and practice. It also provides important opportunities for networking and collaboration across the profession."
Honors
Roxanne Evande, graduate student in the Department of Medical and Molecular Sciences, received the American Society for Biochemistry and Molecular Biology (ASBMB) Graduate Student Diversity, Equity and Inclusion Award as well as the Joshua E. Neimark Award from the American Association for the Advancement of Science (AAAS). These travel grants provided $1,000 and $800 to help cover expenses for Evande's trips to Seattle, Washington, and Washington, D.C., to present her research at annual meetings for the supporting organizations. For the AAAS meeting, Evande presented research from her dissertation: studying the molecular basis of the interaction between HPV E2 and its binding site variants. This research is beneficial because it provides insight into a potential molecular target for drug development and can help determine if an existing HPV infection may lead to cancer. For the ASBMB meeting, Evande presented her dissertation research as well as her science policy project, which highlights her summer advocacy training program of investigating the peer-review process for the Graduate Research Fellowship Program at the National Science Foundation. "These grants have not only helped me attend the conferences from a financial standpoint," Evande said. "They have also allowed me to network beyond the greater Delaware area. Through these travel grants, I have the opportunity to meet people from around the country and world that share similar passions and interests." 
Sam Levitt and Rebecca Metellus, undergraduate students from the  Department of Behavioral Health and Nutrition, were accepted into the Postbaccalaureate Intramural Research Training Award (IRTA) Fellowship program at the National Institutes of Health (NIH). Levitt, who is in the Honors College, has assisted with recruitment and quality control for the Energy Balance and Nutrition Lab and will be working with a clinical group in the IRTA program to develop protocols for researching the prooxidant effects of Vitamin C and E on diabetes and cancer. Through her time at UD, Metellus has been working on a child-parent intervention lab using a cortisol analysis to determine if the intervention is helping kids who have been through adverse situations. In the IRTA program, she will be working with a group of researchers under Nicole Farmer, who focuses on community-based and patient research in cooking as a tool against chronic diseases. "A lot of this research is based around health disparities in minority communities," Metellus said. "There's a lack of education in nutrition within these communities, which can lead to cardiovascular diseases." Both Levitt and Metellus recognize Alisha Rovner, assistant professor of behavioral health and nutrition, for promoting this program opportunity. 
To provide information for inclusion in For the Record, submit a Communications Request Form here. To view a recent For the Record regarding the entire university, search here.