Fact Sheets And Publications
The Tale of Family Meetings
Ideas For Family Meetings
Family Time together can be a good time for all!
A family meeting can be a time to: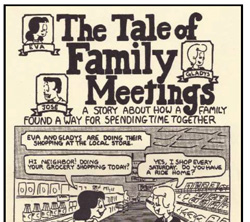 Have fun together.
Listen to each other.
Talk to each other.
Schedule family duties and chores.
Plan family fun.
Make decisions together.
Download this comic publication, The Tale of Family Meetings >>

---
UD Cooperative Extension
This institution is an equal opportunity provider.
In accordance with Federal law and U.S. Department of Agriculture policy, Cooperative Extension is prohibited from discriminating on the basis of race, color, national origin, sex, age, or disability.