Fact Sheets And Publications
Cold Summer Soups

Cold Roasted Tomato Soup
Serves: 8
Ingredients
1 tablespoon extra-virgin olive oil
3 pounds large ripe tomatoes, cut in half crosswise, remove stem area
6 medium bell peppers, cut in half crosswise, ribs and seeds removed
2 medium Vidalia onions, cut in half crosswise and peeled
2 stalks celery (no leaves), chopped
4 cloves garlic, peeled and finely chopped
1/2 teaspoon salt-free seasoning (or to taste)
1 teaspoon cayenne pepper (or to taste)
2 tablespoons sun-dried tomato paste
1 tablespoon tomato paste
4 teaspoons each chopped fresh basil and chives and oregano (if substituting dried herbs,
use 1 teaspoon each)
1 quart homemade chicken broth or store-bought low-sodium broth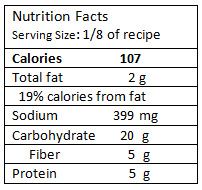 Directions
Preheat oven to 400°.
In a bowl, toss together tomatoes, peppers, onions, celery, and garlic and olive oil. Add pepper and salt-free seasoning to taste (add salt when indicated, as it brings out the moisture).
Place on a baking sheet. Roast until they start caramelizing and become soft, about 25 minutes.
Cool, then discard the peels and seeds.
Place the mixture in a food processor or blender with some of the chicken broth and pulse the purée to desired thickness.
In a soup pot, combine the purée with the remaining chicken broth, sun dried tomato paste, tomato paste and cayenne pepper. Add half of the fresh herbs (if using dried herbs, add them all at this stage) and cook, stirring often, until just simmering. Season to taste with salt and pepper.
Ladle the soup into bowls, sprinkling each serving with the rest of the fresh herbs.
Garnish with fresh corn, some fresh basil, cornbread crumble, thinly sliced artichokes, cooked shrimp or whatever garnish you like.
Chilled Cantaloupe Soup
Serves: 6
Ingredients
1 cantaloupe - peeled, seeded and cubed
2 cups orange juice
1 tablespoon fresh lime juice
Pinch of cinnamon
Mint sprigs for garnish if desired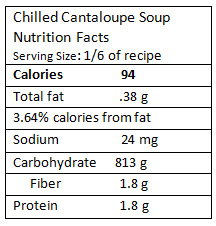 Directions
Peel, seed, and cube the cantaloupe.
Place cantaloupe and 1/2 cup orange, 1/4 teaspoon lemon juice in a blender or food processor; cover, and process until smooth.
Transfer to large bowl. Stir in remaining lime and orange juice and cinnamon.
Cover, and refrigerate for at least one hour. Garnish with mint if desired.
Gazpacho
Serves: 8
Ingredients
2 cucumbers, halved but not peeled
3 red peppers, cored and seeded
8 tomatoes
1 red onion
5 cloves of garlic
6 cups tomato juice
½ cup white vinegar
½ cup olive oil
1 tbsp. kosher salt
1 ½ tsp. pepper
Garnish of lump crabmeat if desired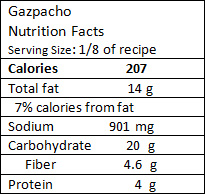 Directions
Coarsely chop all the vegetables. Combine in a large bowl the vegetables, garlic, tomato juice, vinegar, olive oil, salt and pepper. Mix well and chill before serving.
The longer it sits, the more the flavor develops.
Garnish with lump crabmeat.
Carrot Coconut Lime Soup
Serves: 8
Ingredients
2 tablespoons olive oil
2 teaspoons chile paste
1 teaspoon cumin
1 tablespoon chopped fresh cilantro
1 teaspoon grated fresh ginger
2 onions, chopped
2 cloves garlic, minced
2 large potatoes, peeled and chopped
6 large carrots, peeled and chopped
3 cups vegetable broth
7 cups coconut milk
1/4 cup lime juice
2 tablespoons chopped fresh cilantro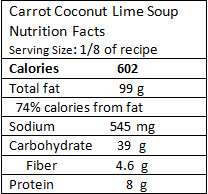 Directions
Heat oil in a large Dutch oven over medium heat. Stir and cook the chili paste, cumin, and 1 tablespoon of cilantro until fragrant, about 1 minute. Add the ginger, onion, and garlic; cook until the onions are soft and translucent, about 5 minutes. Place the potatoes and carrots into the pot with the onion mixture and cook for an additional 5 minutes.
Pour the vegetable broth and coconut milk over the cooked vegetables. Turn the heat to medium-high and bring to a boil, stirring occasionally. Reduce the heat to medium-low and simmer for 30 to 45 minutes or until the potatoes and carrots are soft.
Remove the Dutch oven from the heat and stir in the lime juice. Working in batches, puree the soup in a blender or food processor until smooth. Serve hot or chilled, garnished with the remaining cilantro.
Recipes prepared by Gail Hermenau, Master Food Educator volunteer, University of Delaware Cooperative Extension. August 2012
---
UD Cooperative Extension
This institution is an equal opportunity provider.
In accordance with Federal law and U.S. Department of Agriculture policy, Cooperative Extension is prohibited from discriminating on the basis of race, color, national origin, sex, age, or disability.