Cooperative Extension
Karen Johnston
Prevention Agent and New Castle County Extension Director
302-490-1583
Office Location:
461 Wyoming Rd.
Newark, DE 19716
Education:

M.B.A. in Healthcare Administration
B.A. in Philosophy
C.D.A, Certified Dietetic Assistant

Area(s) of Expertise:
4-H Youth Development
Healthy Living
Substance Abuse
Youth Tobacco, Drug and Alcohol Prevention
Mindfulness
Fitness
Community Development
4-H Grants

Bio:
Karen Johnston works statewide as a 4-H Extension Educator IV focusing on diverse youth and adult healthy living initiatives with emphasis on tobacco, drug and alcohol prevention through holistic wellness. Karen is a contributing author to GEM (Get Experience in Mindfulness), nationally published and awarded 4-H curriculum. Karen believes that youth be empowered and encouraged to develop their communication, leadership, and wellness skills to prepare them to be advocates for themselves and their communities. Karen has 8+ years' experience facilitating Kettering National Issues Forums Guides to promote community conversations and develop community action plans through youth and adult partnership. Karen served on the ECOP Positive Youth Development Health Action Team who together published in the Journal of Youth Development, Journal of Extension, and Journal of Human Sciences and Extension. Prior to the University of Delaware, Karen worked in both the for-profit and non-profit sectors in senior management in the healthcare industry.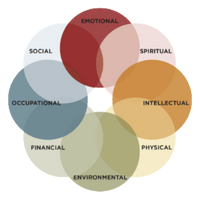 Prevention Education
There are 8 aspects of wellness: physical, social, emotional, intellectual, environmental, spiritual, occupational and financial, this resource site offers a wholistic and evolving approach to positive youth development and prevention of youth engaging in risky behaviors, choosing to live a wellness lifestyle and being role models in their communities.
Link: Behavioral Health and Wellness Resources