Fact Sheets And Publications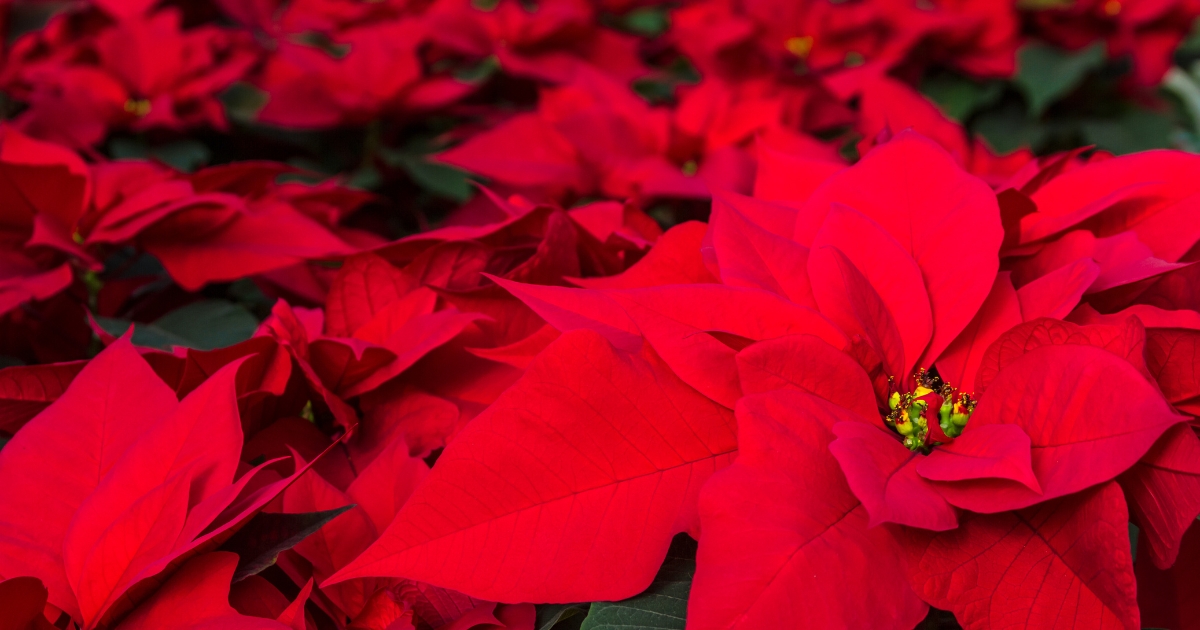 Caring for poinsettias
One of the most appreciated gifts exchanged during the holiday season are living plants. If you've been lucky enough to receive this wonderful living gift, you will want to keep the vibrant splashes of reds, fuschias, pinks, and classic whites bright and fresh through the holiday season and beyond! Here are some tips from our Extension experts on getting the most from your holiday plants!
Popular for red flower-like bracts, poinsettias are great additions to holiday decor!  There are new cultivars that are compact, or have unique colors such as pink, yellow and orange (Thanksgiving poinsettias?).
Did you know that poinsettias do not like "wet feet?"
After receiving your poinsettia, remove or punch holes in the bottom of the foil on the pot. Poinsettias roots will not tolerate standing in water! Place the pot in a plate or shallow saucer to catch the water. When you water, add enough to saturate the soil. If the saucer still contains water after 3 or 4 hours, remove the plant and dump the excess. Allow the soil to go dry between watering. Watch the plant itself. When the soil feels dry to the touch or when the leaves begin to droop a little, then water thoroughly.  If the plant is allowed to wilt, it will drop its leaves prematurely.
Where to place your poinsettia?
Poinsettias are native to semi-tropical and tropical areas of Latin America, so they are grown in greenhouses at temperatures between 60-70 degrees F.   Place in your home near a bright sunny window with the same room temperatures. They thrive on natural, indirect light. If you are having company and want to use the poinsettia somewhere else this is no problem; just return it to its window location within a couple of days. Don't place poinsettias so close to a window that the bracts touch a cold window.  Poinsettias do not like temperature below 50 degrees F.  In fact, temperatures below 50 degrees will cause damage to the plant.  Cold or cool temperatures with moist soils encourage root rots.  Night temperatures are ideally 60-62 degrees F.
Flower development is light dependent, so it is difficult for a homeowner to save poinsettias to bloom next year.
DYK? December 12th is #NationalPoinsettiaDay!
---
UD Cooperative Extension
This institution is an equal opportunity provider.
In accordance with Federal law and U.S. Department of Agriculture policy, Cooperative Extension is prohibited from discriminating on the basis of race, color, national origin, sex, age, or disability.