Fact Sheets And Publications
A searchable database organized by category.
Find a complete listing of our Extension staff at our various offices.
Eggplant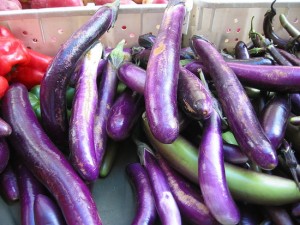 Season: Late summer.
Selection: Eggplant skin should be smooth, shiny, and vivid in color. They should spring back when gently pressed with the pad of the thumb. Stem and cap should be bright green.
Storage and Handling: Store around 50 degrees Fahrenheit. Eggplant is sensitive to heat and cold. Uncut and unwashed eggplant should be placed in a plastic bag in the refrigerator to maintain crispness and freshness. Once the inner flesh is exposed, they will perish quickly. If bought wrapped in plastic film, remove it right away to keep freshness longer.
Preparation: "Sweating" the eggplants by salting it will tenderize the texture and lessen bitter taste of the flesh. Slice to desired size and sprinkle with salt before laying it out for 30 minutes to pull out the water content. Rinse to remove salt. Use stainless steel knife to avoid flesh turning black and always wash before cutting ends and slicing.
Serving: Eggplants can be steamed, roasted or baked. Pierce many times with a fork to make small holes for steam to escape. Bake at 350F for 15-25 minutes according to the thickness and size of the slices. They are ready when the fork or knife goes through easily.
Nutrients: Excellent source of fiber and manganese. Good source of potassium, vitamin K, vitamin C, folate and vitamin B6.
Recipes:
Eggplant Appetizer
5 eggplants, peeled and cubed
5 green bell peppers, seeded and chopped
5 tomatoes, chopped
5 onions, chopped
1 ½ Tbsp. white sugar
1 Tbsp. salt
½ cup vegetable oil
½ cup red wine vinegar
½ cup water
Place eggplant, bell pepper, tomato and onion into a large pot. In a small bowl, stir together the sugar, salt, oil, vinegar and water.
Pour over the vegetables. Bring to a boil and cook over medium heat for 30 minutes.
Cool, then serve with chips.
Eggplant Delight
3 Tbsp. vegetable oil
1 medium eggplant, sliced into ½ inch rounds
1 medium onion, sliced into rings
½ cup shredded cheddar cheese
Salt and pepper to taste
Heat oil in a large skillet over medium-high heat. Add onion, and sauté until browned.
Remove the onion to a bowl, and place eggplant slices in the hot skillet. Fry on both sides until browned and tender
Season with salt and pepper. When eggplant is tender, top slices with onion and cover with cheese. Allow cheese to melt for a few minutes before serving.
--------------------------------------------------------------------------------------------
Developed by Eva Rottman-Oehler, Master Food Educator volunteer, University of Delaware Cooperative Extension
---
UD Cooperative Extension
This institution is an equal opportunity provider.
In accordance with Federal law and U.S. Department of Agriculture policy, Cooperative Extension is prohibited from discriminating on the basis of race, color, national origin, sex, age, or disability.