Parent & Family Giving
The Office of Parent & Family Giving and Student Life Philanthropy provides parents and families the opportunity to play an important role in enhancing the student experience through philanthropy to all areas across the University.
Proud Blue Hen parents and families play an integral role at UD. By supporting the University, you help ensure a dynamic student experience so all Blue Hens thrive throughout their lives.
Arc of Parent & Family Giving
This model represents a giving strategy that is popular among Parent & Family Leadership Council families and optimizes your philanthropy to UD by structuring the size and complexity of your gifts over time.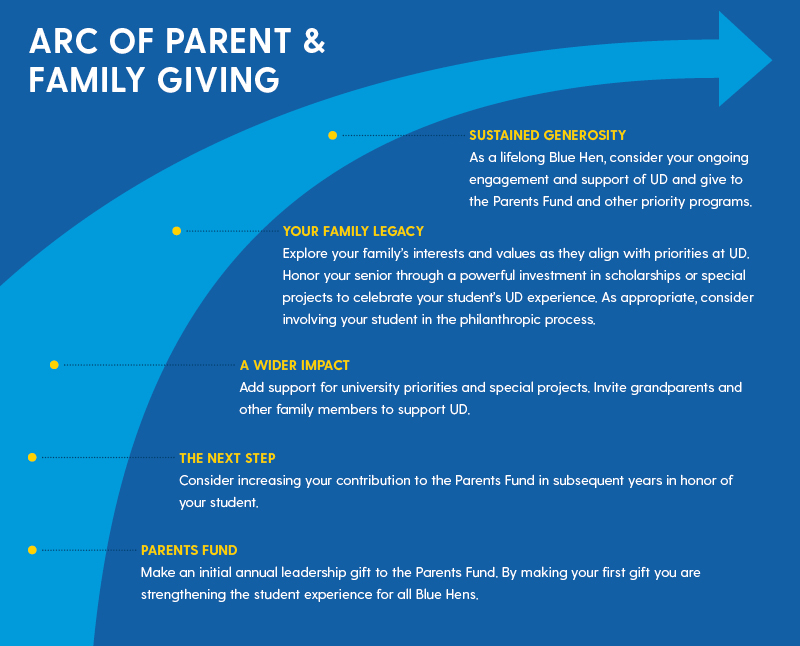 Parent & Family Thank You Video: youtube.com/watch?v=C5Tv6B6Yjhc
Philanthropy is Everywhere: youtube.com/watch?v=FunQvDxHiVs
2,000+ first-year students

participated in the CliftonStrengths Assessment to develop their top five strengths

543 events and 65 group therapy sessions

held at the new Wellbeing Center at Warner Hall in fall 2022

$9,500 Parents Fund dollars

support student diversity and inclusion initiatives, including Clothing Coop–an accessible and equitable resource for gender-affirming and professional attire

2,000 Parents Fund donors

help fund Handshake–a database that connects students to a wide variety of jobs and internships
Join the Blue Hen Family Hub
Staying informed is one of the ways proud Blue Hen parents and families can engage with UD, stay connected and support students. UD families are invited to connect with their students at the University of Delaware through the Blue Hen Family Hub.
In the Blue Hen Family Hub, parents and families can:
Access important campus news and deadlines
Sign up to receive personalized newsletters and announcements
Share updates with friends and family in the Blue Hen community
Connect with information and resources to help your student thrive at UD.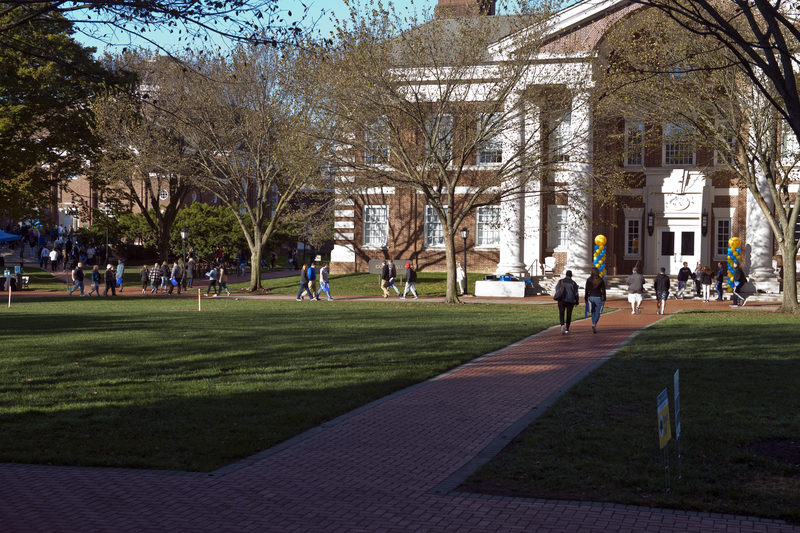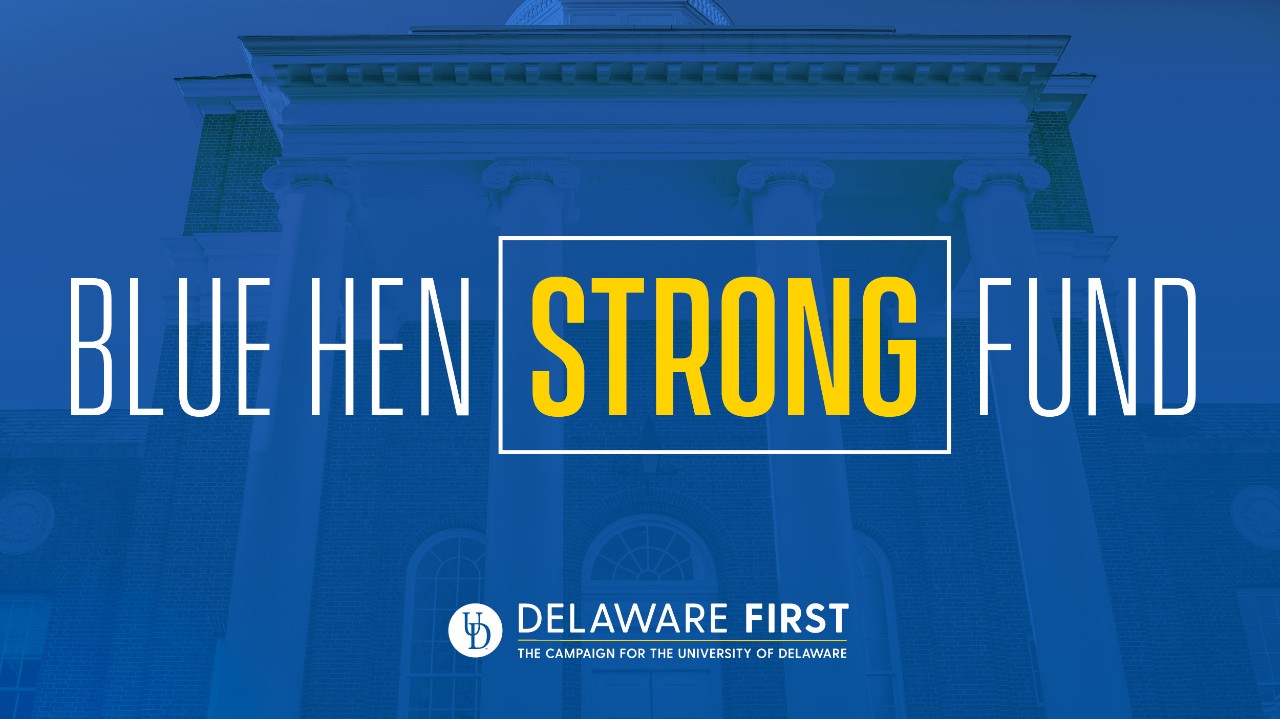 We are Blue Hen Strong
The Blue Hen Strong Fund directly meets the ever-evolving needs of our students to ensure their success at UD and beyond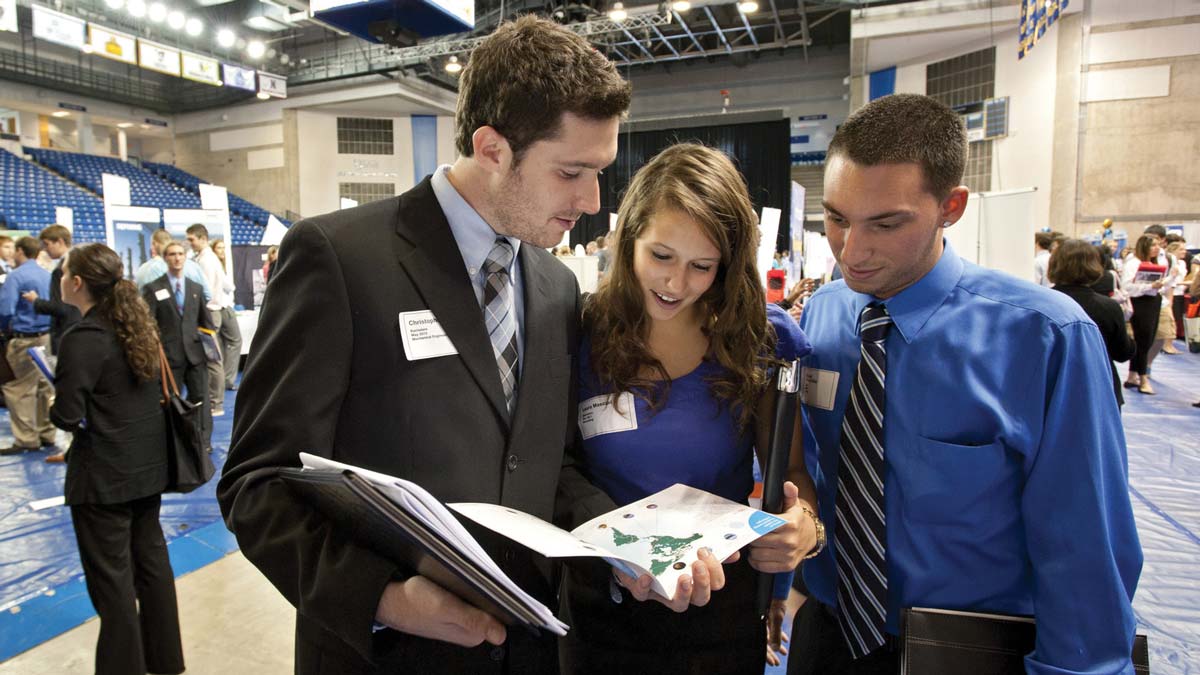 Career Networking
UD offers an array of opportunities to learn from fellow alumni, connect with students and hone your professional skills.