Blue Hen Brain Break
Whether you need a distraction, a new book or to feel connected to fellow Blue Hens and your alma mater, we've got you covered. Sometimes, all you need is a few minutes to do something just for yourself. Groom those feathers, Blue Hens.
  Coloring for All Ages!

Have a Zoom hangover? For many, coloring is therapeutic and relaxing. Check out these UD coloring pages for you (or for occupying your kids). Print them out and then zone out as you tap into your artistic side. Take five, Blue Hens!
 UD Games & Quizzes
Brain feeling a little mushy? Keep your brain sharp with these games that only a Blue Hen can master. Challenge yourself, Blue Hens!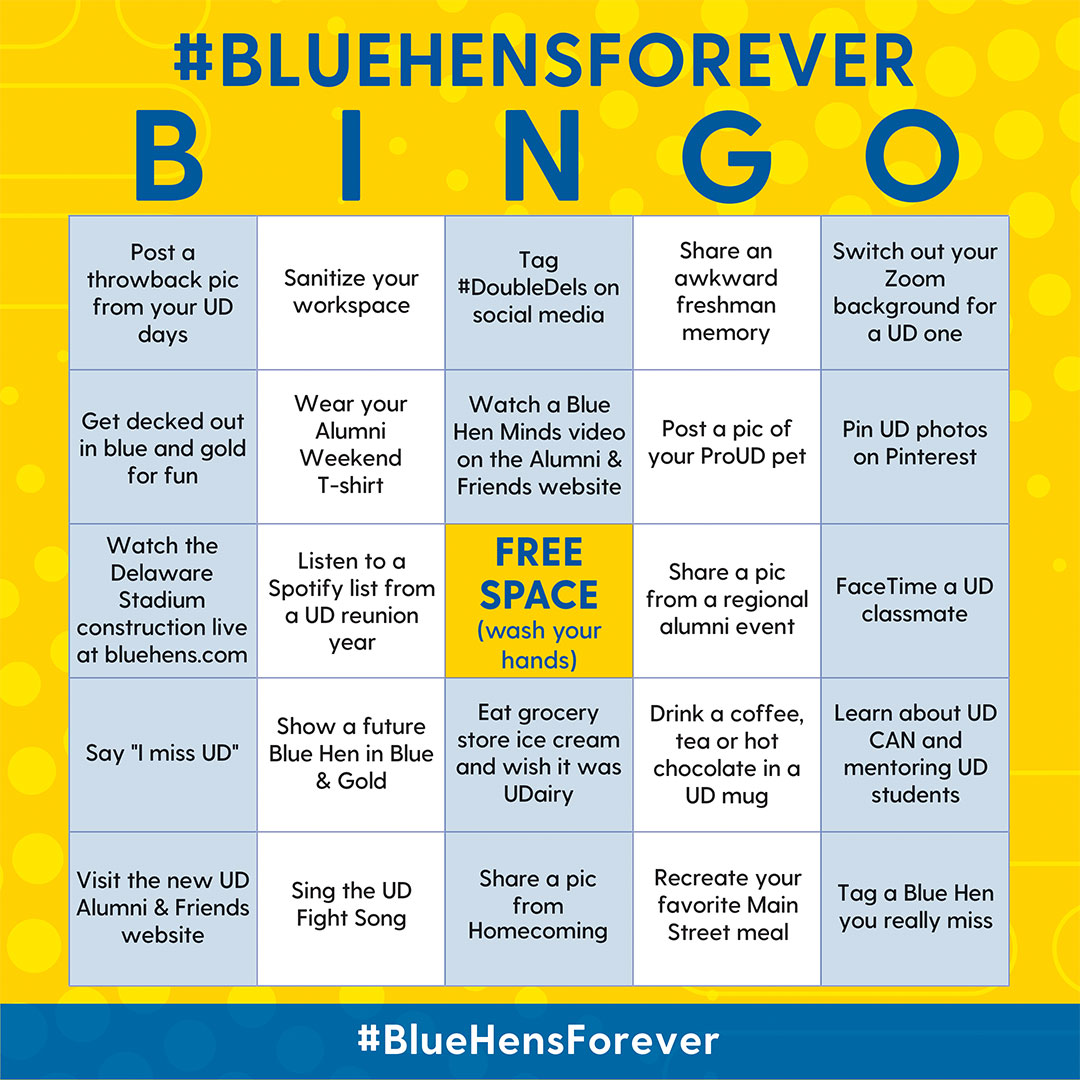 Bingo
Show us how many you got by sharing and tagging your post with #BlueHensForever!
Download the background file to your desktop from the link. Once you open the Zoom app, go to zoom.us>preferences in the upper left and click on it to open preferences. Once open, click on "virtual background" in the left column. You should be able to see yourself in the preview area. Next, click on the "+" to add the background file from your desktop. It is now loaded for use. Be sure that if you click "mirror my video," any imagery or logos are not showing in reverse to your viewer(s).  Most times this is not the case, even if it is mirrored on your end. You may want to test this before beginning a session.
  Blue Hen Minds
In these talks featuring our very own students, alumni, faculty and staff, you'll hear life-changing advice and food for thought for all sorts of topics we encounter in life. Feel enlightened, Blue Hens.
Generation X: Why We Deserve New Branding | Jacquie Jordan | TEDxUniversityofDelaware: youtube.com/watch?v=CX9i8WbaE5g
Generation X: Why We Deserve New Branding
Jacquie Jordan
TEDxUniversityofDelaware
Was Nirvana your teen anthem? While the Millennials with little sister Gen Z and the Boomers duke it out in the workforce, in politics and in pop culture, where is the voice of Gen X? This branded Slacker Generation is suffering from Middle Child Syndrome. Find out what their superhero power actually is.
BlueHensForever
Feel like connecting? Post which of these items helped you or made you smile using #BlueHensForever on Facebook, Instagram or Twitter.