Leadership in Social Innovation Graduate Certificate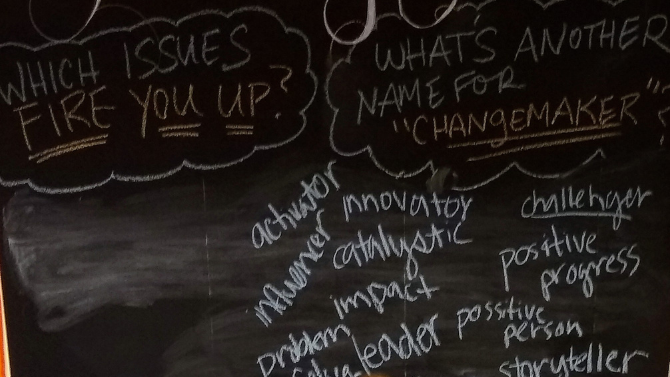 Leading Social Innovation 
The Certificate in Leadership in Social Innovation prepares students to lead themselves and others in conceptualizing, developing and implementing novel solutions to social problems for the sole purpose of improving individual and community quality of life. The certificate's approach to leadership is non-positional and sector-neutral, and it gives students the knowledge, skills and tools to answer the following question: What is the process of social innovation and how does one lead that process with others to conceptualize and actualize ideas that result in measurably improved societal well-being?  
Administered by the Graduate College, this certificate is a collaborative venture between Horn Entrepreneurship in the Alfred Lerner College of Business and Economic and the Joseph R. Biden, Jr. School of Public Policy & Administration. The 12-credit curriculum is designed to promote interdisciplinary and collaborative approaches to creatively address pressing societal challenges at the local, national and global levels, recognizing the need for collaboration among organizations in the public, non-profit and private sectors. While this academic preparation can benefit students across disciplines, some direct applications can be found for those aspiring to become social entrepreneurs, social enterprise or nonprofit leaders, public servants, and corporate social responsibility and innovation (CSR and CSI) leaders.
Admission
Admission is selective and competitive based on the number of well-qualified applicants and the limits of available faculty and facilities. 
Current UD Graduate Students: University of Delaware graduate students may apply at any time, as applications will be considered on a rolling basis. To apply, please fill in and submit the following linked form.
Current UD Undergraduate Students: University of Delaware undergraduates, with exceptional academic records and/or relevant experiences, may apply to the program in their junior or senior year, with applications being considered on a rolling basis. To apply, please fill in and submit the following linked form. Please note that all undergraduates interested in this program must enroll in the graduate section of all required courses (e.g., enroll in ENTR620, not ENTR420). If permission is needed to enroll in the graduate section, please email the course instructor for support.
Degree Requirements
This Certificate requires 12 course credits as listed below.  There are six credits of required courses and six credits of restricted elective courses.
ENTR 620 Social Entrepreneurship (3 credits)

LEAD 600 Leadership for the Common Good (3 credits)
Students must choose three credits from the following restricted elective list:
The following three credit course is recommended for the graduate certificate program:
ENTR 664 Social Entrepreneurship Practicum (3 credits)
However, if a student is unable to take ENTR 664, the following courses are approved substitutions:
ENTR 617 Design Thinking and Innovation (3 credits)

ENTR 654 Introduction to Entrepreneurship (3 credits)
Students must choose three credits from the following restricted elective list:
UAPP 697 Leading Organizations in the Public and Non-Profit Sectors (3 credits) or LEAD 604 Leadership in Organizations (3 credits)

UAPP 650 Values and Ethics of Leadership (3 credits)

UAPP 684 Performance Management and Program Evaluation (3 credits)

SPPA 600 Biden Seminar (1 credit) Can be repeated 3 times for credit
Contact
For more information, contact one of the program co-directors:
Dr. Stephanie Raible, Assistant Professor of Social Innovation and Entrepreneurship
Horn Entrepreneurship, Alfred Lerner College of Business and Economics
Dr. Karen Stein, Associate Professor of Leadership
Joseph R. Biden, Jr. School of Public Policy & Administration