Delaware Innovation Fellows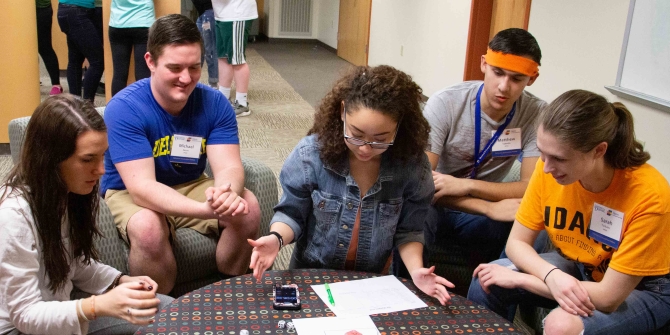 Yes, You Can Change the World!
The Delaware Innovation Fellows (DIF) Program offers unique learning and enrichment opportunities to select students from ANY major who demonstrate passion, creativity, and leadership in seeking to challenge the status quo. DIF programming is purposefully designed to enrich your college experience by cultivating a sense of belonging and developing skillsets for leading an impactful life. Through DIF you will:
Join a welcoming community of innovators.
Build your personal brand and professional network.
Engage in personal exploration to identify your interests and passions.
Put your ideas to action through an innovative capstone project of your choosing.
Change the world!
The impact of being part of DIF is that I am more prepared for the real world and feel I can utilize the connections I have made with this program and have the tools to succeed.

Communications Major, class of 2020
Meet some fellows
Danielle Fisher
Danielle worked on a product that will allow women in African countries to transport water from wells on their hips to reduce the impact on their physical health. Read more.
Carlos Benito
Carlos addessed the challenge of education for students in low-resource settings by working with a software company. Read more.
Ariel Hannum
Ariel constructed a lower body pressure device to help researchers better understand age associated cognitive decline. Read more. 
An Individualized Experience
DIF is designed to meet the needs of students as they learn and grow throughout their college experience. With its unique, phase-based approach, students will progress through the program at an individualized pace.
Build close connections with your peer fellows. Gain knowledge and skills to put your ideas to action.
Attend Ignite! early move-in program
Live in the World Changers Living Learning Community
Enroll in specialized courses to develop your innovative skillset
Discover your passions. Learn what innovation means to you!
Attend community building events
Complete self-guided exploration to identify your passions
Enroll in an entrepreneurship degree program (major, minor, certificate)
Get first-hand experience with creative problem solving and value creation from new ideas.
Put your ideas to action by completing an innovative project of your choosing
Showcase how you changed the world
Complete your entrepreneurship degree program
Applications for the next Delaware Innovation Fellows Fall cohort will open in December for incoming freshmen admitted to UD's Newark campus. Admitted students can access the application through their My Blue Hen Home student portal (udel.edu/mybluehenhome).
Applications are typically due by the end of March.