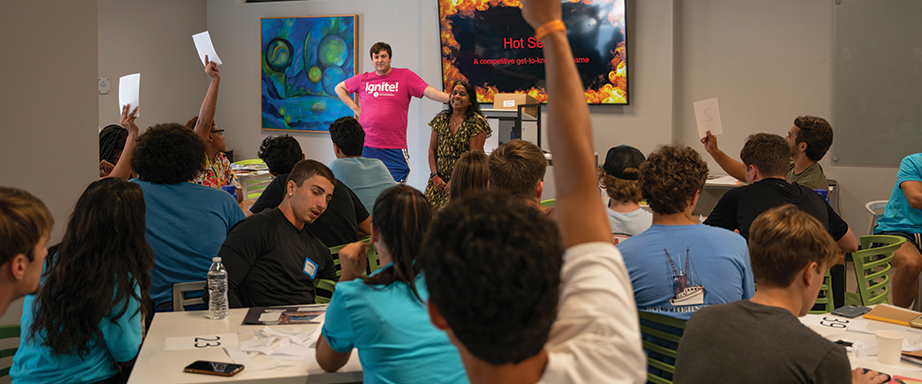 Elevate Your College Experience
Horn Entrepreneurship's Enrichment programs elevate the college experience by welcoming students into a like-minded community and supporting their acquisition of valuable skills, experiences and connections outside of the classroom.
Delaware Innovation Fellows (DIF)
DIF is a 4-year experience and community for passionate leaders, innovators, makers and entrepreneurs from any major who seek to turn their ideas into a reality.
"DIF opened up a whole new realm of opportunities that wouldn't typically be available to a mechanical engineering student."
Siegfried Entrepreneurial Leadership Fellows
The Siegfried Entrepreneurial Leadership Fellows (SELF) program is a highly selective, unique experience designed to expand and deepen understanding of leadership and oneself as a leader, connect and learn with others, and inspire initiative for positive impact.
Leadership… it's getting in touch with your dreams and those things in your life that really inspired yourself. You can't be strong and great for other people unless you are strong and great for yourself.

CEO & Founder, The Siegfried Group
Opportunities for all students
Callout container node

You can create, edit and delete callouts in the Websites console
*denotes exclusive opportunities for entrepreneurship majors
**denotes exclusive opportunity for Delaware Innovation Fellows
July 11, 2023 | Written by Ryan Sigmund

During the 2023 winter session, a group of University of Delaware students traveled 1000 miles across the globe to study workplace culture in the Down Under.

June 30, 2023 | VentureWell

University of Delaware Horn Entrepreneurship's Social Entrepreneurship Initiative was recognized at the Deshpande Symposium on Innovation & Entrepreneurship as its 2023 awardee for Excellence in Curriculum Innovation in Entrepreneurship.

June 29, 2023 | Written by Yashlee Francois

Cute and personalized cookie cutters, hands-free door openers, and an "impossible floating" table are all imaginative ideas brought to life by the wonders of the 3D printing world. More specifically brought to life by the innovative mind of Richard Hayburn and his business Burn Social LLC., who have made it a mission to bring everyone's imagination to life, whether it's the imagination of an established engineer or an artistic 8-year-old.