Agricultural and Resource Economics M.S.
Contact Us
302-831-1325
---
Leah Palm-Forster, Assistant Professor of Applied Economics
Program overview
The program in Agricultural and Resource Economics leads to the Master of Science degree and offers students the perspectives and skills necessary to understand and work in the general fields of applied economics, agricultural and food economics, resource economics, environmental economics, agribusiness, or government sectors of the economy. Also, a strong intermediate level of training is offered so that students may continue graduate work and obtain a PhD degree. Students completing the M.S. degree in Agricultural and Resource Economics are expected to acquire:
theoretical knowledge in microeconomics and primary data collection necessary to complete human dimensions research;

quantitative skills in econometric modelling as well as best methods for data collection, management, and analysis;

competencies in agriculture and food policy, behavioral economics, environmental economics, experimental economics, research methods, resource economics, and/or stated preferences;

critical thinking, oral and written communication skills by composing and presenting a thesis.
Course spotlights
Graduate students study consumer theory (e.g., deriving demand), theory of the firm (deriving supply), market equilibrium (putting demand and supply together) and market forms (perfect and not so perfect ones). Instructors then cover more advanced approaches to microeconomic theory, such as social preferences, behavior in the commons, market failures, risk and uncertainty, and we will review some recent literature.
This course introduces the foundational models and ideas of behavioral economics. Behavioral economics aims to increase the realism of standard economic models by accounting for more nuanced behaviors grounded in psychological and sociological insights. The goal is to better understand human decision making and to improve policy recommendations and welfare estimations in cases where traditional economic models fail to capture relevant behaviors. Applications tie to issues in environmental, food, energy and agricultural economics.
Students explore the use of lab and field experimental techniques and randomized controlled trials and their application to economic research. Instructors Introduce students to the classic experimental games and related literature that provide the foundation for ongoing experimental economics research. Material is introduced through hands-on participation in experiments and lectures. Students also conduct their own replication of previously published experiments and write-up results as a final research project for the course.
Graduate students
Ryan Bresnahan
Hometown: Chatham, New Jersey
Research interests: Consumer preferences, consumer decision-making, experimental economics
Hobbies: Exercising, hiking, sports, and relaxing
Abigail Crittenden
Hometown: Frederick, Maryland
Research interests: Nutrition and development economics
Hobbies: Ice hockey, CrossFit, eating at restaurants

Lily DeCaro
Hometown: Madison, New Jersey
Research interests: Consumer preferences and all things food
Hobbies: Gardening, running, dogs, and traveling


Pius Lwiyiso Kilasy
Hometown: Njombe, Tanzania
Research interests: Consumer preferences on rice products, cost-benefit analysis and farm accounting, and adoption and uses of improved rice seeds
Hobbies: Sports, music, traveling, volunteering, reading and writing
Mujahidul Islam
Hometown: Dhaka, Bangladesh
Research interests: Dynamics of economic and ecological system, Economics of land use, Environmental policy design and evaluation
Hobbies: Travelling, road biking, and sports
Caroline May
Hometown: Exton, Pennsylvania
Research interests: Dietary choices, social determinants of health, social marketing
Hobbies: Gardening, cooking, and swimming
Caroline Johnson
Hometown: Hopkinton, Massachusetts
Research interests: Climate change, influencing prosocial behavior, and food security
Hobbies: Traveling, hiking, listening to music, and spending time with family and friends
Mona Mapunda
Hometown: Morogoro, Tanzania
Research interests: Women in agriculture and women empowerment
Hobbies: Gardening, exploring natural vegetation, and singing
Julia Parker
Hometown: Wilmington, Delaware
Research interests: Sustainable development and incentivizing prosocial behavior
Hobbies: Tennis, reading, and keeping houseplants alive
Stephen Bull
Hometown: Baltimore, Maryland
Research interests: Renewable energy transition; Public infrastructure externalities; Utility and transportation household preferences.
Hobbies: Cheering on my sports teams, fly fishing, finding new craft breweries, and cooking different recipes
Madison Czerniawski
Hometown: Chicopee, Massachusetts
Research interests: Experimental economics, climate change, coastal issues, natural resources, and sustainability
Hobbies: Traveling, cooking/baking, softball, and spending time with family/friends

Polina Dineva
Hometown: Bayville, New Jersey
Research interests: Environmental Economics, Climate Change and Water Policy, Sea-Level Rise, Environmental Justice
Hobbies: Traveling, Hiking, Swimming, Rock Climbing
Suraj Gurung
Hometown: Kathmandu, Nepal
Research interests: Consumer preference, agricultural policy & sustainable development, experimental economics, and development economics
Hobbies: Trekking, travelling, listening to acoustic music, and writing
Catherine Johnson
Hometown: Newark, Delaware
Research interests: Farmer decision making, barriers to adoption of nutrient management practices
Hobbies: Bass and fly fishing, deer hunting, water polo, and hiking
Rachel King
Hometown: Seaford, Delaware
Research interests: Environmental Economics, agriculture, and resource/land conservation
Hobbies: Traveling, being outdoors, and reading
Sarah Meyer
Hometown: Sussex, New Jersey
Research interests: Consumer preferences for eco-conscious products, market-based solutions for environmental regulations, and sustainable development
Hobbies: Hiking, tap dance, mixology, and board games
Mitchell Stallman
Hometown: Amherst, New Hampshire
Research interests: The intersection of environmental and development economics, agri-environmental policy, ecological economics, feminist economics
Hobbies: Any outdoor activity, but mostly climbing and running, cooking delicious vegan meals, guitar
Faculty advisors
Research News
September 20, 2022 | Written by Renee Wilson of National Audubon Society

Purple Martins (Progne subis) are long-distance migrants, with most wintering in the Amazon Basin after breeding across the eastern U.S. and Canada. Biologists at the University of Delaware are conducting a study to learn more about Purple Martins. Their goal? To link the movement ecology of individual birds in the mid-Atlantic region with their breeding productivity, foraging habitat use, survival, migration phenology, and nonbreeding locations. The study will also identify the locations and monitor the phenology of autumn Purple Martin roosts in the mid-Atlantic region.

September 14, 2022 | Written by Michael Short of Lamcaster Farming

Could baby ginger become an alternative crop for Mid-Atlantic farmers? That's one of the research projects at the Carvel Research and Education Center of the University of Delaware. The baby ginger research is being headed by Shem Elias, a Tanzanian master student.

September 12, 2022 | Written by

Senior offensive lineman James Prince was usually alongside his teammates as they prepare for the 2022 season; however, he would often show up in the evenings covered in dirt and mud.
Featured research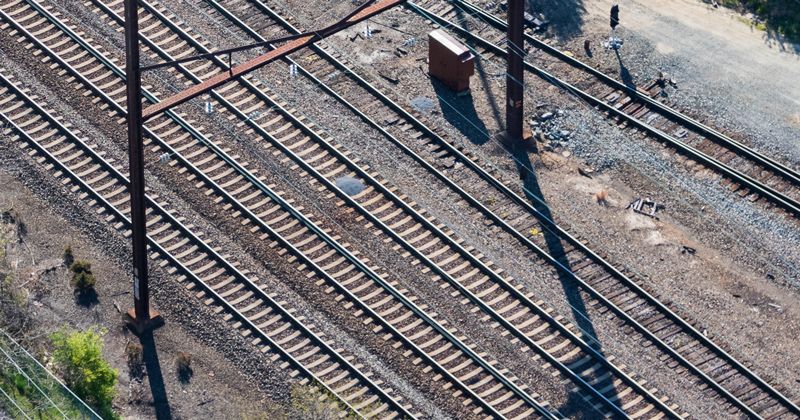 Derailing property values