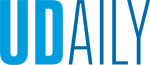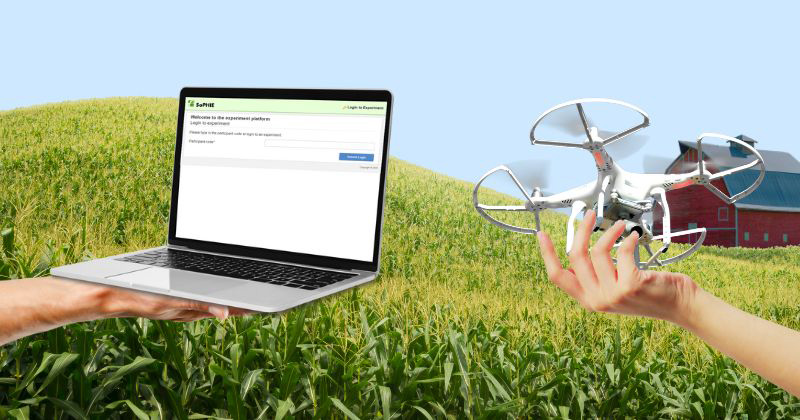 Agricultural policy making
Article by Katie Peikes Photo illustration by Darshaye Robinson August 21, 2023
UD's Leah Palm-Forster and Kent Messer involve stakeholders in research designed to make their work more relevant to society
How do you get farmers to take action to help prevent climate change?
A few years ago, that was the key question Kent Messer, University of Delaware S. Hallock du Pont Professor of Applied Economics, explored in research that was published in a prominent scientific journal. Along with scientists from the U.S. Department of Agriculture (USDA) and their collaborators, the research team designed a study involving thousands of farmers in the Upper Midwest of the U.S.
"That study showed that, contrary to conventional wisdom, directly referencing climate change and greenhouse gasses did not result in having farmers take less steps towards conservation," Messer said.
Messer and UD faculty member Leah Palm-Forster embedded this illuminating finding in a new research paper on stakeholder participation in economic experiments for agricultural policymaking. In collaboration with 11 other researchers in Europe and North America, they published the paper in the journal Applied Economics Perspectives and Policy. The team broke down the pros and cons of designing experiments with stakeholders and offered 12 recommendations for their fellow researchers. Economic experiments can give clues into the causes of how people behave and make decisions in certain environments.
In the new research, Messer and Palm-Forster argued that involving stakeholders such as farmers, government policymakers and advisers in the process of creating those experiments can encourage more acceptance of research findings that can meaningfully inform agricultural policy. The researchers said the new paper could educate others doing similar types of research, serving as a guide that could help to make future studies more successful.
Featured research
The paper pulled six research projects together. It offered an overview of researchers' experiences with their own economic experiments, laid out lessons learned and offered recommendations for researchers doing these types of studies in the future.
UD's Messer and Palm-Forster had worked on separate studies, but were coincidentally brought together on the perspectives paper by lead author, Julia Höhler of Wageningen University and Research in the Netherlands.
Messer was involved in a study where the USDA mailed letters to nearly 10,000 agricultural producers across the U.S. to encourage them to adopt certain environmentally-friendly farming practices. Mail sent to many of the producers mentioned the terms greenhouse gas emissions and climate change, while many other letters did not.
Palm-Forster worked with University of Guelph economics professor Tongzhe Li, a former UD post-doctoral researcher, on a field experiment designed to test agri-environmental program strategies in Ontario, Canada. The researchers collaborated with the Ecological Farmers Association of Ontario to look at reverse auctions — when farmers bid for a spot in conservation programs to use more environmentally-friendly agricultural management practices. The researchers examined how these auctions could cost-effectively incentivize farmers to plant cover crops, which improve the health of soil.
"We felt like we have had a really productive relationship with the Ecological Farmers Association of Ontario," said Palm-Forster, an associate professor in applied economics and statistics and the director of the Center for Experimental and Applied Economics. "We wanted to share that experience in this paper."
Palm-Forster and the co-authors, including Messer, looked for common ground in their research for the perspectives paper.
"We go through and collectively think about what are the advantages of doing stakeholder-driven research? And what are the disadvantages?" Palm-Forster said. "And then how does that move us forward in terms of being able to do research that better informs evidence-based programs that support agriculture and the environment."
Takeaways
The researchers shared several lessons learned, including the advantages and disadvantages of involving stakeholders in the design process of economic experiments.
One of the advantages, they said, is the ability to access a wealth of stakeholder knowledge which helps to create a more realistic study and make more relevant policy recommendations. A disadvantage is it can take time to build strong relationships with stakeholders and those delays can lead to issues for academics, who are on tight budgets and schedules with their research.
Despite any disadvantage, Palm-Forster emphasized the value of collaboration with stakeholders in designing research.
"There was a collective agreement of the real value in doing stakeholder driven research," Palm-Forster said. "And working with stakeholders to make sure that the questions that we're asking are relevant, that they are policy-driven, so that we can develop evidence-based recommendations that can be used to improve agri-environmental outcomes."
Messer explained that the findings speak to various challenges for researchers, such as collaborating with government agencies.
"Working with agencies requires a great deal of buy-in from many people," Messer said, "and common ground between the agencies and the researchers on what questions are interesting to study. Often researchers need an internal government champion behind the project."
Messer and Palm-Forster said researchers following in their footsteps should prepare carefully, establish clear goals, and raise enough money for the research.
Messer said academia and the government need to engage frequently to look at how they're spending taxpayer money and what lessons they can learn to help ensure that this money is spent in the most effective way possible.
"It's never more important than doing economic experiments now," Messer said. "We need solutions to conservation and climate change challenges and we need to extend that knowledge in the decades to come."
About the funding
Messer received funding for his research from the USDA National Institute of Food and Agriculture and USDA Economic Research Service. Palm-Forster and Li received funding for their research from the Weston Family Foundation, the Ontario Ministry of Agriculture, Food and Rural Affairs, the Natural Sciences and Engineering Research Council of Canada, and the Agriculture and Agri-Food Canada.