Landscape Architecture major
YouTube link to Major in landscape architecture at the University of Delaware: youtube.com/watch?v=0b0j2iWl5xc
The Bachelor of Landscape Architecture (BLA) at the University of Delaware is a professional degree program that provides undergraduate students with specific competencies for leadership within the profession of landscape architecture including the knowledge, skills and abilities required for successful practice. 
Key subject areas include plants and ecosystems; communications; site design and engineering; design, planning and management; public policy and regulations; computer applications; natural and cultural systems; sustainability; history, theory and criticism; professional practice; professional values and ethics; creative problem solving, art, business, math and science.
This sample shows just one possible pathway to earning a bachelor of science degree in Landscape Architecture in four years. This plan does not replace the advice of your advisor.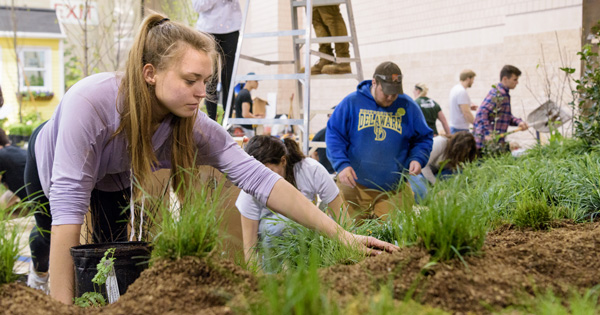 Contact us
302-831-2508
---
Noël Hart Wolhar
Associate Director, CANR Undergraduate Recruitment
YouTube video linkNew UD students take landscape architecture excursion: youtube.com/watch?v=Gpk10NuGsIg
Honors and awards
Additional student honors

William J. Benton Graduate Student Award 
Congratulations to Emma Ruggiero who won the 2021 William J. Benton Graduate Student Award at the M.S. level. This prestigious award was established in honor of William J. Benton, former CANR associate dean of research and professor, in recognition of his dedication to graduate education.
"My internship with the Coastal Resilience Design Studio has been one of the most fast paced and well-rounded learning experiences of my life. I feel much more prepared for academic and professional work having spent my summer with the studio."

– DJ Bromley, August 2020

"The Coastal Resilience Design Studio internship provides a great opportunity to continue to hone your design skills over the summer while also making a difference in the Delaware communities. You get to work with a great team and make professional connections through reviews of your work with various agencies throughout the state."


– Joshua Gainey, August 2020

"Working for the Coastal Resilience Design Studio is a golden opportunity in the Landscape Architecture program. It is a completely immersive experience, doing real life design work. The collaborative environment is really open and supportive because we are learning new skills so quickly, we rely on each other heavily for sharing tips and tricks to make our work the best it can be."


– Leigh Muldrow, August 2020

"The CRDS offers students real world application of the process a landscape architecture studio simulates. The studio allows us (interns) to contribute our creativity through the design process of the projects completed through the team. I've learned and experienced working with a team of architects, engineers and outside decision makers from the beginning to end on projects. My experience with the studio and team has been great and I've learned a lot. I'd recommend to any student in the LA program."


– Christopher Fettke von Koeckritz, August 2020

"Working with the Coastal Resilience Design Studio as a graduate student has been an incredibly rewarding professional and educational experience. Throughout my time with CRDS, I was able to collaborate in a creative and supportive studio environment to design real solutions for Delaware's pressing coastal issues. One of my favorite aspects of the studio has been learning from inspiring mentors, industry professionals and community leaders. Taking on a leadership role, I gained confidence in the design process and honed professional communication skills. Importantly to me, the studio provided the opportunity to design creatively for a mission that promotes a strong environmental message."


– Emma Ruggiero, August 2020
Related Student Organizations