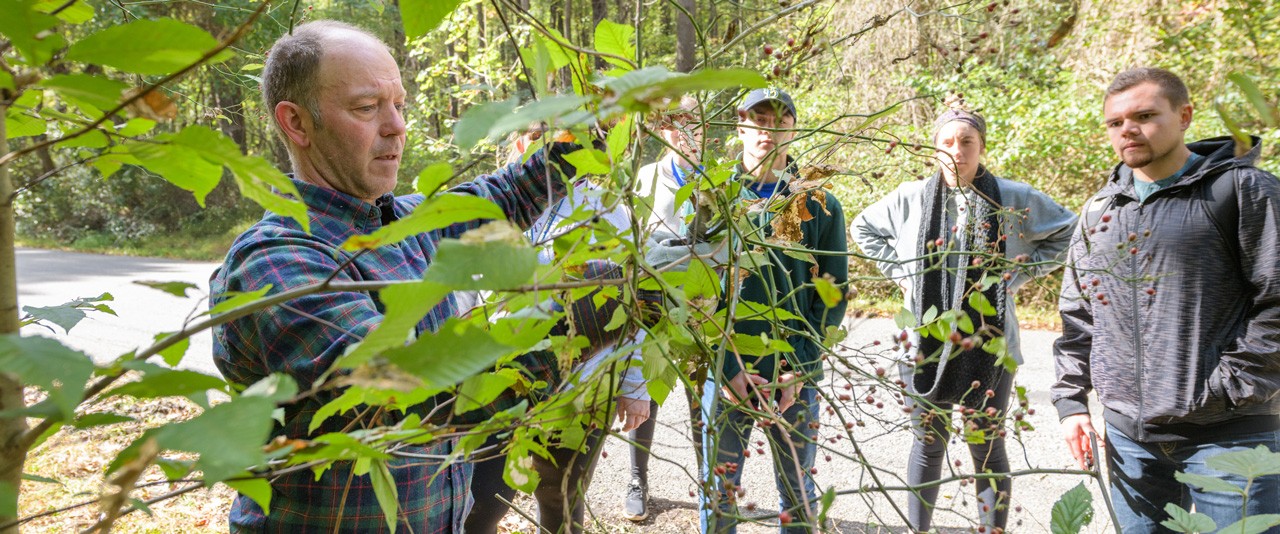 Plant and Soil Sciences for undergrads
Our department focuses on all aspects of plant and soil science, from the molecular to global, wilderness to urban environments, scientific to social concerns, and field and laboratory settings. We apply chemical, biological, and physical principles to ensure adequate food supplies and a safe, aesthetically pleasing and sustainable environment. We have a student-to-faculty ratio of less than four-to-one, providing excellent research and internship opportunities for hands-on learning experiences. We know all of our students very well through our classes, advising, and research projects. Our academic environment is highly conducive to learning, with well-equipped laboratories, an extensive botanic garden, state-of-the-art greenhouses, computer facilities, and areas for studying and socializing. 
We have affiliations with individuals at major nearby institutions and companies that also provide unique opportunities for learning. Recent graduates from our department are in a broad spectrum of careers including positions as landscape architects and designers, laboratory technicians, soil scientists, graduate and post-graduate research scientists, park rangers, golf course superintendents, estate managers, faculty at other universities, greenhouse and nursery production specialists, and agronomists.
Our minors
Students explore the soil as a precious resource and investigate the key role it plays as a reservoir of water and nutrients for plant health. The required courses will provide the foundation needed for careers in environmental consulting, natural resource management and restoration. Required courses include: 
PLSC 204 - Introduction to Soil Science 

PLSC 205 - Introduction to Soil Science Laboratory

PLSC 305 - Soil Fertility and Plant Nutrition 
This minor gives students insights into the natural and managed landscape. The courses supplement a wide variety of environmental careers. The program is open to students in any UD major except for landscape architecture and requires a total of 19 to 20 credits, including the following required courses:
PLSC 101 – Botany I 

PLSC 204 – Introduction to Soil Science 

PLSC 403 – Landscape Management 
Contact us
302-831-2508
---
Noël Hart Wolhar
Associate Director, CANR Undergraduate Recruitment