Plant and Soil Sciences Graduate Program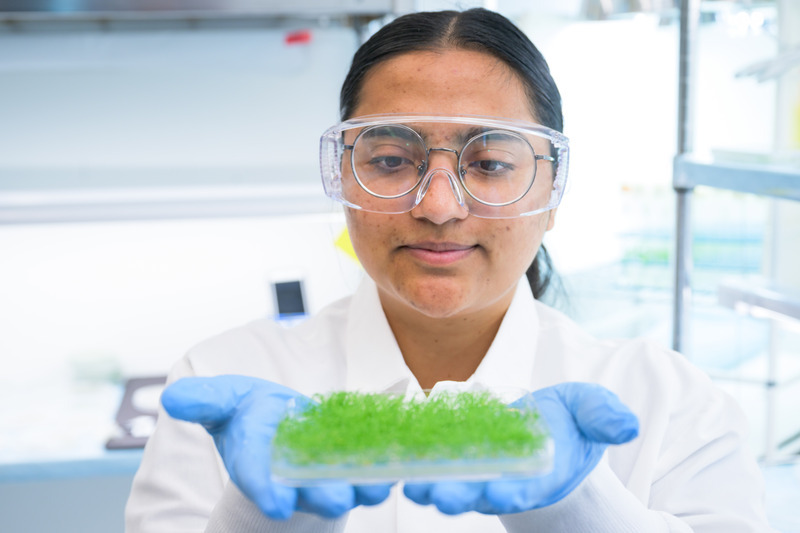 One graduate program. Two concentrations. Three degree options.

Plant Science involves course work in plant molecular biology, plant breeding, plant pathology, plant tissue culture, horticulture, crop science, plant anatomy and/or plant physiology with thesis research in one of those areas.
Soil Science involves course work and thesis research in soil chemistry, soil fertility and management, soil physics, soil microbiology and biochemistry, environmental microbiology, soil and water quality and soil formation and biogeochemistry.
Degree options:

Ph.D. dissertation degree
M.S. thesis degree
M.S. non-thesis degree (full- or part-time)
Latest News
September 14, 2023 | Written by Michele Walfred

At their Milton home, Double Del couple Carol-Mertes Smith and Gary A.Smith combine their passions for tropical landscapes, fine art and sculpture and the culinary arts with their patronage of the University of Delaware Botanic Gardens (UDBG). Walk through their unforgettable property, and you'll see a landscape that spans three distinct climate zones — a collage of texture, color, function, whimsy, purpose and surprise.

September 07, 2023 | Written by AJ Rubinetti

A blossoming partnership between a student group and University of Delaware Dining is changing the way students eat on campus. The Hydroponics Club is growing fresh herbs with no soil and minimal water in two aeroponic towers in Caesar Rodney Fresh Food Company and Pencader Dining Hall.

August 24, 2023 | Written by Kate Zincone

Originally from Ibadan, Oyo State, Nigeria, Samuel Oluwapamilerin Bamidele came to the University of Delaware to study plant and soil sciences. He recently earned membership into the prestigious Encompass Fellows Program.
Application process update:  Due to coronavirus (COVID-19), the program of PLSC is waiving the GRE requirement for our graduate program.  If you wish to apply without a GRE score, please enter a future GRE exam date into the application.  It need not be a legitimate exam date.  Entering a future exam date causes the system to finish your application and send it on to our review committee where it will receive full consideration.