Sustainable Food Systems major
Major in sustainable food systems at the University of Delaware: youtube.com/watch?v=QQEgnAlXgdA
Do you want to become a leader in improving the sustainability of food systems in our community and across the globe? Sustainable Food Systems (SFDS) will train you to approach key food system challenges critically and innovatively—from agriculture and production, processing, retail consumption and waste. Sustainable food businesses, nonprofits and policymakers need more thinkers, strategists, planners and activists to help lead the population in utilizing, yet preserving our precious natural resources.
Uniqueness of our program
Classroom theory meets practical application in our distinctive 350-acre classroom—a live laboratory with state-of-the-art greenhouses, gardens and research labs. SFDS majors gain practical experience in a diverse atmosphere. Our resources are second-to-none, including a U.S. Department of Agriculture certified organic vegetable operation, greenhouse with hydroponics and a farmbot, controlled environment growth chamber facilities, research laboratories, food production facilities, hop production yard, botanic gardens and ecology woods. Many other on-campus laboratories host undergraduate research opportunities, including Delaware Biotechnology Institute and the Harker Interdisciplinary Science and Engineering Laboratory. Delaware Cooperative Extension also offers opportunities in programs like 4-H youth development, lawn and garden, and family and consumer sciences. Students may also take part in internships and other experiential learning activities at the Carvel Research and Education Center, which spans 467 acres in Sussex County.
Our curriculum
Our curriculum emphasizes the fundamentals of plant, soil, food, social and animal sciences, including basic chemical and mathematical principles, to the food system. Our overall goal is to provide food, feed and fiber in ways that are profitable, with considerations of food equity, while protecting the environment and preserving natural resources. At the forefront of this curriculum, we solve problems of agricultural production systems and critically evaluate these food systems in relation to their economic, environmental and social justice. You will learn the fundamentals of agronomy and related agricultural sciences required for sustainable food production and food security. Finally, you will apply your food systems knowledge in an experiential internship.
This sample shows just one possible pathway to earning a bachelor of science degree in Sustainable Food Systems in four years. This plan does not replace the advice of your advisor. 
Related student organizations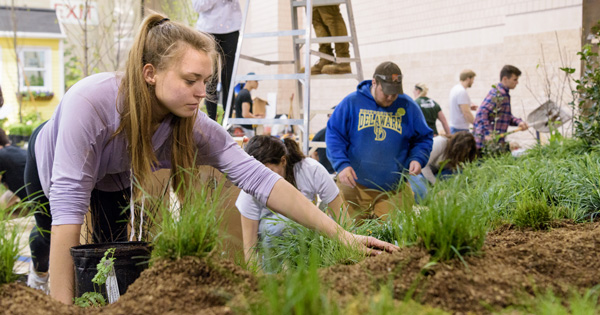 Contact us
302-831-2508
---
Noël Hart Wolhar
Associate Director, CANR Undergraduate Recruitment