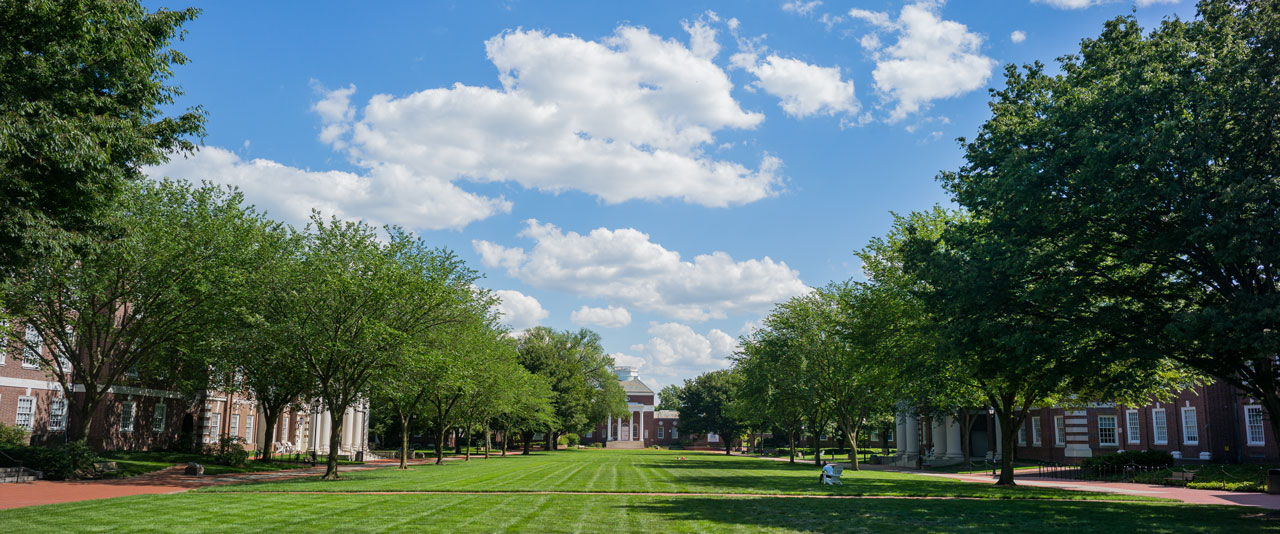 Plan Your Visit
This is what a college town looks like.
When you think about an idyllic college town, you're thinking of Newark: The shops, cafes and restaurants on Main Street centered around the University of Delaware campus. Visit us and see for yourself what life at UD is like. Stroll the brick pathways of The Green with our student tour guides, visit our cutting-edge labs, see a residence hall and spend an afternoon taking in the town.
Fall Campus Tours
September 12 - December 8
Monday - Friday
9:00 a.m., 10:30 a.m. and 1:30 p.m.
Blue and Golden
Open House for Prospective Students
Hear from faculty representing all 150+ majors, get a sense of life on campus, chat with counselors about the admissions process and speak to staff from study abroad, residence life, honors and more.
Saturday, September 24
Saturday, October 8
Saturday, October 29
Virtual Admissions Info Sessions
Are you interested in learning more about the University of Delaware and our application process? Attend this one-hour long session where you can hear directly from one of our admissions counselors, and ask current students about their UD student experience.
Virtual Admissions Sessions for International Students

Join us to hear from our international admissions counselors and current students about how UD can prepare you to make your ideas a reality. Learn about majors offered, student life, career advising, immigration advising, scholarships and more.
Virtual Honors Info Sessions
Join honors staff and current honors students online for a virtual information session hosted on Zoom. During this session, you will hear about the benefits of the Honors College and the application process. Students will share their experiences with honors courses, enrichment and community.
For Transfer Students
Transfer Virtual Information Session
Join us for a virtual information session on transferring to the University of Delaware. Hear from our counselors about how UD can prepare you to make your ideas a reality.
For Everyone
Ask Your Counselor
Meet with the UD admissions staff and learn more about the admissions process, about our majors, or get answers to any of the questions you have about the University.
Speak with staff and faculty in your major
While the information session and tour offered by admissions will give you an overall look at campus and the opportunities available to the Blue Hen community, many students will still have questions about their desired major. Some may want to speak to an academic advisor or faculty member. Others may be curious about labs and research areas. Contact the academic department below to find what opportunities they have to offer.
| | | | |
| --- | --- | --- | --- |
| Accounting | Jeff Gillespie | gillespj@udel.edu | Please email |
| Actuarial Sciences | Department of Mathematical Sciences | math-undergrad-admin@udel.edu | Please email |
| Africana Studies | Jorge Serrano | serrano@udel.edu | 302-831-6406 |
| Agriculture and Natural Resources | Noël Hart Wolhar | nwolhar@udel.edu | 302-831-2508 |
| Animal Biosciences | Noël Hart Wolhar | nwolhar@udel.edu | 302-831-2508 |
| Animal Science | Noël Hart Wolhar | nwolhar@udel.edu | 302-831-2508 |
| Anthropology | Peter Benson | pbenson@udel.edu | Please email |
| Applied Molecular Biology and Biotechnology | Medical and Molecular Sciences | mms-dept@udel.edu | Please email |
| Art and Design | Department of Art and Design | artdepartment@udel.edu | Please email |
| Art Conservation | Theresa Slusser | tslusser@udel.edu | 302-831-3489 |
| Art History | Linda Magner | lmagner@udel.edu | 302-831-8416 |
| Asian Studies | Haihong Yang | hyang@udel.edu | Please email |
| Associate in Arts - Wilmington | Associate in Arts Program | associateinarts@udel.edu | Please email |
| Associate in Arts - Dover | Associate in Arts Program | associateinarts@udel.edu | Please email |
| Associate in Arts - Georgetown | Associate in Arts Program | associateinarts@udel.edu | Please email |
| Astronomy | Carlyn George-Roberts | carlyna@udel.edu | 302-831-2662 |
| Biochemistry | Susan Cheadle | scheadle@udel.edu | 302-831-1247 |
| Biological Sciences | Department of Biological Sciences | bio-questions@udel.edu | Please email |
| Biomedical Engineering | Nancy England | nengland@udel.edu | 302-831-2097 |
| Black American Studies | Carol Henderson | ceh@english.udel.edu | 302-831-2897 |
| Business Analytics | Mark Serva | servam@udel.edu | Please email |
| Business-Undeclared | Piper Wissinger | piper@udel.edu | 302-831-2554 |
| Chemical Engineering | | cbe-info@udel.edu | Please email |
| Chemistry | Susan Cheadle | scheadle@udel.edu | 302-831-1247 |
| Civil Engineering | Department of Civil and Environmental Engineering | cee-info@udel.edu | 302-831-2442 |
| Cognitive Science | Nadya Pincus | npincus@udel.edu | 302-831-6806 |
| Communication | Jeff Rybicki | jrybicki@udel.edu | Please email |
| Computer Engineering | Debbie Nelson | dnelson@udel.edu | 302-831-3275 |
| Computer Science | Debra Yarrington | yarringt@udel.edu | Please email |
| Construction Engineering and Management | Department of Civil and Environmental Engineering | cee-info@udel.edu | 302-831-2442 |
| Criminal Justice | Deanna Nardi | dgurcz@udel.edu | 302-831-1236 |
| Early Childhood Education | Danielle Dolan | hdfs-dept@udel.edu | 302-831-6500 |
| Earth Science Education | Earth, Ocean, and Environment | ceoe-academics@udel.edu | 302-831-2841 |
| Economics | Elizabeth Bayley | ebayley@udel.edu | Please email |
| Electrical Engineering | Debbie Nelson | dnelson@udel.edu | 302-831-3275 |
| Elementary Teacher Education | Vickie Lucas | vickie@udel.edu | 302-831-8933 |
| Energy & Environmental Policy | Lado Kurdgelashvili | ladokurd@udel.edu | Please email |
| Engineering Undecided | | eg-advisement@udel.edu | Please email |
| English | Jordan Moses | jmoses@udel.edu | Please email |
| Entrepreneurship | Tricia Monnig | tmonnig@udel.edu | Please email |
| Environmental and Resource Economics | Noël Hart Wolhar | nwolhar@udel.edu | 302-831-2508 |
| Environmental Engineering | Department of Civil and Environmental Engineering | cee-info@udel.edu | 302-831-2442 |
| Environmental Science | Earth, Ocean, and Environment | ceoe-academics@udel.edu | 302-831-2841 |
| Environmental Studies | Earth, Ocean, and Environment | ceoe-academics@udel.edu | 302-831-2841 |
| European Studies | Daniel Kinderman | kindermd@udel.edu | Please email |
| Exercise Science | Kinesiology & Applied Physiology | kaap-undergradprograms@udel.edu | Please email |
| Fashion Design and Product Innovation | Cissy Kelly | kellycj@udel.edu | 302-831-8713 |
| Fashion Merchandising and Management | Cissy Kelly | kellycj@udel.edu | 302-831-8713 |
| Finance/Financial Planning and Wealth Management | Carrie Baldwin | baldwinc@udel.edu | Please email |
| Food & Agribusiness Marketing and Management | Noël Hart Wolhar | nwolhar@udel.edu | 302-831-2508 |
| Food Science | Noël Hart Wolhar | nwolhar@udel.edu | 302-831-2508 |
| Game Studies and eSports | Philip Penix-Tadsen | ptpt@udel.edu | Please email |
| Geography | Earth, Ocean, and Environment | ceoe-academics@udel.edu | 302-831-2841 |
| Geography Education | Earth, Ocean, and Environment | ceoe-academics@udel.edu | 302-831-2841 |
| Geological Sciences | Earth, Ocean, and Environment | ceoe-academics@udel.edu | 302-831-2841 |
| Global Enterprise Management | Piper Wissinger | piper@udel.edu | 302-831-2554 |
| Global Studies | Rachael Hutchinson | rhutch@udel.edu | Please email |
| Health Behavior Science | Behavioral Health and Nutrition | bhanadvising@udel.edu | Please email |
| History | Amy Dolbow | adolbow@udel.edu | Please email |
| History Education | Hannah Kim and Barry Joyce | hkim@udel.edu and bjoyce@udel.edu | Please email |
| Hospitality Industry Studies | Melissa Jones | mgjones@udel.edu | Please email |
| Hospitality Business Management | Melissa Jones | mgjones@udel.edu | Please email |
| Human Physiology | Kinesiology & Applied Physiology | kaap-undergradprograms@udel.edu | Please email |
| Human Relations Administration | Danielle Dolan | hdfs-dept@udel.edu | 302-831-6500 |
| Human Services | Danielle Dolan | hdfs-dept@udel.edu | 302-831-6500 |
| Information Systems | Terry Harvey | tharvey@udel.edu | Please email |
| Insect Ecology and Conservation | Noël Hart Wolhar | nwolhar@udel.edu | 302-831-2508 |
| International Business Studies | Piper Wissinger | piper@udel.edu | 302-831-2554 |
| International Relations | Barbara Ford | barbford@udel.edu | 302-831-2355 |
| Landscape Architecture | Noël Hart Wolhar | nwolhar@udel.edu | 302-831-2508 |
| Language Education | Basia Musik Moltchanov | basia@udel.edu | 302-831-3390 |
| Languages, Literatures, and Cultures (all languages) | | dllc-academics@udel.edu | Please email |
| Latin American and Iberian Studies | Persephone Braham | braham@udel.edu | Please email |
| Legal Studies | Barbara Ford | legal-studies@udel.edu | Please email |
| Linguistics | Nadya Pincus | npincus@udel.edu | 302-831-6806 |
| Management | Piper Wissinger | piper@udel.edu | 302-831-2554 |
| Management Information Systems | Mark Serva | servam@udel.edu | Please email |
| Marine Science | Earth, Ocean, and Environment | ceoe-academics@udel.edu | 302-831-2841 |
| Marketing | Piper Wissinger | piper@udel.edu | 302-831-2554 |
| Materials Science and Engineering | Sheldon Hewlett | shewlett@udel.edu | Please email |
| Mathematical Sciences | Department of Mathematical Sciences | math-undergrad-admin@udel.edu | Please email |
| Mechanical Engineering | | me-info@udel.edu | 302-831-2421 |
| Medical Diagnostics (incl. Pre-Physician Asst.) | Medical and Molecular Sciences | mms-dept@udel.edu | Please email |
| Medical Scholars Program (premedical studies) | David Barlow | barlow@udel.edu | 302-831-4949 |
| Medical Laboratory Sciences | Medical and Molecular Sciences | mms-dept@udel.edu | Please email |
| Meteorology and Climatology | Earth, Ocean, and Environment | ceoe-academics@udel.edu | 302-831-2841 |
| Music | Adrienne Harding | musicadmissions@udel.edu | Please email |
| Neuroscience | Dr. Eric Roth | eroth@udel.edu | Please email |
| Nursing | School of Nursing | ud-nursing@udel.edu | Please email |
| Nutrition | Behavioral Health and Nutrition | bhanadvising@udel.edu | Please email |
| Nutrition and Dietetics | Behavioral Health and Nutrition | bhanadvising@udel.edu | Please email |
| Nutrition and Medical Sciences | Behavioral Health and Nutrition | bhanadvising@udel.edu | Please email |
| Occupational Therapy (Health Sciences) | Dean's Office | chs-advise@udel.edu | Please email |
| Operations Management | Piper Wissinger | piper@udel.edu | 302-831-2554 |
| Organizational and Community Leadership | Monica Esterling | mae@udel.edu | 302-831-8711 |
| Pharmaceutical Science | Department of Biological Sciences | bio-questions@udel.edu | Please email |
| Philosophy | Joel Pust | jpust@udel.edu | 302-831-8208 |
| Physics | Carlyn George-Roberts | carlyna@udel.edu | 302-831-2662 |
| Plant Science | Noël Hart Wolhar | nwolhar@udel.edu | 302-831-2508 |
| Political Science | Barbara Ford | barbford@udel.edu | 302-831-2355 |
| Pre-Veterinary Medicine | Noël Hart Wolhar | nwolhar@udel.edu | 302-831-2508 |
| Psychology | Dr. Agnes Ly | aly@udel.edu | Please email |
| Public Policy | Monica Esterling | mae@udel.edu | 302-831-8711 |
| Social Studies Education | Hannah Kim | hkim@udel.edu | Please email |
| Sociology | Deanna Nardi | dgurcz@udel.edu | 302-831-1236 |
| Sociology Education | Deanna Nardi | dgurcz@udel.edu | 302-831-1236 |
| Sport Management | Cindy Walkusky | cwalkusk@udel.edu | Please email |
| Sports Health | Kinesiology and Applied Physiology | kaap-undergradprograms@udel.edu | Please email |
| Statistics | Noël Hart Wolhar | nwolhar@udel.edu | 302-831-2508 |
| Sustainable Food Systems | Noël Hart Wolhar | nwolhar@udel.edu | 302-831-2508 |
| University Studies-Undeclared | Karen Seymour | kseymour@udel.edu | 302-831-4555 |
| Wildlife Ecology and Conservation | Noël Hart Wolhar | nwolhar@udel.edu | 302-831-2508 |
| Women and Gender Studies | Jennifer Naccarelli | jnacc@udel.edu | Please email |