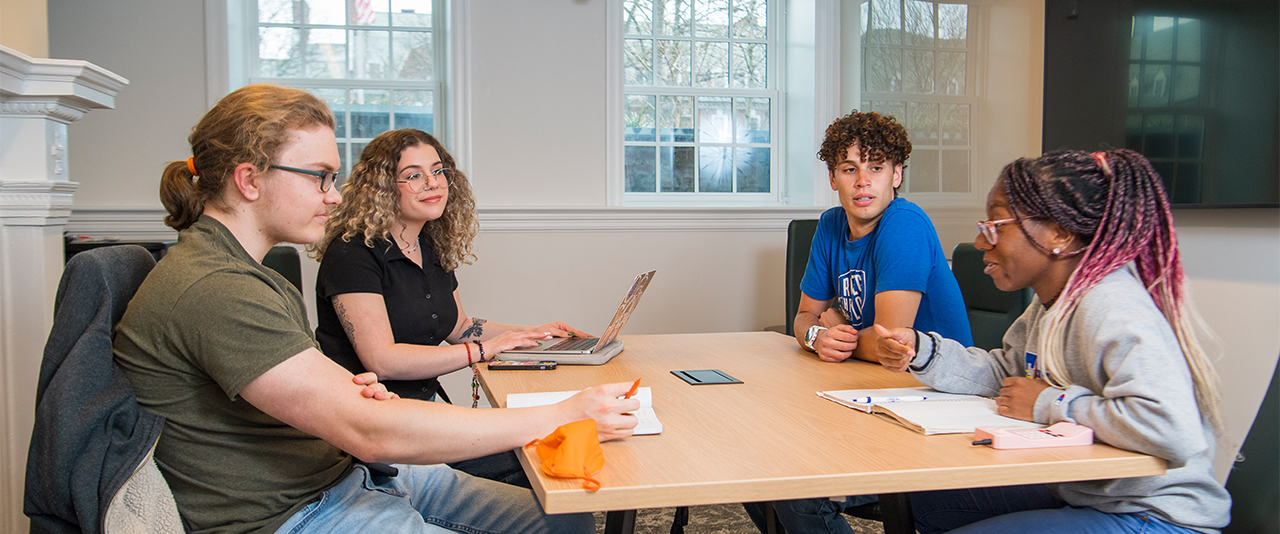 Reserve a Space
Students can reserve spaces in the Wellbeing Center at Warner Hall for meetings, events and collaboration. 
When you hit the "reserve" button, you will be directed to the 25Live space reservation platform. After logging in, search the name of the Warner Hall space you're interested in to get started. View our step-by-step guide on how to submit a reservation request.
Please email warner-building-management@udel.edu with any additional questions or concerns.
Policies
Warner Hall is a recovery haven, and therefore is an alcohol-free building at all times.
Reservations
At this time, all reservable rooms are configured as-is. If rooms need a special configuration, UD Movers must be involved and there are fees associated with their services.
Cancellations: All groups are required to give 48 hours' notice for all cancellations, or it will be considered a no-show.
No-Shows: A no-show cancellation is defined when a room goes unused without prior contact with the Warner Hall Operations Team. Groups will be given one warning for a no-show, via email notification from the Operations Team. If a group has a second no-show, its future reservations will be in jeopardy of cancellation. If a group has a third no-show, all future reservations for the group will be cancelled and the group will need to meet with the Operations Team to make any future reservations. Any cost associated with a no-show will be the responsibility of the group.
Hours of Operation
Warner Hall is open from 8:30 a.m.–9 p.m., Monday through Thursday, and 8:30 a.m.–5 p.m. on Friday.
Additional fees will be charged for events which extend beyond normal facility hours (summer, winter, and holiday hours vary). To learn more, please contact warner-building-management@udel.edu.
Food, Posting, Candles, Balloons
Food for meetings/events must be provided by UD Catering when exceeding 30 attendees. Contact the Catering Office at 302-831-2891 to place your order.
Additional cleaning fees could be incurred for attendees bringing their own food and improperly cleaning up.
Posting of materials is prohibited on the doors, windows, or walls of University facilities. Easels can be requested for your posting needs.
Candles and/or open flames are prohibited without the written approval of the University Fire Marshall. Contact O.H.S. at 302-831-6847.
In accordance with Environmental Health and Safety protocols, the University of Delaware forbids the use of latex balloons within its buildings. Alternatives to latex balloons include Mylar, vinyl, or plastic. Violations of or questions on this subject should be referred to Environmental Health and Safety at 302-831-8475.
In the event of inclement weather, Warner Hall will follow any University closings and delays. Please visit the University of Delaware home page for weather-related updates.
Private Spaces for Telehealth Appointments
Students can reserve a private office for telehealth in the Center for Counseling and Student Development by calling 302-831-2141 or stopping by the reception desk on the second floor of Warner Hall during regular business hours.
Additional individual spaces are available through University Student Centers.
Available Spaces and Amenities