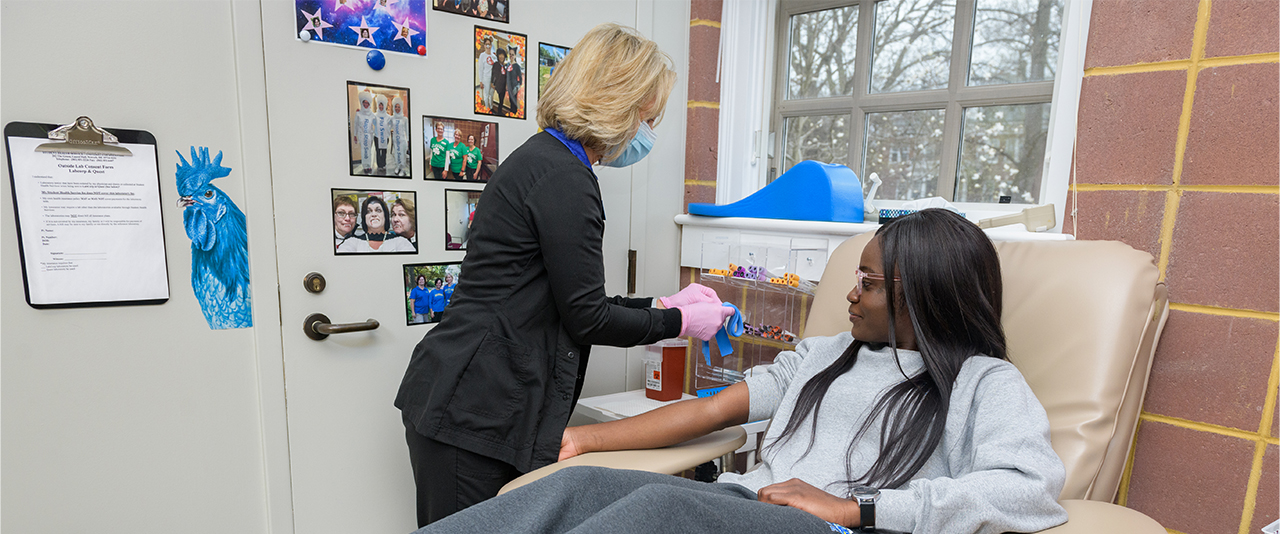 Location:
Laboratory
Student Health Services
Laurel Hall, Room 103-104
282 The Green
Fall and Spring Hours:
Monday: 8:45 a.m.–5 p.m.
Tuesday: 8:30 a.m.–5 p.m.
Wednesday: 8:30 a.m.–5 p.m.
Thursday: 9:30 a.m.–5 p.m.
Friday: 8:30 a.m.–5 p.m.
Closed noon–1 p.m. daily.
Phone:
302-831-2226, Option 0
Laboratory
Laboratory services are offered to UD students at Student Health Services (SHS) to assist in the diagnosis and treatment of your illness or medical condition. After being evaluated by a healthcare provider, laboratory studies may be recommended to help guide appropriate treatment or additional steps.
The laboratory is CLIA-certified and COLA-accredited. It is staffed with medical laboratory scientists, under the direction of the physician Laboratory Director.
Laboratory Services
We are able to meet the laboratory testing needs of our patients through a combination of in-house testing and our reference laboratory partners, Delaware Public Health Lab, Labcorp and Quest Diagnostics.
Our in-house testing covers the acute medical needs of our patients. In-house testing includes:
Blood Glucose (finger stick)
Complete Blood Count (CBC)
COVID-19
Erythrocyte Sedimentation Rate (ESR)
Hemoccult stool testing
Rapid HIV
Rapid Influenza
KOH
Monospot
Rapid strep
Strep culture
Urinalysis
Urine microscopic
Urine pregnancy testing
Collection and preparation of specimens sent to reference laboratories
Examples:  Basic Metabolic Panel, Lipid Panel, Thyroid Stimulating Hormone (TSH), Iron Panel, RPR (Syphilis), etc
Lab Orders from Outside Physicians/Health Providers
The SHS lab can also collect and process most tests ordered by community (non-UD) healthcare providers. The lab orders must be uploaded to your UD Health Portal or faxed to Student Health Services at 302-831-6407 at least 24 hours prior to your appointment. Results will be directly sent to the ordering provider.
Cost
In-house laboratory services are included in the Wellbeing Fee. There is a $10 lab draw fee for any reference lab specimen collected. All costs for specimens sent to reference lab will be submitted to your insurance company by the reference lab. Any remaining balance will be billed to your student account. It is the responsibility of the insurance holder to be familiar with the specific terms of your insurance plan.