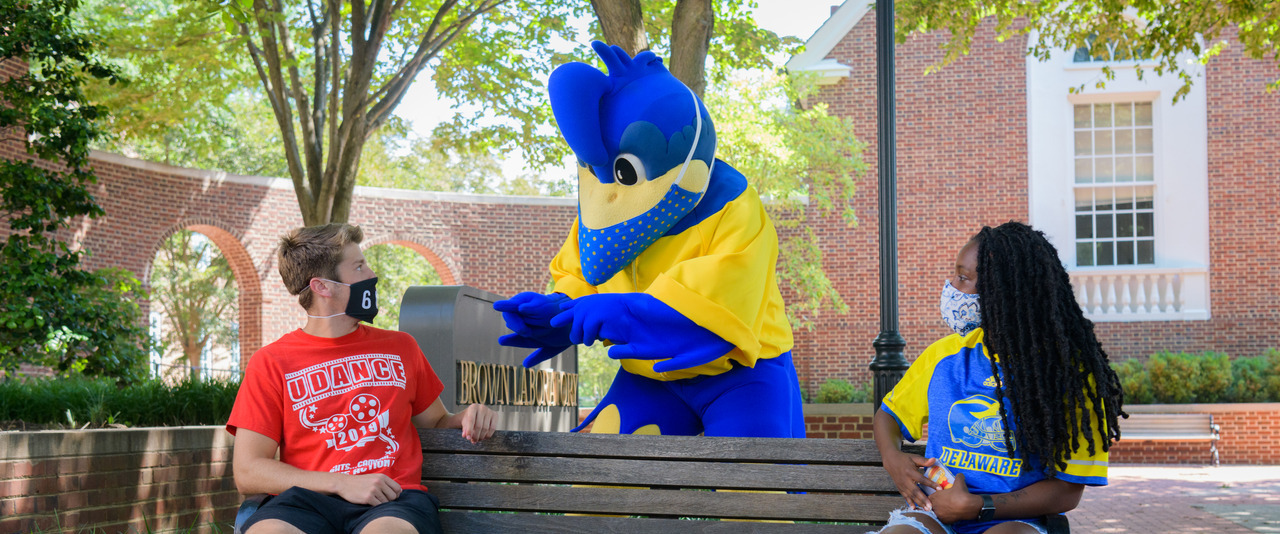 Public Health
Student Health Services' public health efforts are dedicated to disease surveillance and prevention on campus. We provide information and resources on common communicable diseases, including COVID-19, meningitis and mpox.
On this page
Vaccine and Booster Documentation
As of June 5, 2023, UD students are strongly recommended but not required to receive COVID-19 vaccinations and boosters. Student Health highly encourages students to remain up-to-date with COVID-19 vaccinations and boosters, including the bivalent booster. Please visit the UD coronavirus website for the latest campus COVID-19 information and policies.
COVID-19 Antigen Home Test Kits
The University is providing FlowFlex COVID-19 antigen home test kits. Staff and students are permitted to obtain one test kit per week. To request a test kit, complete the webform and take the confirmation email to one of the distribution points.
Distribution points information and hours:
Location

Availability

Requirement

Trabant Student Center

Mon–Sun 9 a.m.–11 p.m.

Valid UD ID

Perkins Student Center

Mon–Sun 9 a.m.–11 p.m.

Valid UD ID

Carpenter Sports Bldg.

Mon–Thurs 7 a.m.–11 p.m.

Fri–Sun 10 a.m.–6 p.m.   

Valid UD ID

Clayton Hall

Tues, Weds, Thurs 9 a.m.–2 p.m.

Valid UD ID

Health Sciences Complex (STAR)

Mon–Fri. 8 a.m.–4:30 p.m.

Valid UD ID
To be issued a test kit, individuals MUST present a valid UD ID and they must provide proof of having received the email confirmation of their order – no exceptions. 
COVID-19 Frequently Asked Questions
Invasive meningococcal disease is a rare but serious bacterial infection that occasionally infects college students and others living in relatively isolated, confined communities. Meningococcal meningitis is one presentation of this life-threatening disease. SHS wants students, faculty and staff to have up-to-date information about this disease and know how to reduce the risk of exposure.
Students: Meningitis ACWY vaccine is available at SHS. Please call 302-831-2226 to make an appointment. In an emergency, always dial 911. Please note that this vaccine is not covered by the UD Wellbeing Fee but the cost can be billed to insurance. Meningitis B vaccines are available at local pharmacies.
Employees: Please contact your practitioner or go to an emergency room.
Caution: Anyone who becomes ill with mild, flu-like symptoms should watch for more severe symptoms such as fever, headache, vomiting, rash or changes in mental status. If any of these symptoms develop, do not delay seeking medical attention.
Meningitis Frequently Asked Questions
Mpox
UD is working with the CDC and Delaware Division of Public Health (DPH) to educate our campus, prepare for and respond to Mpox.
Mpox is a disease caused by a virus in the poxvirus family. It can cause fever, swollen lymph nodes and a rash. Mpox is spread through close contact, including prolonged face-to-face contact and skin-to-skin contact. It is contagious from the time symptoms begin until the rash has healed and new skin has formed. This can take two to four weeks.
Mpox Frequently Asked Questions
Mpox Links and Resources
More Resources for Students
Vaccination Resources
UD Student Health Services (UD students only)
Call 302-831-2226 to schedule an appointment or register through the UD Health Portal.
DPH Clinics
Call the DPH Hotline at 1-866-408-1899 to schedule an appointment with a public health clinic or vaccine event.
Beebe Health Care
Register for vaccine clinics at beebehealthcare.org/monkeypox.
Newark Urgent Care
Visit NewarkUrgentCare.org to schedule an appointment for Thursday vaccination clinics.




COVID-19

INFLUENZA

OTHER RESPIRATORY VIRUSES, INCLUDING RSV

Cause

SARS-CoV-2 virus
Influenza A or Influenza B virus
Respiratory Syncytial Virus (RSV), Parainfluenza, Adenovirus, Rhinovirus, Enterovirus.

Symptoms (*most common symptoms)

Fever (occasionally)
Chills
Headache
New loss of taste/smell
Congestion*
Sinus pressure
Ear pressure
Sore throat*
Cough*
Fatigue*
Vomiting/diarrhea 

Fever* (often 102–104 F)
Significant chills*
Significant body aches*
Headache*
Congestion
Sinus pressure
Ear pressure
Sore throat
Cough (dry)*
Fatigue
Vomiting/diarrhea (more common in children)

Mild fever (under 102 F)
Mild chills
Congestion*
Sinus pressure*
Ear pressure*
Hoarse voice
Sore throat*
Cough (productive)*
Fatigue / low energy

Treatment

Over-the-counter medications (available at SHS Dispensary):

Acetaminophen (Tylenol)
Ibuprofen (Advil/Motrin)
Guaifenesin for cough
Phenylephrine or Nasal saline spray for congestion 

Over-the-counter medications (available at SHS Dispensary):

Acetaminophen (Tylenol)
Ibuprofen (Advil/Motrin)
Guaifenesin for cough
Phenylephrine or Nasal saline spray for congestion 

Over-the-counter medications (available at SHS Dispensary):

Acetaminophen (Tylenol)
Ibuprofen (Advil/Motrin)
Guaifenesin for cough
Phenylephrine or Nasal saline spray for congestion 

Antivirals

Prescription antivirals like Paxlovid for patients at risk of complications
Prescription antivirals like Oseltamivir for patients at risk of complications
No antivirals available for these conditions

Antibiotics

Antibiotics are not effective for viral illnesses
Antibiotics are not effective for viral illnesses
Antibiotics are not effective for viral illnesses

Typical Duration

5–10 days
5–7 days
7–10 days

Testing

Rapid antigen testing available with an appointment at Student Health

Vaccination

Primary COVID-19 vaccine recommended for everyone age 6 months and older
COVID-19 bivalent booster recommended for everyone age 12+
Available at SHS (Call 302-831-2226, Option 1 to schedule)

Recommended every fall for everyone age six months and older
Available at SHS (Call 302-831-2226, Option 1 to schedule)

At risk for complications

Immunocompromised conditions
Obesity
Diabetes
Lung disease
Heart disease
Liver or kidney disease
Cancer
Pregnant
Elderly

Diabetes
Asthma
Cystic Fibrosis
Other respiratory diseases
Liver or kidney disease
Pregnant
Infants and small children
Elderly

Diabetes
Asthma
Cystic Fibrosis
Other respiratory diseases
Infants and small children
Elderly

What should I do at home?

Obtain COVID-19 testing (home antigen test or on-campus PCR test)
Upload positive test results to the UD Health Portal
Follow UD's COVID-19 protocols
Treat symptoms with over-the-counter medications as above
Rest
Fluids
Wear a mask while symptomatic
Wash hands frequently
Disinfect living space
Follow isolation protocols

Treat symptoms with over-the-counter medications as above
Rest
Fluids
Wear a mask while symptomatic
Wash hands frequently
Disinfect living space

Treat symptoms with over-the-counter medications as above
Rest
Fluids
Wear a mask while symptomatic
Wash hands frequently
Disinfect living space

When to seek medical care (SHS or Urgent Care)

Fever over 102
Shortness of breath
Chest pain
Dizziness
Leg swelling
Confusion
Significant symptoms 
Symptoms that are worsening or not significantly improved in 5–10 days

Fever over 102
Wheezing
Shortness of breath
Chest pain
Dizziness
Significant symptoms (severe pain with swallowing, severe cough, etc)
Symptoms that are worsening or not significantly improved in 3–5 days

Fever over 102
Wheezing
Shortness of breath
Chest pain
Dizziness
Significant symptoms (severe pain with swallowing, severe cough, etc)
Symptoms that are worsening or not significantly improved in 7–10 days