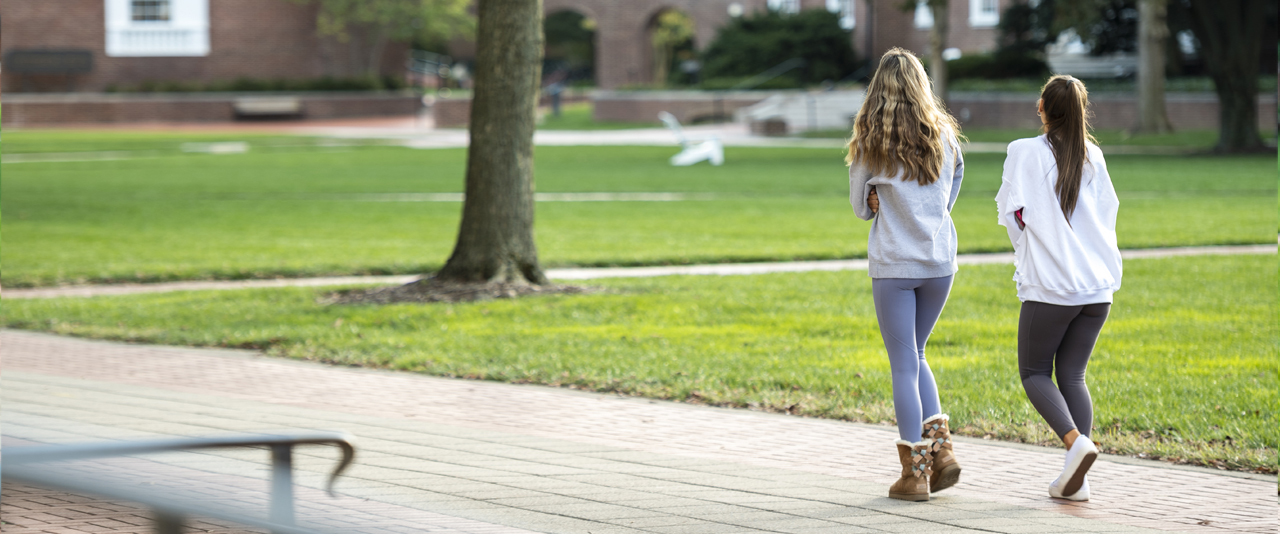 Location:
Student Wellness and Health Promotion
Warner Hall, Room 305
280 The Green
Hours:
Monday–Friday
8:30 a.m.–4:30 p.m.
Phone:
302-831-3457
Recovery Support
Through its Collegiate Recovery Community (CRC), UD offers support for students at any point in their recovery journey related to a variety of issues, such as alcohol or drug use, eating disorders, mental health struggles, gambling, gaming and more.
Recovery Events on Campus
Founded in 2014, UD's CRC consists of a group of students who believe in the importance of supporting students in recovery. Students on any point in their recovery journey are welcome; we only ask that a student is actively working to maintain their recovery efforts. We also welcome any student interested in becoming an advocate for others in recovery.
Expectations
Respect each other's beliefs and differences.

Show up as much as possible. We understand the busyness of college students, but ask that you be an active part of CRC, if you commit to the community. Your presence is important for your recovery, as well as the community's.

Please notify someone when you are unable to attend a meeting.
Return to use will be addressed on a case-by-case basis. Appropriate resources and referrals will be shared with affected students individually, and it is not mandatory that return to use be addressed in a meeting.
What We Offer
Weekly meetings: Tuesdays 1–3 p.m.

SMART Recovery meetings: Mondays, 2–3 p.m.

All recovery meetings

Peer support

Social events

End-of-year celebrations

Advocacy

Leadership opportunities

Training opportunities

Resources on and off campus
If you would like to be contacted regarding recovery support, please submit this form.
SMART Recovery
SMART (Self Management And Recovery Training) Recovery is a global community of mutual-support groups designed to help a person make changes around substance use or other addictive behaviors. Participants help one another resolve problems with any addiction by harnessing the power within themselves to change.
SMART Recovery meetings are held Mondays, 2–3 p.m., in 301 Warner Hall.
Resources
CRC is not counseling-based. Student Wellness and Health Promotion (SWHP) provides support services and will be able to connect you with local treatment agencies if appropriate.
Crisis Help
CRC does not provide crisis services. Please use the following resources if you are experiencing a crisis.
Contact
When
Dial 911
Someone's safety is involved
Center for Counseling and Student Development: 302-831-2141
During business hours
UD Helpline: 302-831-1001, option 1
Available 24/7 to connect with and S.O.S. Victim Advocate related to sexual misconduct
UD Helpline: 302-831-1001, option 2
Available 24/7 to connect with a counselor
Other Emergency Options
Newark Recovery Response Center 302-318-6070
Psychiatric Mobile Crisis Unit (New Castle County) 302-577-2484
Christiana Hospital 302-733-1000
Meadowwood Hospital 302-328-3330
Rockford Center 302-996-5480
Local Treatment Agencies
Note that inclusion on this list does not indicate support from SWHP.
Confidentiality
Confidentiality is governed by federal law and regulations that outline under what limited circumstances a client's treatment information may be disclosed with and without the client's consent. SWHP maintains confidentiality with the following exceptions.
Reporting child abuse and neglect
When there is imminent danger to self or others
With the existence of written permission from the student
With the existence of a valid court order.
CRC cannot guarantee confidentiality due to the group setting, though respecting confidentiality is expected, and any known breach will be appropriately addressed. Providing a safe environment is crucial to the community's success. Participants are never required to disclose information, nor is it necessary they be in recovery to be a member of CRC. Students with family members in recovery or who want to serve as advocates for those in recovery are also part of the community.
CRC meetings do take attendance, but this is never shared publicly.