Center for Food Systems and Sustainability
Undergraduate Internships
2022 Undergraduate Internship Recipients
| | | |
| --- | --- | --- |
| Undergraduate | Mentor | Project Title |
| Evyn Appel | Dr. Qingwu Meng | Imaging-based Growth Analysis of Greenhouse Hydroponic Lettuce under Reduced Nutrient Availability |
| Wesley Carson | Dr. Matt Limmer | Arsenic Content in Arkansas Rice and Soil |
| Maci Carter | Dr. Jarrod Miller | The Effect of Saltwater Intrusion on Crop Growth |
| Savannah Goff | Dr. Kelly Cobb | Feasibility Study towards Sustainable Textile Business Model Development of "Wasteshed" Fiber Apparel Products |
| Ian Kelly | Dr. Gordon Johnson | New Crop Development for the Mid-Atlantic Region - Exploring Ginger |
| Brandon Milham | Dr. Behnam Abasht | Identification of Genes Causing Wooden Breast Disease in Commercial Broiler Chickens |
| Jeremy Stevens | Dr. Tara Trammell | Exploring the Relationship between Rosa multiflora and Soil Calcium in Forest Ecosystems |
2021 Undergraduate Internship Recipients
Undergraduate

Mentor
Project Title
Paige Aldred
Dr. Matt Limmer
Rhizon and IRIS Investigations into Arsenic and Cadmium in Rice
Lexi Dart
Dr. Jules Bruck
Coastal Resilience Design Studio: Pickering Beach, DE Aquaculture to Bolster Economic and Environmental Resilience
Andrew Gainey
Dr. Jules Bruck
Coastal Resilience Design Studio: Environmental Policy Studies at Selected CRDS Sites
Kevin (Jake) Gioffre
Dr. Nicole Donofrio 
Dr. Jeff Fuhrmann
Microbes Play a Large Role in Food Production - Examples from Beneficial to Detrimental
Spencer Hanggodo
Dr. Kyle Davis
The Changing Water Savings of International Food Trade
Olivia Hazelwood
Dr. Erin Sparks
Identification of the Genetic Basis of Brace Root Development in Sorghum
Madleen Knutson
Annabelle Brame 
Dr. Kelly Cobb
Mapping the Anthropocenic Fibershed: Re/sourcing Waste as Raw Material for Textile Production and Coloration
2019 Undergraduate Internship Recipients
| | | |
| --- | --- | --- |
| Undergraduate | Mentor | Project Title |
| Mackenna Caryl | Dr. Tom Evans | Clarifying the Nature of Resistance in Lima Bean to Phytophthora phaseoli, the Causal Agent of Downy Mildew |
| Jessica Clark | Dr. Pinki Mondal | Dietary Diversity among Indian Small-scale Farmers |
| Erin Fogarty | Dr. Jules Bruck | Impacts of Community Pop-Up Installations |
| Kona Haramoto | Dr. Jeff Fuhrmann | Sequencing the Phages Produced from Soybean Bradyrhizobium to Evaluate Their Impact on Soybean Yields |
| Douglas Mainhart | Dr. Tara Trammell | Drivers of Soil Carbon Storage in Urban and Rural Forests |
| Callie McFadden | Dr. Pinki Mondal | Quantifying the Impacts of Climatic vs. Socio-economic Factors on Indian Agriculture |
| Thomas Moran | Dr. Nicole Donofrio | The Effects of Red Light on Sporulation of Lima Bean Pathogens |
| Kaitlyn Sherman | Dr. Jeff Fuhrmann | Sustainable Enhancement of Soybean Productivity – Using Lytic Viruses to Promote Root Nodule Occupancy by Superior Bradyrhizobia |
| Jenna Simons | Ms. Anna Wik | Outdoor Learning Environment / Nature Based Play |
| Joshua Taylor | Dr. Rolf Joerger | Enzymatic Hydrolysis of Byproducts from Clam Processing for Generation of Animal Feed Ingredients |
Meet the first two interns funded by CENFOODS!
Read below the abstracts of posters they presented at the August 9, 2018 UD Undergraduate Research & Service Celebratory Symposium.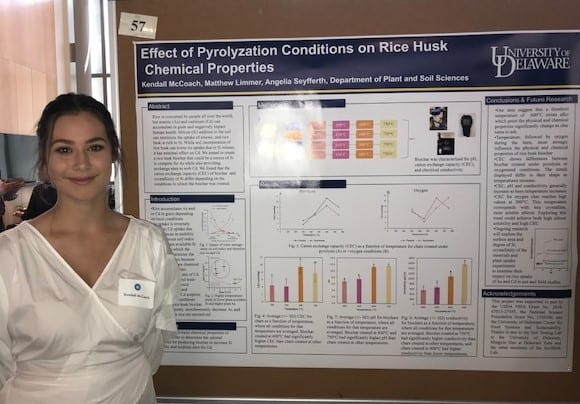 Kendall McCoach (Plant and Soil Sciences/Geological Sciences) was advised by Dr. Angelia Seyfferth (Plant and Soil Sciences) on her project "Effect of Pyrolyzation Conditions on Rice Husk Chemical Properties."
Across the globe, rice is a fundamental component of people's diet, but arsenite and cadmium can accumulate within the body of the plant, via silicon pathways, making it toxic when consumed in large amounts. It was previously found that adding plant available silicon to the soil in which the rice grows minimizes the uptake of arsenic. This plant available silicon can be found in biochar. Biochar, which is the pyrolyzed remains of rice husk and straw possesses varying chemical and physical properties, depending on the conditions in which the biochar was created. The silicon solubility and surface area of biochar are related to a crystalline structure, which occurs at higher temperatures. The goal of this project was to find the burning conditions, temperature, presence of oxygen etc. that create physical and chemical properties which will balance Silicon solubility with Cadmium adsorption. After creating biochar under a range of conditions and temperatures from 300°C to 750°C it was tested on pH, conductivity, and CEC. It was found that around temperatures of 600°C the pH and conductivity both increased significantly. Other conditions such as presence of water or oxygen had no effect on pH or conductivity. CEC also shows significant differences around temperatures of 600°C, as well as differences between biochar created in the presence of oxygen or without.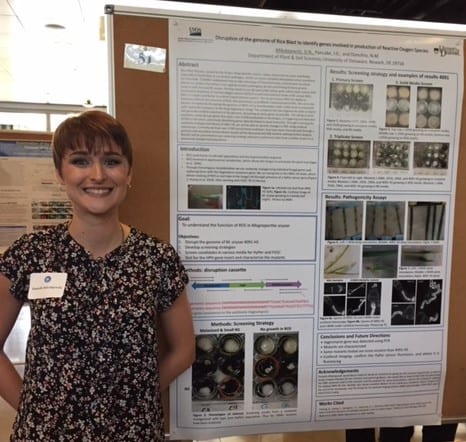 Danielle Mikolajewski (Plant and Soil Sciences) was advised by Dr. Nicole Donofrio (Plant and Soil Sciences) on her project "Disruption of the Genome of Rice Blast to Identify Genes Involved in Production of Reactive Oxygen Species."
Rice Blast disease, caused by the fungus Magnaporthe oryzae, causes severe loss to crops worldwide, especially in South Asia. It is a virulent pathogen, which can cause complete devastation when conditions are favorable. To better understand how to take advantage of basal immunity, a mechanism by which plants can protect themselves even against virulent pathogens, we are performing forward genetic screens with rice and M. oryzae. Previous work in our lab used a live sensor gene called Hyper-sensor (HS) to measure detection of reactive oxygen species (ROS) in a well-characterized strain of M. oryzae 4091. ROS is a major contributor to a plant's basal immune system. The HS gene gives 4091 the ability to fluoresce when in the presence of ROS, thus providing a quantifiable measurement of ROS. We are in the process of randomly disrupting the genome of 4091-HS by transformation with a DNA insert constructed with a gene for resistance to the drug Hygromycin (Hyg). This construct has two degenerate ends so that it will generate random insertions in the genome, disrupting as many genes as possible. This ability to bind anywhere could disrupt genes that play a role in ROS production in the fungus, or triggering and detection of ROS in the plant, potentially identifying genes directly linked to basal immunity. Through screening the randomly mutagenized library of 4091-HS, we will be able to identify changes in ROS using confocal microscopy. Currently we have over 1100 transformed candidates that have been characterized through a primary and secondary screen whose results will be discussed and 300 mutants waiting further analysis. Results will be presented on our screening strategy and some preliminary data from a similar screen on a previously mutagenized population.
Undergraduate Internships
CENFOODS funds undergraduate research and extension internships in food systems and sustainability.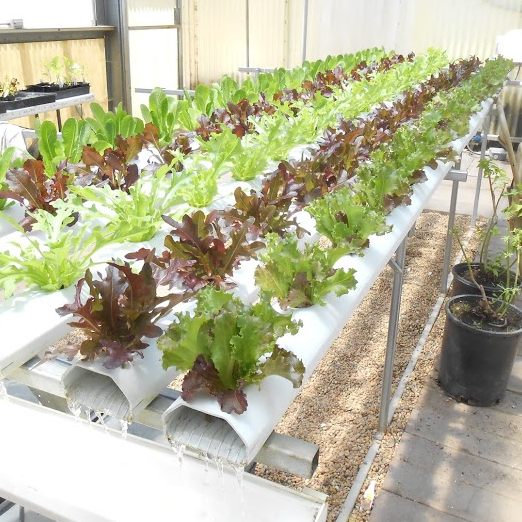 Research and extension
In addition to an internship program, the center integrates research, education, and community outreach.