Animal and Food Sciences Ph.D.
Contact us
302-831-1940
---
Tanya Gressley, Graduate Program Director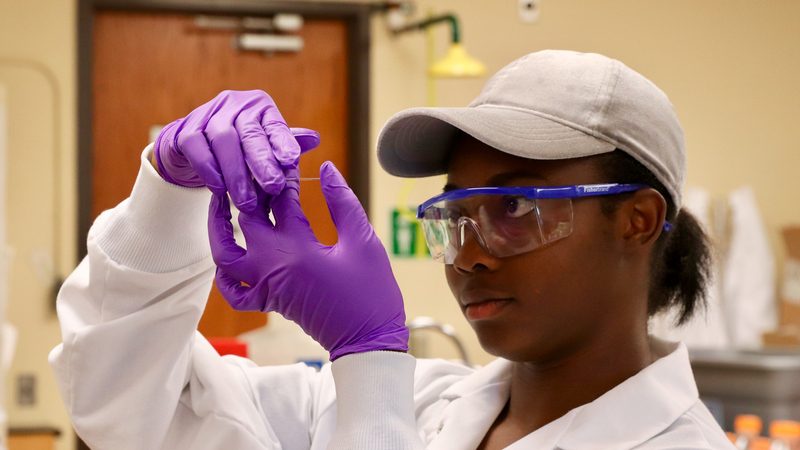 Admission
Students may enter the Ph.D. program after having previously earned a bachelor's degree (B.A. or B.S.), M.S. degree, or Doctorate in Veterinary Medicine (DVM) or equivalent(s). A student who has been admitted to the Ph.D. program in Animal and Food Sciences may begin working toward the degree. However, he/she has no official status as a doctoral candidate until he/she has passed the comprehensive examination.
Areas of specialization
The Ph.D. degree in Animal and Food Sciences will be granted in the following major areas of specialization: animal nutrition, physiology, pathology, immunology, molecular biology/biotechnology, food science and food engineering. In addition to the major area of specialization, the student's advisor, in consultation with the doctoral committee, will determine whether the student should pursue a minor field of specialization. If a minor field of specialization is selected, the committee will judge the suitability of the field, relevance to the major area of specialization, and requirements for the minor.
Time limitation
A maximum of 14 consecutive semesters beyond the bachelor's degree, or 10 consecutive semesters beyond the master's degree, is allowed to complete the requirements for the Ph.D. degree.
September 26, 2023 | Written by Jillian Wilson (Huffpost)

While fires aren't the No. 1 concern of the food safety experts we spoke to, there are other problems that could cause you trouble, and specific behaviors and habits that contribute to those problems. Here's what they are...

September 15, 2023 | Written by Anna Rahmanan of Yahoo News

When it comes to raw milk Dr. Kali Kniel says, "Although it is possible to purchase raw, unpasteurized milk in some states, I recommend people not consume it." Kniel, a microbiologist at the University of Delaware also explained that when a product is actually contaminated with a pathogenic microbe, the food won't smell or look different for the most part.

September 13, 2023 | Written by Kate Zincone

Pandemic pets blissfully enjoyed more time with their owners as work and school transitioned to a remote environment. Even more lucky animals were adopted. To them, this unexplained increase in company, play and quality time was a treat. But, especially when more households have pets, what happens when all of these animals — new and old — get sick?