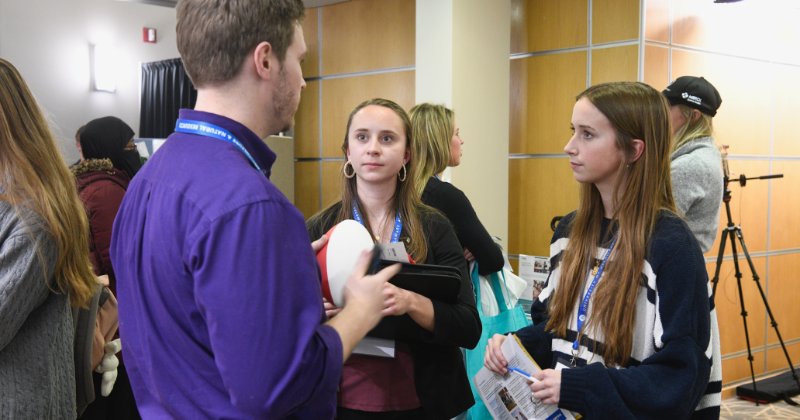 Students network with employers at undergraduate career planning event
March 17, 2023 Written by Dante LaPenta and Michele Walfred | Photos by AJ Rubinetti and Lexi Allen
With more than 125 College of Agriculture and Natural Resources (CANR) undergraduate students and 42 employer representatives, Townsend Hall was bursting at the seams for the college's 2023 "Ready. Set. Grow. Undergraduate Career Planning and Professional Development Event."
The evening's master of ceremonies was the always energetic Mark Isaacs, whose commitment to placing students in internships and jobs made him a perfect choice.
"The great thing about CANR is that we're not just about giving you a diploma when you graduate. Our job as educators should be to provide you experiences and opportunities to connect with industry, so that you can find your passion," announced Isaacs to student attendees. "For our alumni who are here tonight, a lot of their careers started with internships that developed through events just like this."
Isaacs, an associate professor in the Department of Plant and Soil Sciences and director of the Carvel Research and Education Center, was the college's ring-leader in recruiting the litany of private industry, not-for-profit and government organizations to Newark for the occasion. The students rotated between table networking and presentations on topics like resume-building and interview preparation. The undergraduates took full advantage — getting professional headshots taken, giving their elevator pitch and canvassing employers for career advice.
One captivating speaker was Michael Scuse, the state of Delaware Secretary for Agriculture. He took the students through his career and growing opportunities in agriculture. He stressed the importance of going into the interview relaxed, being honest and separating yourself with work ethic and developing relationships.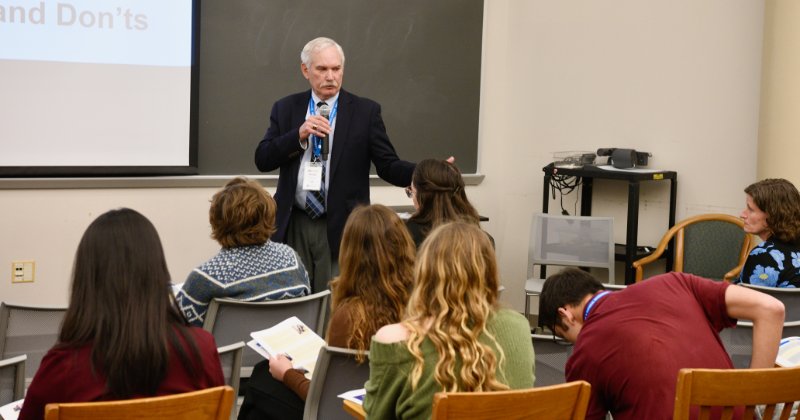 "Focus on building relationships," emphasized. Scuse, the only two-time Secretary of Agriculture in state history. "And don't simply focus on the person at the top of the organizational ladder. I always concentrated on down here [at the bottom] because you have no idea when you're going to need those people — the top, middle and bottom. Build relationships with everybody."
He went on to compliment them for their choice in major as the agricultural sector boasts more than 50,000 jobs that annually go unfilled.
"I don't know that there is a field out there that you can mention that agriculture does not play in," Scuse continued. "Agriculture plays a role in aeronautics, medicine, chemistry, biology and teaching."
Of the 42 visiting employer representatives, 19 were UD alumni. UD Class of 2002 wildlife ecology and conservation major Carrie Springer saluted the college's dedication to real-world preparation.
"One of my best takeaways from my student experience was how much effort UD faculty and the college put into preparing the students for the real world. It was one of the deciding factors in why I chose UD over other universities," explained Springer, now an environmental science manager for the Somerset County Park Commission Environmental Education Center. "All that information and experience really helped me gain an edge in the real world. I am so glad to see preparation is still a priority and that I was able to contribute to that experience."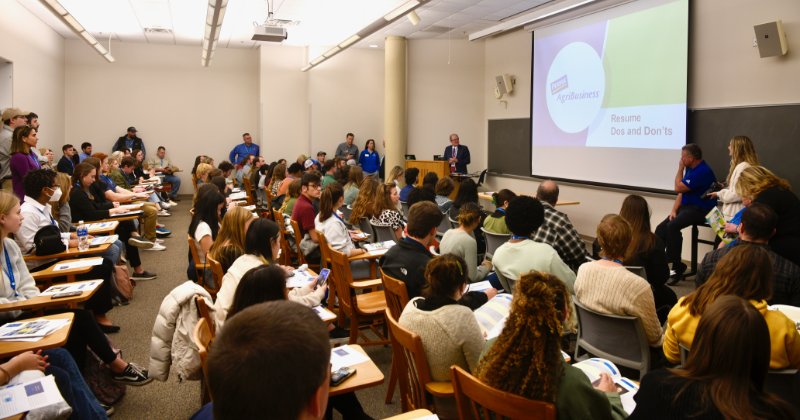 The resounding opinion from the UD undergraduates was a positive one. They pointed to the careful focus on their majors and employer face-time opportunities as favorite aspects of the event.  
"As a junior, this was a great opportunity to build relationships with companies that I could apply to work for next year," said Maci Carter, a UD Class of 2024 agriculture and natural resources, and plant science double major. "I learned the importance of making a good first impression and writing a properly written resume to employers."
"Learning about the culture and values of a diverse set of businesses and agencies, as well as the fulfillment that the professionals themselves have achieved through their work, was really valuable," added Matthew Reichner, a UD Class of 2023 agriculture and natural resources major."
In addition to internships and jobs, the students also explored graduate school paths. Associate Professor Tanya Gressley of the Department of Animal and Food Sciences shared her personal experiences and fielded lots of questions from inquisitive undergraduates. 
"What are you passionate about? What do you love? Graduate school is a segue to a [higher-level] job," explained Gressley. "I certainly believe that, when you're trained in something that you love, you reach a higher level of job satisfaction."
Based on the thank you handshakes and emails responses after the event, employers felt the trip to Newark was well worth it. 
"As exhibitors, you couldn't have made us feel more welcome and appreciated," wrote James McCabe, ag lending manager from Horizon Farm Credit and UD alumni. "We should really be thanking you for allowing us to help the fine students that attended to learn more about what is available in the industry."