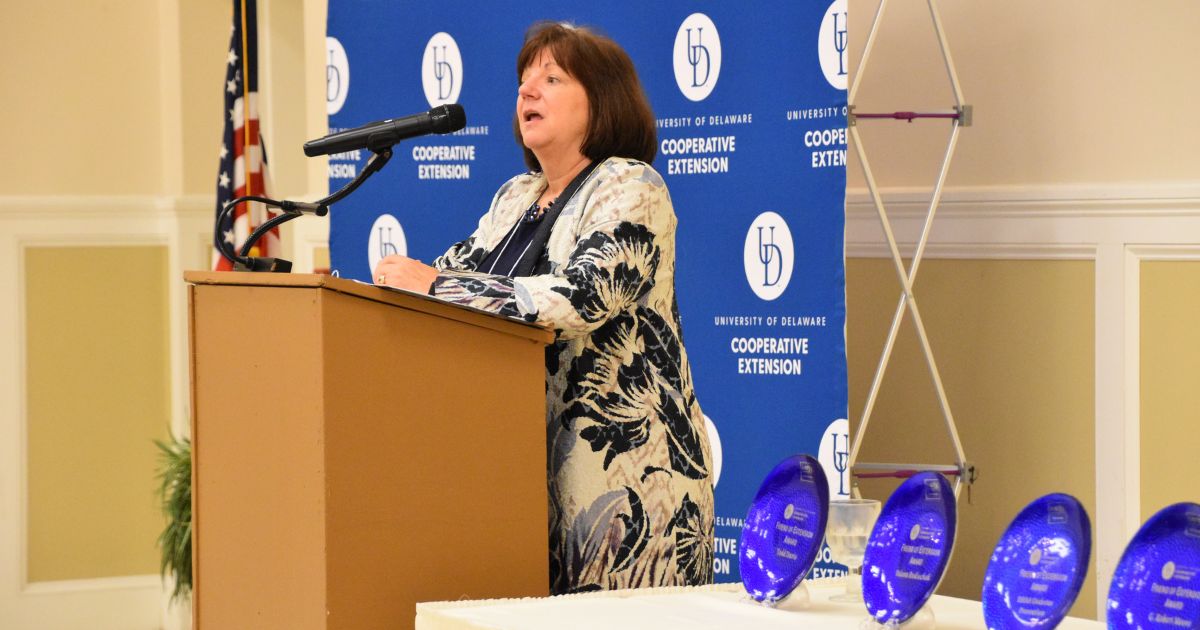 Celebrating Friends of UD Extension
November 03, 2022 Written by Katie Young and Michele Walfred | Photos by Katie Young
At their annual conference on Nov. 2, University of Delaware Cooperative Extension honored four partners as Friends of Extension. This year's recipients were: Valann Budischak, Todd Davis, G. Robert Moore and the Delaware Division of Health and Social Services Diabetes & Heart Disease Prevention and Control Program. The awards were presented by Michelle Rodgers, UD associate dean and director of Cooperative Extension.
The Friend of Extension Award was developed to recognize the value of collaborative partners and outstanding efforts and support of Extension's outreach. Staff from each of the four Extension program areas met to nominate an individual or organization for consideration as a key leader and partner in their respective disciplines.
Lawn and Garden (Horticulture)
Valann Budischak, former Extension educator and current acting director of the UD Botanic Gardens and the executive director of the Delaware Nursery and Landscape Association, was honored by UD's horticulture professionals for her decades-long commitment to Delaware agriculture. Her nomination noted that Budischak embodies an enthusiastic, strong and positive relationship with Delaware Cooperative Extension. Her leadership within the many organizations she manages creates unparalleled opportunities for Extension staff, clientele and partners. As a result, research opportunities are realized, resources to volunteers are provided and expanded to reach industry professionals and community members throughout the state and region.
Budischak was lauded for facilitating iconic Extension programs such as Enhancing Delaware Highways, Plants for a Livable Delaware, Delaware Livable Lawns, Specialty Crop Block projects and the Delaware Master Naturalist Program. Additionally, Budischak was noted for generously and broadly sharing her expertise in communities through workshops, short courses, lectures, UD Plant and Soil Sciences courses, the Delaware Nursery and Landscape Association's newsletter, Ornamentals Hotline publication and through her work on various committees, commissions and advisory boards.
Budischak's dedication to teaching, learning and making connections within Delaware's nursery and landscape industry contributed to her recognition as Friend of Extension. 
"Her experience with Master Gardeners and statewide training for that was a natural fit," said Rodgers.
Agriculture
A lifelong learner and dedicated leader, Todd Davis, recently retired from the Delaware Department of Agriculture's (DDA) where he served as supervisor of the Noxious Weed Program and DDA's Seed Laboratory, was recognized by Agriculture Team for his active role in assisting collaboration between the Delaware Department of Agriculture and UD Extension. 
Over his career, Davis' keen interest and expansive knowledge in agronomy, horticulture and plant diagnostics helped generate unique ideas and identify research needs that resulted in meaningful grant-funded research projects.
His philosophy of building effective partnerships brought countless Extension resources to agricultural communities throughout the state. By sharing resources and information, Davis established himself as a trusted key individual who people in the Delaware agricultural community can rely on.
As a result of his involvement, UD Weed Science developed a series of "Weed Facts," distributing the useful resource to farmers and landowners who manage weeds in a variety of settings. This action led to new individuals struggling with noxious weed issues receive crucial resources. Davis's collaborative approach to his work has fostered relationships between many institutions and Delaware citizens, expanding Extension's impact in the state.
"We consider ourselves a train-the-trainer organization," said Michelle Rodgers. "Todd kept Extension in the loop. He extended Extension's ability to share vital information and help mitigate problems, " Rodgers said.
4-H Youth Development
G. Robert Moore, or "Mr. Bob," as the Delaware 4-H livestock youth call him, was nominated by the 4-H team, led by Susan Garey, as a steadfast and tremendous champion of the of junior livestock programs and a huge supporter of youth livestock exhibitors through his roles at the Delaware State Fair and as an animal health inspector at the Delaware Department of Agriculture.
Celebrated for going above and beyond for the individuals he serves, it was noted that Moore is tireless in his support the success of youth livestock exhibitors year-round. When Extension asks for help with a livestock event and health requirements and inspections, Moore can be counted on with an enthusiastic yes! Moore not only assists with planning and running the annual Delaware Cow Camp, but generously provides calves for youth who wish to participate but may not have a calf of their own. Often these young people go on to become participants in the dairy leasing program and even continue as dairy department exhibitors.
These qualities make Moore a treasured volunteer and an individual adept in dealing with challenges and controversial situations.
"He is wise, he is patient, he is dedicated, and he is a respected go-to individual for any and every livestock issue," Rodgers quoted. "It is because of this, because he treats people with respect, he receives that in return."
"His odometer has a healthy reading as he makes inspections all across the state," Rodgers added. "He is a real advocate for all those involved in the dairy industry, including our youth."
Family and Consumer Science
UD's Family and Consumer Science Extension professionals spotlighted the Delaware Division of Health and Social Services Diabetes and Heart Disease Prevention and Control Program (DSMP), as a key partner in helping Delawareans manage their diabetes and assisting UD Extension in achieving the same mission.
Several years ago, staff from the DSMP program reached out to support UD Extension's Dining with Diabetes program by marketing and advertising the UD program to their own participants. Their support didn't stop there. As a bonus, DSMP generously offered a stipend to participants who complete their program so they could attend UD's Dining with Diabetes classes free of charge. This unique and symbiotic collaboration allows both organizations to serve their audiences effectively and boosts attendance for both diabetes management programs. In addition, DSMP supports UD Extension's Walk with Ease, DSMPs' Healthy Heart Ambassador Blood Pressure Self-Management program, and UD Extension's Simple Cooking with Heart.
Despite pandemic challenges, the collaboration boasted 127 people completing the Dining with Diabetes program with 114 due to vouchers and marketing provided by DSMP!
Rodgers cited impressive impacts.
"Here is the difference: Eighty-eight percent of participants are eating smaller portions. While 67 percent are cooking more at home. This is a major change for people whose lives depend on making those changes," Rodgers noted. 
"These are people who do not often get recognized," Rodgers added. That is what is so special about this award."
Receiving the award on behalf of DSMP was Don Post, Kelli Janowski, Wendy Bailey and Natalie Andrews.
The annual conference is held in conjunction with staff from Delaware State University as part of a larger professional development conference. Reuniting in person after a two-year pandemic hiatus, Extension staff also heard from two guest speakers. Robert Johnston, president of Delaware Leadership Academy, Inc, and a Dale Carnegie Master Trainer who spoke on the conference's theme of "Coming Together, Caring Together." 
Susan Mulhern, National Alliance on Mental Illness (NAMI) addressed the conference on the topic "Feeding your Flame: Addressing Signs of Burnout and Prioritizing Mental Illness." Mulhern emphasized the importance of opening a dialogue with coworkers about stress, burnout and de-stigmatizing mental illness.
Everyone appeared elated to get back to normal and to reconnect with their land-grant colleagues. 
"Nothing is more important than being together and no other units at UD or DSU do it better than Cooperative Extension," said Ernie Lopez, Extension specialist. "We have amazing people who do meaningful work that makes a positive impact on our state and today, we celebrated that important work together."