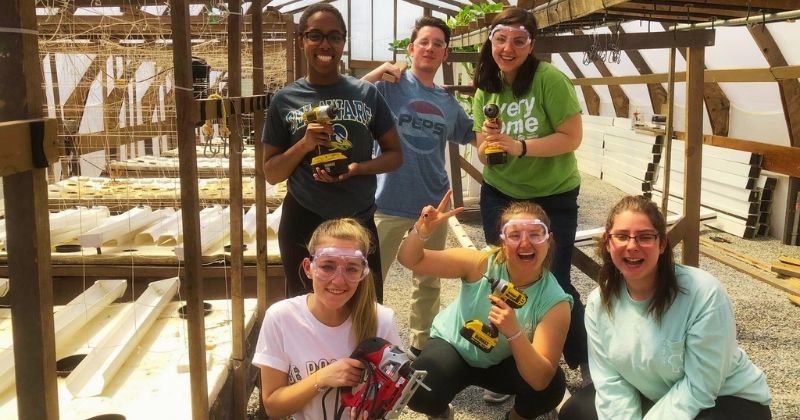 Community engagement
July 06, 2021 Written by Christy Mannering | Photos courtesy of Bryanna Lisiewski and Chloe Hundley
Bryanna Lisiewski and Chloe Hundley gain on-the-ground experience as Community Engagement Scholars
For University of Delaware students like Bryanna Lisiewski and Chloe Hundley, education happens both inside and beyond the classroom. These Blue Hens wanted to impact their community and they didn't need to wait until after graduation to get started.
The College of Agriculture and Natural Resources students completed their undergraduate degrees this spring with a hard-earned designation — Community Engagement Scholars. Across their four years at UD, the pair immersed themselves in community engagement, receiving academic and career advisement tied to their unique passion.
"The program provides a focus to scholars' overall college experience and an ability to discuss their interests in-depth, from a number of angles," said Susan Serra, associate director of Community Engagement Initiative. "It gives students in any major a framework for integrating their academic study and co-curricular service experiences through participation in coursework, community focused immersion programs, co-curricular service and development of an e-portfolio."
Their journey began with two courses — Introduction to Civic Engagement and Changing the World: The Role of Public Policy. In the following years, scholars participate in on-the-ground immersion programs, service trips and volunteer opportunities. The scholars explored food systems issues, the one health connection between people and animals, environmental law, and policies that impact the plant and animal food industries.
"I worked with children from lower socioeconomic families at an educational summer camp in Wilmington and went on a University of Delaware Alternative Break (UDAB) trip in a rural town in Virginia to help with food insecurity," said Hundley, a pre-veterinary medicine and spanish studies double major. "I also took an immersive study abroad course in Panama working with children at an orphanage, which was definitely out of my comfort zone since they only spoke Spanish."
Lisiewski, an agriculture and natural resources major, put in hundreds of hours working with the Delaware Center for the Inland Bays (CIB). She also had served as a seasonal officer with the Department of Natural Resources and Environmental Control (DNREC) Fish and Wildlife Natural Resources Police.
"What I have learned through my volunteerism and immersion experiences influenced me even further to pursue my goal of becoming an environmental attorney," said Lisiewski. "I learned how and why economics impacts communities as much as it does and have learned many ways to approach underlying problems."
The Class of 2021 was only the second graduating class with UD students earning this service designation. The scholars immerse in volunteer experiences during their undergraduate career, maintaining a challenging balance of community engagement service, holding a job and being a full-time student. 
"These students are deeply committed to creating change by addressing issues of inequity through their knowledge and skills," said Serra. "As they create connections between what they learn in the classroom and what they experience in the world, they hone a path that makes their next step clear."
Taking their next steps and looking forward as new UD graduates, the Community Engagement Scholar experience made their paths ahead clear.
Hundley is focused on animal hospital work and animal science research positions. Lisiewski will work in environmental management and then has her sights set on law school. 
"There is a lack of justice and care for the environment and I plan to help change that," said Lisiewski. "Everything around you from the air you breathe to the paper you write on has a connection to environmental justices and policies. We exist because the environment allows us to by providing all necessary resources. My plan is to serve and protect it."
Community Engagement Scholars is open to first-year students admitted to the Newark and Associate in Arts campuses. To learn more, visit the Community Engagement Scholars webpage.