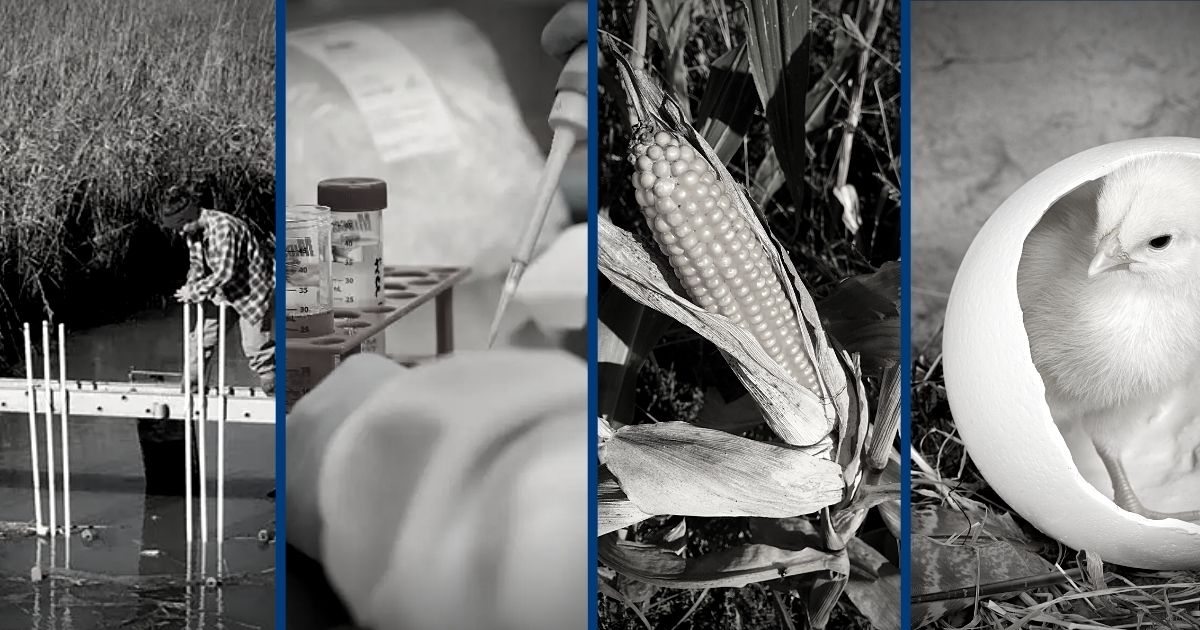 Virtual research
November 02, 2020 Written by Dante LaPenta | Photo by Christy Mannering
Student investigators, post-docs shine the college's first-ever online research symposium
For the first time, the best and brightest students and post-docs presented their work to a live Zoom audience at the 2020 edition of the College of Agriculture and Natural Resources (CANR) Research Symposium. After a week of recorded presentations, a total of 30 young researchers took part in live presentations to CANR faculty over the final week of October. The symposium's categories mirrored the college's five unique strengths:
"I am so proud of how the CANR staff, students and faculty adapted to make the 2020 CANR Research Symposium one of our best," said Eric Wommack, deputy dean and associate dean for research and graduate education. "Having one virtual symposium per day focused on each of the CANR Unique Strengths fueled exciting interdisciplinary scientific discussions that can lead to new ideas and collaborations."
CANR students made the most of the opportunity, including Adam Ginn, who placed in the sustainable systems category for his research on the effect of leaf shape and plant architecture on downy mildew of lima beans.
"The symposium was a great way to share your research with peers outside of your lab and receive constructive feedback," said the plant and soil sciences graduate student. "I think anybody, regardless of the level of degree they are pursuing, should sign up."
For many undergraduates, the event was their first experience presenting research.
"Everyone was so friendly and supportive and it was an incredible learning experience," said Kasey Hobert, a pre-veterinary medicine and animal biosciences major. "Doing research has been an amazing way to take concepts that I have learned in class and apply them to studying a topic that I am passionate about. For every undergraduate student, I highly recommend getting involved in research."
Hobert and her research partner David Vega earned the top spot in the one health category for their studies on equine gut protozoans. The pair worked on the development of a reference manual. Vega was naturally anxious to present among Ph.D. students and post-doctoral researchers.
"The symposium was a great environment to do my first presentation," said the UD junior. "Working with equine gut protozoans has become a passion of mine. I'm so fortunate to be a part of the Biddle Lab. The kind, inviting feel of my lab is actually college wide."
Awardees
Climate change impacts, mitigation and adaptation
1st – Sean Fettrow: Simulated Sea Level Rise Affects Carbon Cycling in Tidal Salt Marsh Soils
Human dimensions of food, agriculture and natural resources
1st – Stavroula Tsigkou: The impact of nontraditional irrigation water on consumers' perception of food and non-food items: A field experiment in the United States
Sustainable food systems, landscapes and ecosystems
1st – Adam Ginn: The effect of leaf shape and plant architecture on downy mildew of lima bean caused by phytophthora phaseoli
2nd – Pushpinder Litt: Role of biological soil amendments in pathogen persistence and transfer to foliar and root crops in a pre-harvest environment.
3rd – Elizabeth Tomaszewski: The adsorption of natural organic matter to ferrihydrite in different salinity matrices
Genetics and genomics for plant, animal and ecosystem improvement
1st – Sofia Bialkowski: Delayed post-hatch feeding induces long-term alterations in intestinal barrier and nutrient transport function in broilers
2nd – Lindsay Erndewein: The mechanical characterization of maize brace roots
3rd – Gabriel Robles Luna: An evolutionarily conserved motif is required for Plasmodesmata-located protein 5 to regulate cell-to-cell movement
3rd – Vinay Nagarajan: Analysis of plant RNases: Evidence for endoribonucleolytic cleavage of nonsense-mediated decay (NMD) targets in Arabidopsis
One Health intersections among animal, plant, human and ecosystem health
1st – David Vega and Kasey Hobert: Equine Gut Protozoans: The Development of the Equine Protozoa Reference Manual
2nd – Brienna Anderson-Coughlin: Evaluation of Non-Traditional Irrigation Water Sources for Atmospheric, Physicochemical and Viral Indicators of Viral Enteric Pathogens
3rd – Heidi Van Every: Patterns of metabolic reprogramming in the post-hatch broiler chick as characterized by integration of liver and plasma-derived high-throughput data
3rd – Xinwen Zhang: In silico, in vitro and in vivo: Evaluation of the developmental toxicity, estrogenic activity and mutagenicity of natural phenolic flavonoids