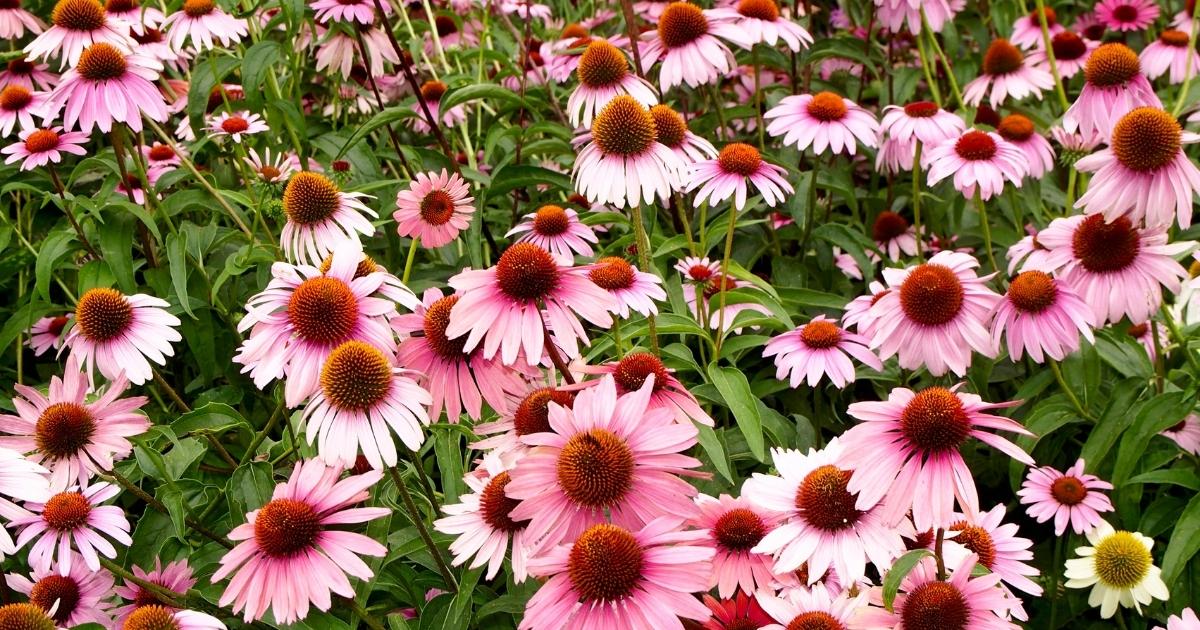 Here Comes the Summer: Native Perennial Gardening and The Beatles!
July 01, 2022 Written by Susan Graves — Master Gardener Intern, New Castle County
Summer sun, heavy thunderstorms and extended periods of drought can wreak havoc on a carefully-tended garden. As spring blooms fade, the summer landscape can look bleak as temperatures begin to rise in June, but with minimal planning, native perennials can make the summer bright, beautiful and maintenance-free for years to come!
Why use native perennial plants?
Native plants are purpose-built for a particular region: its climate, soil and wildlife. Native plants will give you the greatest advantage with the least number of drawbacks, providing a strong base and less maintenance than non-native plants.
As plants that are habituated to the local area, native plants are "customized" to survive the temperatures and conditions that typically occur during summer in a particular territory. They will return year after year and add beauty and strength to your landscape.
Typically, native plants have roots that grow deeper than non-native species, giving better anchoring and strength to the plant, with greater benefit to groundwater filtering and absorption.
Pollinators such as bees, birds, butterflies and insects are designed to get the best nutrition and rewards from native plants with the least amount of effort. Non-native species can be a nice addition to the garden, but they can also take over space native plants would otherwise enjoy and may not be the best choice for native pollinators (think a "sugar diet" instead of meat and potatoes).
Native perennial plants and The Beatles (no, not the insect...)?
Illustrating the difference between native and non-native species is as easy as looking at the British music invasion of 1963. The Beatles hit the local airwaves with "Please Please Me" and soon were everywhere, blowing past American rock groups like Frankie Valli and The Beach Boys on the rock and roll charts.
And just as The Beatles invaded the airwaves in the 1960s, non-native species that start out innocently enough can quickly invade a garden space and leave little room for the native plants our pollinators depend upon.
What next?
Supporting the local ecosystem with native perennials is as easy as visiting local gardens and garden centers for inspiration! Visit the demonstration gardens at our Extension offices. Check out native plantings at Winterthur, Longwood and Mt. Cuba. Know your site conditions and look for native plants that will do well with the environmental conditions of your landscape (for example, soil type (dry/moist/wet), the sun it will receive (full sun (6+ hours) / partial sun / full shade) and seasons of interest (bloom time, leaf color and texture and more)). Summer is too stressful for new plantings but get ready for planting this Fall or the following Spring!  
Some beauties that enjoy summer heat include:
Echinacea purpurea (purple coneflower)
Asclepias tuberosa (butterfly weed)  
Rudbeckia fulgida (black-eyed Susan)
Spigelia marilandica (Indian pink) 
Coreopsis major (Greater tickseed)  
These colorful and varied plants give a wonderful representation of the local beauty and strength that is native to our region and will be appreciated by our local pollinators and wildlife as well.