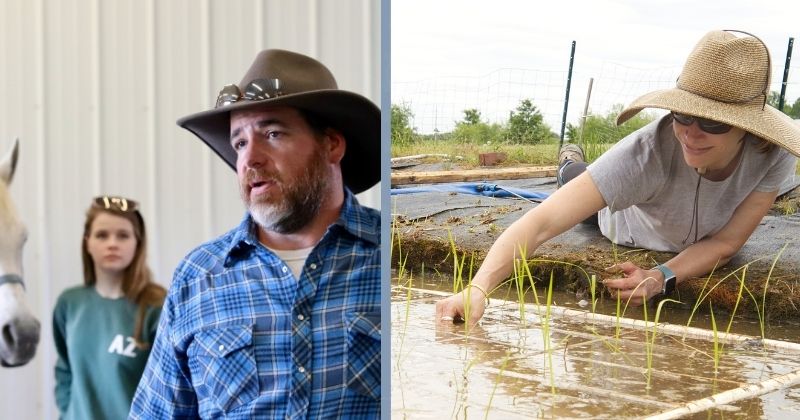 Sustainability champions
October 08, 2021 Written by Dante LaPenta | Photo by Monica Moriak
Armstrong, Seyfferth work towards a more sustainable campus
Across the University of Delaware community, Blue Hens are applying their skills and passion to improve sustainability on campus. The UD Sustainability Council honoured their efforts with 2021 Green Hen Awards, which recognize outstanding research, curriculum and projects that help the University move closer to a greener and more sustainable future. Two members of the College of Agriculture and Natural Resources (CANR), Larry Armstrong and Angelia Seyfferth, were among the those honored.
An agricultural impact
In the agricultural industry, sustainability initiatives are dubbed Best Management Practices (BMPs). Armstrong is particularly proud of BMPs that the College of Agriculture and Natural Resources (CANR) put into action around UD's Newark Farm. His personal favorite was the establishment of a riparian buffer, a natural vegetation from the edge of the stream bank out through a body of water's riparian zone. UD created such a buffer along Cool Run, a tributary of White Clay Creek. Over the course of several years, the CANR community planted more than 500 native trees and shrubs and fenced cattle out of the creek. The brainchild of farm superintendent Scott Hopkins, all work was done with the help of student-employees and volunteers.
On the southeastern tip of UD's Newark Campus on Webb Farm, Armstrong leads efforts to compost all animal manure. He also leads no-till planting of cool and warm season annuals in order to extend the grazing season, control erosion, capture nutrients, sequester carbon and benefit pollinating birds and insects. The farm team also coordinates strategic, multi-species pasture rotation. Beef cattle, horses and sheep are rotated through pastures at different times to help break up parasite cycles as well as keeping the pastures green or "covered" to help prevent erosion and nutrient run-off.
"To sum up our Best Management Practices, it is the One Health model personified," explained Armstrong, manager of Webb Farm. "If the soil and water are healthy, then animals, plants and people are, too. It's great to provide an outdoor classroom for UD's students to immerse themselves. I love when a practice or problem they have learned about in class is witnessed first-hand."
These eureka moments teach students their role the sustainability solutions. At UD, Armstrong sees much greater opportunities for University-wide food waste recycling and composting. As a big proponent of grassroots efforts, he's educating students and giving them the support and tools to take care of the planet.
"Taking care of Mother Earth is all about individual action and personal responsibility. Consuming less carbon is what it's all about," stressed Armstrong. "It's a paradox; change only happens when the majority of people make it happen. However, change has to start with the individual believing in it. I challenge students to think of their daily impact on the planet and make changes accordingly."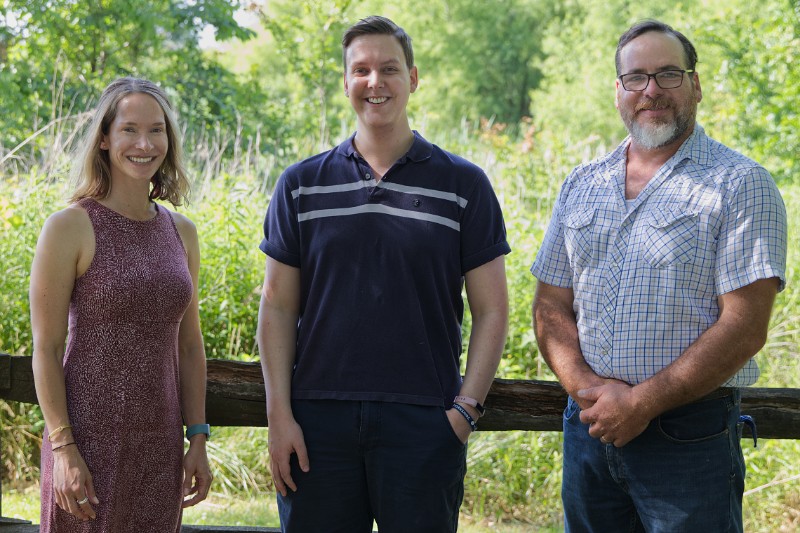 Rewarding research
From a young age, Angelia Seyferrth longed to make a positive impact on the environment. She studied environmental science in the hope that she'd one day develop solutions to clean up contamination.
"In the 1989 Exxon Valdez disaster, I remember being fascinated that scientists tested the use of human hair from salons stuffed inside of nylon hose to absorb oil contamination," recalled Seyferrth, associate professor of biogeochemistry and plant-soil interactions. "That approach of reusing a waste product to clean up contamination was inspiring. I find this career rewarding because I get to continually learn, engage with highly motivated students. Together, we work toward solutions that benefit society and the environment."
Much of Seyfferth's current research explores sustainable solutions to decrease arsenic contamination in rice, a staple crop for nearly half of the people on Earth. The research team discover how to decrease inorganic arsenic concentrations in rice by incorporating silicon-rich rice husk into paddy soil.
"Rice husk is considered a waste product, but it is nutrient-dense and has the potential to be better used as a soil amendment to save money on fertilizer and decrease human exposure to the carcinogenic inorganic arsenic," explained the Department of Plant and Soil Sciences faculty member.
Seyfferth also co-founded the Center for Food Systems and Sustainability (CENFOODS), which aims to position UD as an emergent leader in sustainable food production. The CENFOODS team jumpstarted new sustainably focused collaborations across campus, created the new sustainable food systems undergraduate major, funded internships for undergraduates and supported UD Fresh to You, a student-run farm that provides locally grown produce.
For students who want to make a difference on sustainability issues, but don't know where to start, Seyfferth advises investigating the many opportunities around the University and find their fascination.
"It may be participating in research, taking specific courses or doing an internship," said Seyfferth. "You'll quickly learn what you like doing and what makes you run in the other direction. Sometimes, we learn about what we want to do by understanding what we don't want to do. Always chase the path that motivates you and you will find success."
About the UD Sustainability Council
Comprised of faculty, students, staff, administration and community members, the Sustainability Council is leading the charge of building a new sustainability plan for the University of Delaware. The group assesses sustainability on campus and directs all future priorities and activities via UD's Sustainability Plan. The council also aligns the sustainability interests of the Faculty Senate Executive Committee, the Office of the Executive Vice President and the Office of the Provost.