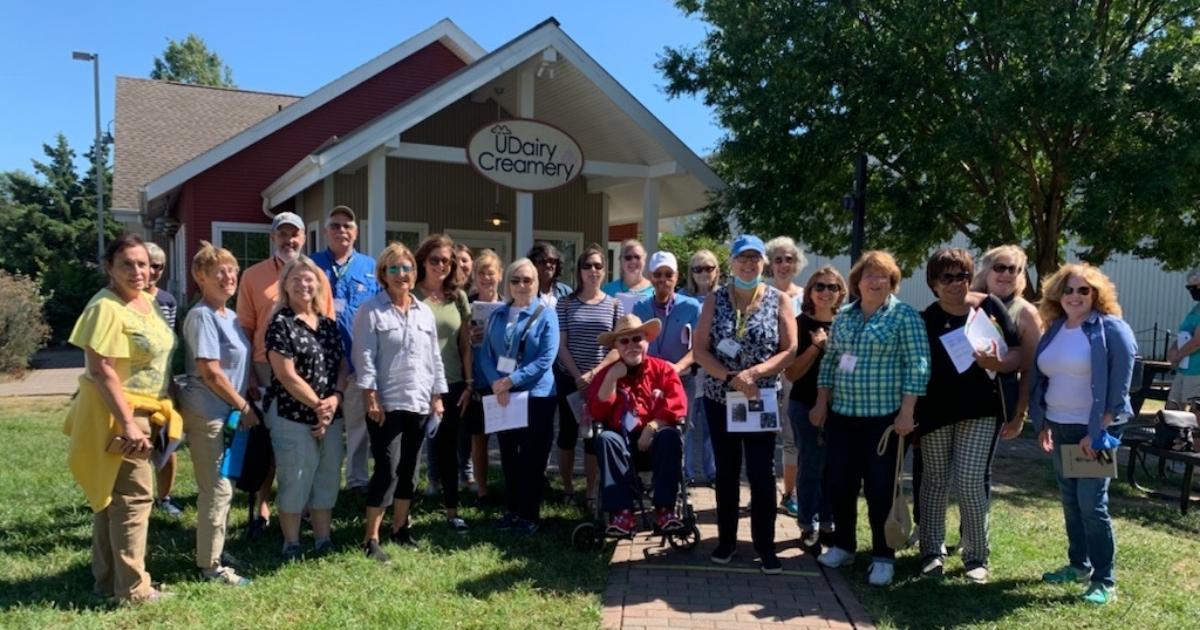 Master Gardeners celebrate 35 years and a new class of volunteers
December 10, 2021 Written by Michelle Walfred, Communications Specialist — Carvel Research and Education Center
Thirty-five years ago, Sue Barton, then a University of Delaware Extension Specialist in ornamental horticulture and a new mother, was asked to organize and coordinate the training of Delaware's inaugural class of 20 plus Master Gardeners volunteers.
"I taught several sessions with my baby daughter in my arms," Barton said, reflecting on those early years..
The internet wasn't a thing yet. Zoom meant moving fast.
Across four decades, Barton, professor in the Department of Plant and Soil Sciences, watched the program evolve and grow.
Today, the program is coordinated and managed by Delaware Extension's three county horticulture agents. Mindful of public safety, this year's statewide training for the Master Gardener Class of 2021 was delivered virtually, the first statewide training to do so.
During 12 weeks of training, Barton taught three sessions through Zoom. Her knowledge and experience in landscape management, sustainable landscapes, and native, non-native and invasive plants broadcasted through Zoom and landed on the screens of 57 attentive future Master Gardeners. Gardeners. Engagement flowed freely.
"I always love teaching Master Gardeners. In a three-and-a-half-hour class, we could barely take breaks because there were so many relevant and interesting questions in the chatbox to address during what was supposed to be a break," said Barton. "It is fun to teach topics that students truly want to learn."

A masters-level course

A cadre of Extension staff from both University of Delaware and Delaware State University left many of the trainees impressed with the caliber of instructors and information and resources provided.
"The numbers of doctorates who taught were amazing," said David LeClaire, from Kent County. "I am a long-time student and teacher, continuing education credits alone are a plus, but also the reality of doctoral work in gardening research knowledge is priceless information. They have made this course a well-designed place in Extension outreach — a gift to those who jump in to do the work."
Joining Barton across the 12-week course included UD's Valann Budishack, John Clendaniel, John Emerson, Karen Gartley, Gail Hermenau, Gordon Johnson, Brian Kunkel, Bob Lyons, Blake Moore, Maria Pippidis, Jill Pollok, Kerry Richards, Grace Savoy-Burke, Amy Shober, and Jenn Volk. County horticulture agents Carrie Murphy, New Castle County UD EXtension agent, Megan Pleasanton, DSU Kent County extension agent, and Tracy Wootten, Sussex County, coordinate the training and oversee the program's outreach in each county. 
Amy Shober, a professor with the Department of Plant and Soil Sciences and Extension specialist in nutrient management, shared Barton's experience. 
"Master Gardeners are my favorite audience. The level of engagement is incredibly high with this group and they always come armed with interesting and tough questions," said Shober.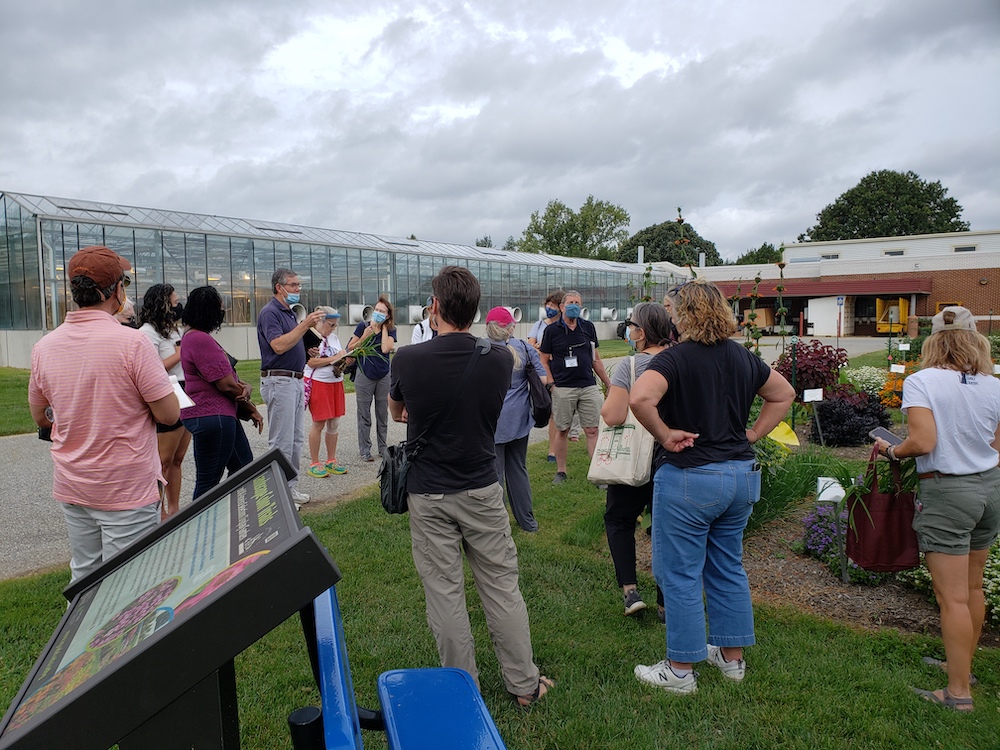 "The curriculum is evaluated and adjusted to include new topics and instructors," added Carrie Murphy.
Sessions on turf management, backyard habitats, native bees, small animal pests, and diversity were changed or expanded, Murphy said.
"It's important to equip Master Gardeners with current research, information, trends, and tools to feel confident in their work with the community and to provide excellent service," Murphy added. "We work closely with a diversity of communities to identify their lawn and garden and environmental needs, and then work closely with our instructors to ensure the trainees receive the most up-to-date information."
The curriculum includes more than technical know-how. Working effectively with Delaware's diverse population is an essential part of extension outreach. A fresh approach to diversity training encouraged the class to visualize different scenarios and resist preconceptions as they interact with the public.
"I was overwhelmed by the engagement and personal sharing that took place during our session on Diversity, Equity and Inclusion," reflected Jenn Volk, associate director of UD Cooperative Extension. "I do not doubt that this group will make it a priority to share their passion for gardening with people from all walks of life and will take every effort to make anyone who attends their programs feel welcomed and valued."
Erica Carson of Dover was impressed with the Master Gardening program while living in Rhode Island and sought it out when she relocated to Delaware.
"The broad selection of speakers covered a lot of ground in common and important gardening topics and best of all, every speaker was enthusiastic about their areas of expertise and excited to share knowledge," said Carson.
Our volunteers are trained to provide non-bias, research-based science that the public can trust.

Extension Agent - Horticulture
Our volunteers are trained to provide non-bias, research-based science that the public can trust.

Extension Agent - Horticulture

Serving the First State

When they apply, Master Gardeners candidates pay a tuition of $150 for their training and agree to volunteer a minimum of 40 hours each year and attend advanced training to maintain their credentials. Many exceed that minimum.
In an average year, Delaware Master Gardeners collectively volunteer 20,000 hours. If paid a professional rate, the value of their service would be in the hundreds of thousands of dollars to the First State each year.
For Kent County's Megan Pleasanton, Extension agent for Delaware State University, a gain of seven new pairs of helping hands to serve Kent County is most welcome.
"As an extension educator with numerous responsibilities to Cooperative Extension, I depend on the Master Gardener volunteers to help answer phone calls on the garden helpline, help plan and prepare workshops for the public and write articles to the local newspaper," Pleasanton exclaimed.
"The Master Gardeners are an extraordinary group of people eager to help educate our community about sustainable gardening practices. Online workshop participation tripled during the pandemic," Pleasanton added.
In addition to their 12 weeks of instructions, the trainees create fact sheets on a topic of their choice, design a plot plan for a vegetable or ornamental garden and prepare a 10- to 15-minute talk reflecting their garden passion. Mastering Zoom was a bonus as online workshops have become popular with the public.
Master Gardeners meet volunteer requirements in several ways, working in their county's demonstration or teaching garden, staff information booths at public events. They publish articles and record Master Gardener Minute educational videos. Master Gardeners love working with youth in schools and through Extension's 4-H program. They serve as a resource for community and school gardens, conduct plant sales, and are valued judges in horticulture competitions, including the Delaware State Fair.
Many Master Gardeners answer general questions directly through the state's three telephone helplines and the Ask Extension website. All through the calendar year, attendance at their in-person and online public workshops fill up quickly.
Susan Graves of New Castle is eager to directly answer residential questions, serve on the front lines with popular garden phone-in and online helplines. 
"I want to inform and educate and share my love of gardening and teach about native plants," said Graves.
Several trainees came to the program as Master Gardeners from other states but must attend the training specific to Delaware. This year's training will mark Barry Weissman's third Master Gardener certification. He became a New Jersey Master Gardener in 1990. He added Arizona credentials in 2015 and now will serve Delaware during the summer months.
Zoom afforded Weissman to take the Delaware training from Arizona. The time difference was challenging. He rose early at 6 a.m. to begin instruction.  
"It was a very good review on topics that I've heard about but may not have used that much," Weissman said. 
While in Delaware, he volunteers at the Delaware Botanic Gardens in Dagsboro. He is looking forward to more contact with the public.
"I enjoy the plant clinic, the helpline and making presentations either in person or online and finally, working at farmer's markets, answering questions from the public," Weissman said.
Carson is thrilled to add Master Gardener to her years-long volunteer resume. She is eager to give back.
"I'm very passionate about making gardening and the outdoors more accessible to anyone who wants to know and do more, especially in urban and suburban settings and particularly with environmental justice and disabilities in mind," said Carson. 

A pipeline to resources and community
 
Reflecting on the instructors, Graves added, "The amount of knowledge they all have is staggering — and we all love gardening. Because of that common thread, I didn't find it intimidating. Knowing that experts like that are at the heart of the Master Gardening program is very impressive."
That heart is key to the 35-year old program's success. 
"Over the course of this instruction, our trainees learn that Cooperative Extension is passionate about helping others. "Experts are local or can extend nationwide if needed.  Being comfortable in their new role in researching a problem and knowing who to contact is key for our volunteers." Tracy Wootten said.
"When a question from the public arises, our volunteers are trained to provide non-bias, research-based science that the public can trust."