Contact us
302-831-2524
---
Dr. Lesa Griffiths, TA Baker Professor of Agriculture and Natural Resources
Why pre-veterinary medicine at UD?
You will be highly competitive for admissions to veterinary colleges. In fact, the number of our graduates admitted to veterinary colleges annually is twice the national average!
Our alumni have been offered admission at 65% of U.S. veterinary colleges and at six international colleges.
You are admitted directly into our pre-veterinary medicine major.
Beginning in your first semester, you will work with horses, cows, sheep and yes, blue hens, on our 350-acre farm, which is located right on main campus. You can walk or ride your bike to the farm.
You will have the opportunity to participate in undergraduate research and work closely with faculty scholars to solve problems in animal nutrition, immunology, virology and molecular biology.
You can raise and train a service dog in your residence hall.
Through the college's study abroad programs you will have the opportunity to study cattle, sheep and horses in New Zealand and conservation biology of non-domestic animals in Tanzania.
Our graduates recognize that healthy, productive livestock and pets lead to healthy and happy people!
So you want to go to vet school?
As a University of Delaware pre-veterinary medicine student, you will be assigned to a faculty academic advisor, who will assist you with the appropriate course selection throughout your four years. In addition, we have numerous faculty members who provide expertise throughout your veterinary school application process beginning in your junior year.
You will be highly competitive for admission to veterinary colleges after your time here at UD!
Is there a list of all the veterinary colleges I can apply to?
Is there a reference book to help me obtain information on veterinary colleges?
Amazon: "Veterinary Medical School Admission Requirements in the United States and Canada"
What type of students are veterinary colleges looking for?
We've learned that veterinary colleges are interested in well-rounded students.
Your G.P.A. and standardized test scores are very important but you can improve an application with research experience, community service and evidence of leadership and communication skills.
Colleges are looking for students that demonstrate academic competency (especially in science course work), good problem-solving, decision-making, capable interpersonal communication, and teamwork skills; experience with a variety of animal species. and experience with veterinarians and/or animal scientists engaged in research.
Most veterinary colleges have a profile of competitive students on their websites which will provide more information on competitive G.P.A.'s and standardized test scores.
How important is your G.P.A. in applying to veterinary schools?
A competitive G.P.A. is a 3.6 or greater on a 4.0 scale, especially for students applying to a veterinary college that is not located in your state of residency.
Most colleges have a minimum G.P.A. requirement of 3.0.
What standardized tests are required for admission to veterinary college?
The Graduate Record Examination (GRE) is required by most veterinary colleges, but be sure to check for any additional tests that are required from the veterinary colleges that you are interested in.
We recommend that you take the GRE at least 8 months before your application. This gives you time to re-take them if you are unhappy with your score.
Does admission to veterinary college depend on where you get your undergraduate degree?
The academic quality and rigor of your undergraduate program can affect your admission to veterinary college. Graduates from our program have found great success once they are at vet school and veterinary colleges have reported back that they are impressed with the quality of education that our students received as undergraduates.
How does state residency affect applications to veterinary colleges?
Your official state of residency is very important in the selection of a veterinary college

State of residency affects both admission and tuition.
Many veterinary colleges are state-funded schools and admit the majority of each class from among their own residents.
There are differences is resident and non-resident tuition at most veterinary colleges.
Do your research and see how many seats in each new freshman class are reserved for residents and non-residents at the veterinary colleges you are interested in. This is especially important if your state does not have a veterinary college.
Some states that do not have a veterinary college have developed partnerships with states that do. These are referred to as contract seats. So, it is important for you to also know if your state has a contract with any other states for seats at their veterinary college.
In some states, non-residents are eligible to apply for residency but the requirements vary from state to state and program to program.
Does the University of Delaware hold any contracts with veterinary colleges?
Typically, universities do not contract with each other, states contract with each other for seats in veterinary colleges.
The state of Delaware holds contracts for Delaware residents with Georgia and Oklahoma to hold seats for qualified applicants at their state institutions, regardless of where they complete their undergraduate degree.
On average, how many schools does a student apply to?
Most students apply to 3-5 veterinary colleges.
Be sure to research your school profiles and apply to the schools that are the best fit for you when considering factors such as residency, competitiveness, cost and contract seats.
How much is veterinary college going to cost me?
The AAVMC Cost Comparison Tool will show you key financial data should you need to consider this when applying for veterinary college.
What is a dual degree?
You probably already know this, but getting into a veterinary college is more than just doing well academically as an undergraduate student. Even though some veterinary colleges do not designate a required number of experience hours, we highly recommend that you earn at least 500 hours in both the animal and veterinary categories shown below. For more in depth examples of what fulfills these experiences, check out the VMCAS Experiences webpage.
What is the difference between veterinary and animal experience?
"Veterinary Experience" is defined as work related to animals and supervised by a veterinarian. It should be different from what you enter for Animal and Employment experience. Veterinary experiences should relate to any veterinary clinical, agribusiness, or health science experiences that you had under a veterinarian.
"Animal Experience" is defined as work related to animals not supervised by a veterinarian. It should be different from those entered for Veterinary and Employment experience. They should include farm and ranch experiences, 4-H membership, animal training, or other similar activities, and should not have occurred under the supervision of a veterinarian.
What is the best way to keep track of your animal and veterinary experience?
Start a logbook, as soon as you begin our pre-veterinary program and keep track of all of your experiences (hours) with animals and veterinarians throughout your four years. Veterinary colleges may or may not designate a required number of hours, and don't forget, we recommend at least 500 hours in each category.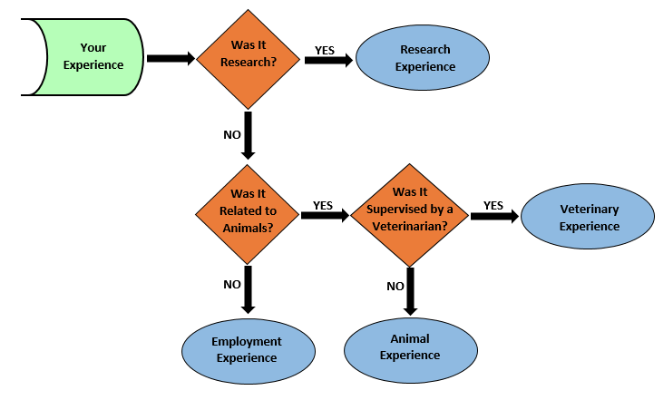 Our graduates are all over the country and the world in many different veterinary colleges. Here is some of the advice they have to give you on interviewing.
The biggest piece of advice I can give before an interview is to just relax, whether it's a formal interview or an multiple mini-interviews (MMI).  To prepare for my formal interviews, I reviewed my actual VMCAS application just to remind myself of the experiences I listed. However, I found that this really wasn't necessary because many of the questions focused on experiences that truly were important to me and already stood out in my head! Also, it's fun to talk about what you're passionate about. Some questions did center around possible future career goals (don't worry, this does NOT have to be set in stone and I found interviewers appreciated when I was honest about not being entirely sure where my path would take me). I was asked a few ethical questions regarding professionalism, convenience euthanasia, and cheating/conduct in class. Overall my interviewers were very relaxed and easy to talk to despite the formal attire needed. I actually found MMI's more fun! - Rebecca Radisic (UD '15)
The MMI is basically like speed dating and I personally thought it was SO much fun. There are 8 stations and each has a scenario on the door you have to interpret in your own way and you have a minute to think about it and jot things down. Then you go into the interview room and discuss the scenario with the interviewer. These are impossible to prepare for so honestly just be yourself and try to have fun with it.  I really liked it because even if you didn't have good rapport with an interviewer, there were many others for you to connect and make a good impression with. Some of the interviewers are even students, so there is no reason to be intimidated. The best advice I can give is that you should stand by your initial response to whatever the scenario might be -- in some of the scenarios, the interviewer may try to question your response or try to get you to change your mind, and it's important to show that you are firm in what you believe in -- there are no wrong answers to any of the scenarios. - Rebecca Gounaris (UD '12)
The most important advice I could give (really for any interview!) is that there absolutely is a way to be both professional AND passionate. By this point they know your "stats" and they've read what you've written, so they want to see how you are in person, how you interact with others and how clearly you express your opinions. They are NOT trying to trip you up - they really do want to hear about why YOU want to be there because they are already interested in you!  Don't get caught up with trying to impress them or say the right "buzzwords" or stifle emotion to sound mature - you're there for a reason and they want to hear why you're excited and passionate about this incredible field - if you're there, you're already a great candidate, so be humble and honest with your answers, know what you're talking about and just enjoy it! - Lily Greener (UD '15)
I am putting "formal" in quotes because it's still formal in the fact that you need to dress up, but interviews are more conversational than anything. With the exception of St. George's, all the interviews included a tour of the facility and then an interview with admissions officers. Tufts provided lunch, and the University of Pennsylvania had a happy hour afterwards. I had an early admissions interview at Florida, and they had a student panel and "debriefing" after the interview. My advice would be to practice answering interview questions out loud. Always have a couple questions to ask the interviewers! They were all conversational, and Penn and Tufts were all like, "Oh, you know Bob Dyer? How's he doing?"  They aren't out to get you. They just want to get to know you, so try to relax and be yourself. Don't forget to smile :). Jessica Applebaum (UD '14)