Water Science and Policy: Degree Requirements

Our Curriculum
Our interdisciplinary program capitalizes on existing strengths of University of Delaware faculty from many departments across four colleges:
The Water Science & Policy Program offers three degree options:
A Ph.D. with a water science concentration (36 credits),
A Ph.D. with a water policy concentration (36 credits), and
A Master of Science with thesis (30 credits)
For both the Ph.D. and the M.S. degrees, you must take courses across five categories, which include the following:
Physical science
Chemical/biological science
Policy
Research methods
Statistics and analysis
Doctoral Programs
The distribution of the total 36 credits for the water science and the water policy concentration areas is provided below.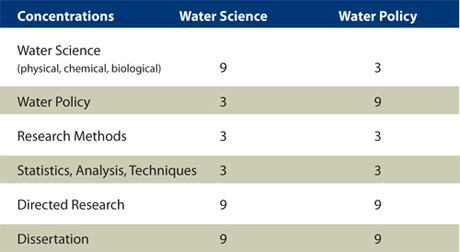 Master's Program
If you choose the master's degree option, you will select 24 credits of coursework in consultation with your adviser, with at least three credits from each of the five categories above. With adviser approval, you may substitute directed research in lieu of one course in categories a, b, or c. The balance of the required 30 credits is in thesis work.
Special Features
The University of Delaware offers superb laboratory, informatics, library, environmental sensing and shared core instrumentation facilities.
Delaware is ideally located near government agencies and NGOs in Washington, DC, and New York.
The faculty solicited input from their own graduate students in developing the program.
The program especially encourages student interaction with water professionals in research institutions, government agencies, environmental organizations and industry that will enrich the educational experience and provide professional opportunities. Some of the agencies include

Stroud Water Research Center
US Geological Survey
US Fish & Wildlife Service
Delaware Department of Natural Resources & Environmental Control
Chesapeake Bay Program
World Health Organization
Potential Career Paths
Students graduating from the Water Science and Policy program can pursue numerous exciting, water-related career opportunities with academia, national research laboratories (e.g., Oak Ridge National Lab, Pacific Northwest National Lab), federal agencies (e.g., Environmental Protection Agency, US Geological Survey, US Fish and Wildlife Service, US Natural Resource Conservation Service, US Department of Agriculture Agricultural Research Service, US Forest Service), state agencies associated with environmental issues (Delaware Department of Natural Resources and Environmental Control), private consulting companies (CH2M HILL, Ecology & Environment), nongovernmental and nonprofit agencies (Conservation International, World Resources Institute), and numerous international agencies (e.g., International Water Management Institute, World Agroforestry Center).