Interdisciplinary Neuroscience: Seminars/Events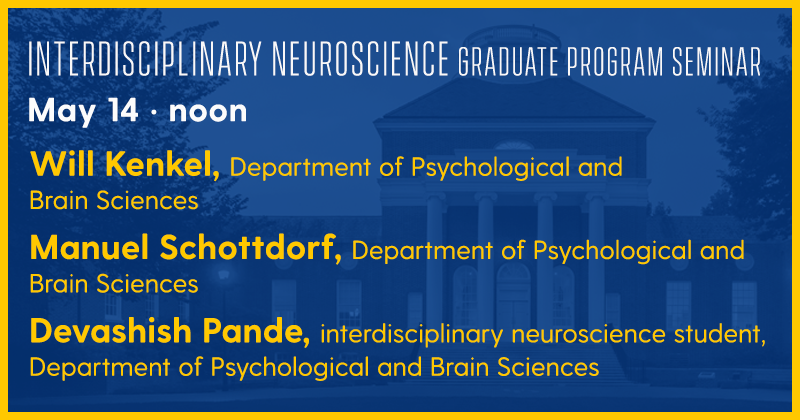 Interdisciplinary Neuroscience
Graduate Program Seminar
Wednesday, December 6, noon
STAR North Atrium
Seminar speakers
Roxana Burciu, assistant professor in the College of Health Sciences Department of Kinesiology and Applied Physiology: Parkinson's Disease through the Lens of MRI: A Window into Brain Changes

Deni Galileo, professor in the College of Arts and Sciences Department of Biological Sciences: L1CAM protein influences human glioblastoma cell behavior in vitro and in vivo

Tim Vickery, associate professor in the College of Arts and Science Department of Psychological and Brain Sciences: Decoding spatial memory representations using fMRI

A light lunch will be provided following the seminar. Please RSVP below.
Upcoming Seminars
Fall 2023 Seminar Series
All seminars will be held at noon at the Audion in the Tower at UD's Science, Technology and Advanced Research (STAR) Campus. More information and registration links will be available as each date approaches.
If you have any questions about these seminars, please contact Wendy Feller.