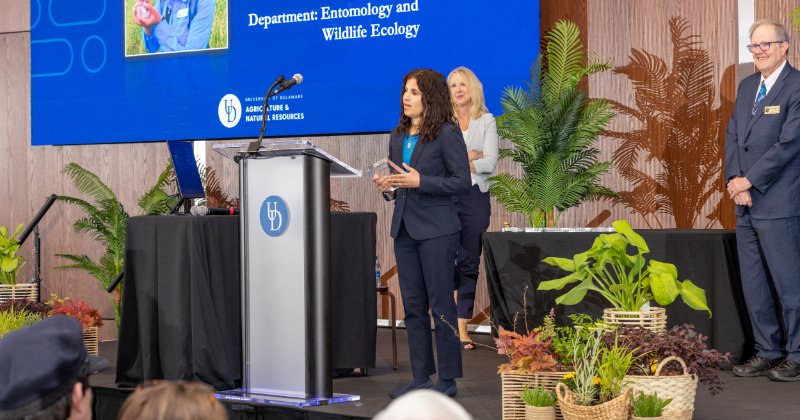 Alumni, faculty and staff honored during 2023 Celebrating Excellence event
May 11, 2023 Written by Dante LaPenta and Lauren Bradford | Photos by Maria Errico
University of Delaware College of Agriculture and Natural Resources (CANR) crossed the street to Science, Technology and Advanced Research (STAR) Campus this May to celebrate alumni, faculty and staff. Interim Dean Calvin Keeler oversaw the recognition of 2023 award winners at the appropriately dubbed Celebrating Excellence event.
"They are shining examples of true Blue Hen spirit, tenacity and ingenuity," remarked Keeler. "We are honored to have them as members of our CANR community and we're better educators and administrators for having known them, guided them, and worked alongside them."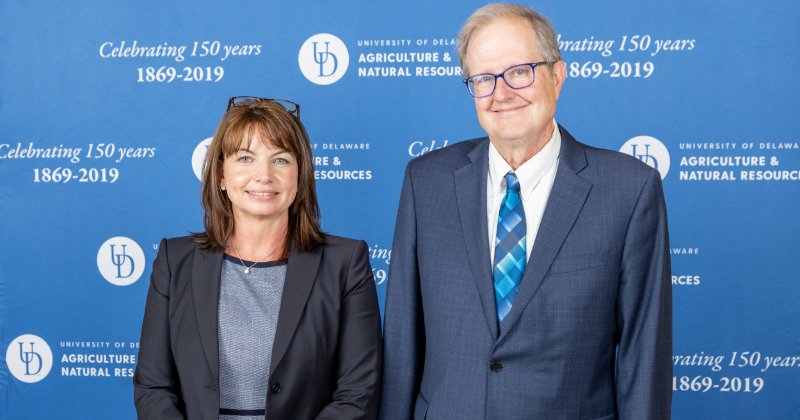 Alumni awards
As in previous years, each of the college's four departments honored distinguished alumni. But 2023 brought a new category — the Distinguished Alumni Award of the agriculture and natural resources major. These students choose courses across all four of our departments, making them appealing to employers looking for graduates with diverse backgrounds. The inaugural honoree, Anna Armstrong, embodies this interdisciplinary spirit. Throughout her three-decade career, Anna held various positions at DuPont and served as a UD agricultural extension agent.
"Anna is all about Delaware — both our University and the state," attested Ed Kee, CANR executive in residence. "She has a natural affinity for farmers and our agricultural community. Her career on all fronts has no doubt been profoundly impacted by her farming roots."
Armstrong now works as a regulatory consultant, providing growers with tools to maximize productivity, efficiency and safety in their operations.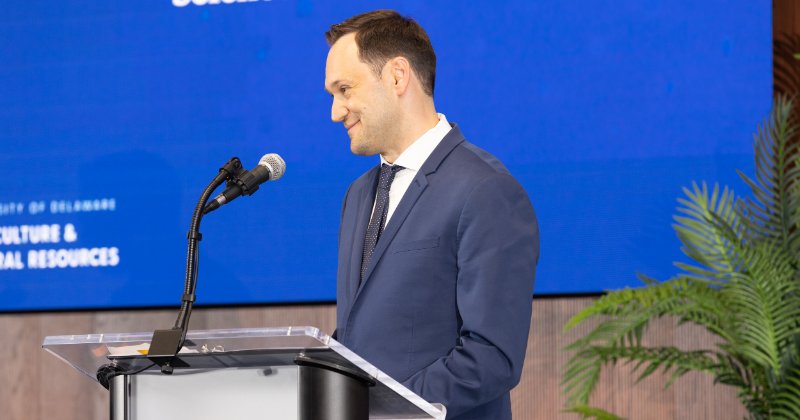 Milos Markis, the Department of Animal and Food Sciences 2023 honoree, is a three-time alumnus, receiving a bachelor's degree in biological sciences, a master's degree in animal science and a doctorate in animal science from UD. He worked as a laboratory assistant with former CANR dean and UD Provost Robin Morgan, who embraced Markis after the ceremony. An immigrant from Croatia, Markis credited his family and professors for believing in him as a scientist. As an undergraduate, he cut his research teeth in Mark Parcells' lab.
"Dr. Markis has matured into a well-respected scientist in the field of poultry pathogens," attested Parcells, professor of molecular virology. "He truly represents one of the best our college has produced."
Markis is now the owner and president of AviServe LLC, an independent avian diagnostic and research laboratory in Newark.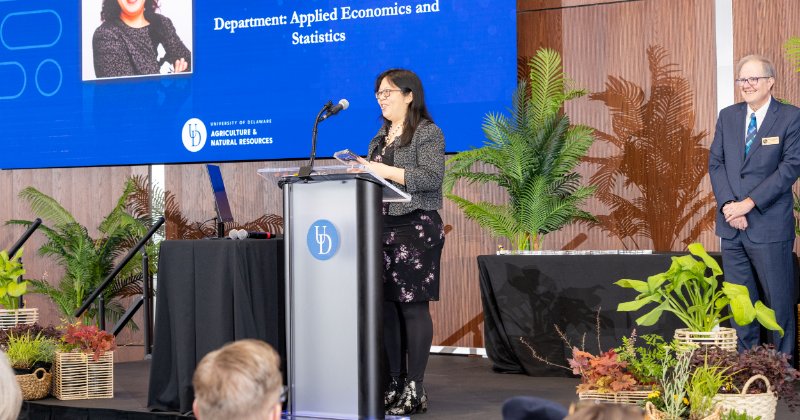 Applied Economics and Statistics honored Yanyan Li, who received a master's degree in applied mathematics and a master's degree in statistics from UD. Having worked at Teva Pharmaceutical and as a research biostatistician at Thomas Jefferson University Cancer Center, her career took her around the world.
"After graduation Yanyan kept in touch with the department and gave us a real-world perspective on what courses and skills were needed," emphasized Professor Tom Ilvento. "This sounding board has been invaluable as our program has grown."
One of UD's first M.S. in Statistics graduates, Li is a global therapeutical area lead statistician at CSL Behring, where she leads statistical teams responsible for more than 25 projects for 12 compounds in all phases of clinical development.
Ellen Lake took home the Distinguished Alumni Award from Entomology and Wildlife Ecology. Lake previously worked as a research entomologist with the U.S. Department of Agricultural Research Service's Invasive Plant Research Laboratory. From years of working in the Fort Lauderdale, Florida lab, she gained extensive experience in invasive plant management. Just last year, Lake returned to Delaware as the director of conservation and research at Mt. Cuba Center in Hockessin.
"At Mt. Cuba, Ellen has an important and powerful platform she can use to help change our culture from one which excludes natural systems to one that embraces them," explained Doug Tallamy, TA Baker Professor of Agriculture and Natural Resources. "We are proud that we played an important role in Ellen's education and are confident that the substantial contributions she has already made will become even more numerous in the future."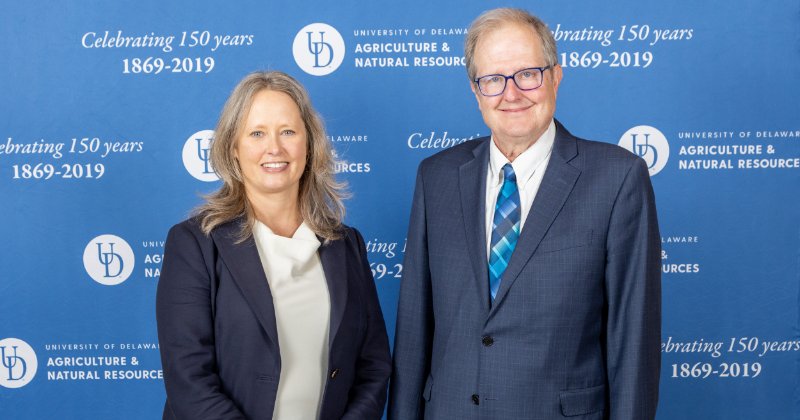 Plant and Soil Sciences graduate Mary Stromberger was the final departmental honoree. A first-generation college graduate, the alumna highlighted her parents' 'when, not if, you go to college' mantra as pivotal in her academic journey. Having worked at Colorado State and Ohio State, the land-grant mission of making higher education accessible to everyone is engrained in Stromberger. The M.S. in Soil Science graduate holds the ENGIE-Axium endowed chair and is vice provost and dean for graduate education at Ohio State, where she supports more than 11,000 students enrolled in master's and doctoral programs. She is nationally and internationally recognized for her research on plant-root microbiomes, soil ecosystems and soil health.
"Mary's research publication and grantsmanship record is impressive, especially in light of her administrative accomplishments," said Jeffry Fuhrmann, professor of soil and environmental microbiology.
Stromberger published approximately 50 refereed papers in the general areas of soil ecology and soil health, including topics related to climate change.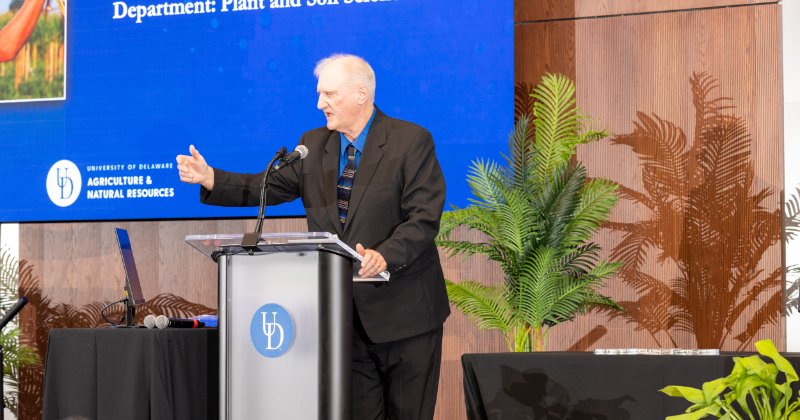 After the departmental awards, UD faculty member, Cooperative Extension agent and Ph.D. alumnus Gordon Johnson received UD's prestigious George M. Worrilow Award. Unlike most Blue Hens who return to UD for their careers, Johnson was an employee (in 1994) long before he was a graduate. In 2011, Johnson received his doctorate in his fifties. The capstone accomplishment was a culmination of his impressive path of personal growth, servant leadership and curiosity about all things agriculture.
Johnson was born into agriculture and never left. From Delmarva to the Republic of Seychelles in the Indian Ocean, farmers across the world can thank the soon-to-retire Blue Hen not only for his expertise, but also for his ability to teach and share his knowledge. His agricultural knowledge spans the gamut, including field crops, ornamental plants, organic farming, dairy, agritourism, entrepreneurship and business management. A UDaily feature on Johnson's incredible career publishes later this month.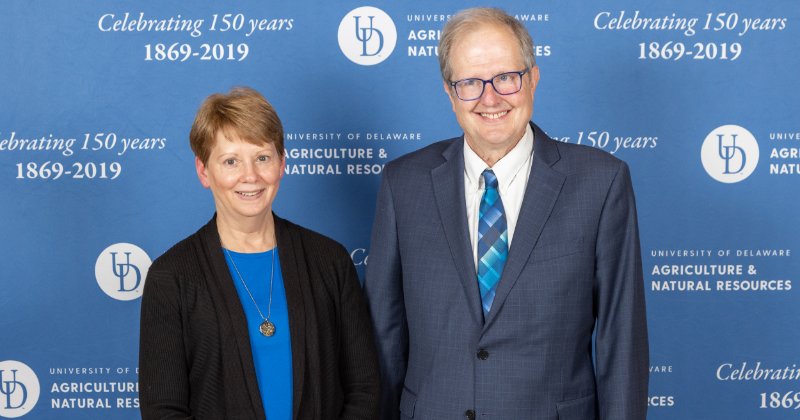 Faculty and staff awards
Once the alumni received their final round of applause, Dean Keeler pivoted to current faculty and staff.
The first honored staff member was the always humble Susan Davis, a UD accountant who supports the Office of the Dean, Newark Farm and UDairy Creamery. The 2023 Excellence in Service winner receives unanimous praise from her Newark colleagues.
"When you think of character traits important in a co-worker, positive, productive, diligent, reliable and a team player come to mind," said Brooke Uhde, business administrator in the Department of Entomology and Wildlife Ecology. "Susan has all of those characteristics."
Next up was Jennifer Seabrook-Scott, the 2023 Inclusive Excellence awardee. The Cooperative Extension mental wellness extension agent builds resiliency through programming and resources for Delawareans, including individuals in underserved communities, young people, Latinos and senior citizens.
"Jennifer can step into many different outreach settings with diverse audiences and make all learners feel welcome and included," said Emmalea Ernest, vegetables and fruits scientist and agriculture program leader.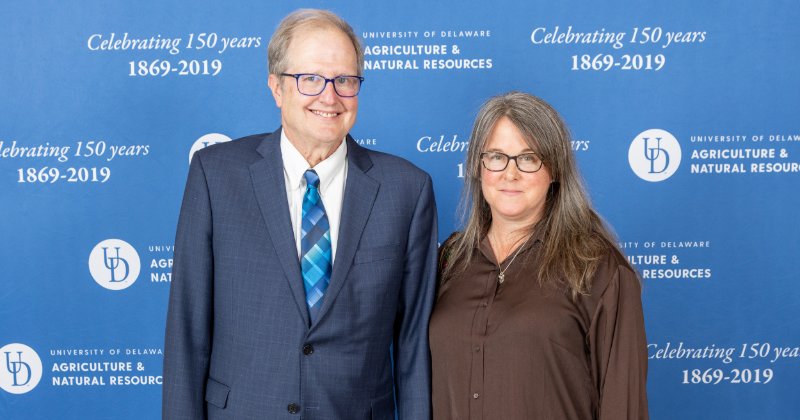 The college then honored Entomology and Wildlife Ecology's Deb Delaney with the Excellence in Teaching and Advising Award. The associate professor of entomology mentors graduate and undergraduate students working on pollinator health and productivity. Her popular teaching style is the definition of hands-on, with students getting up close and personal with pollinators, bee colonies and aquatic insects.
"Being able to ignite a student's passion to learn about insects, or any subject, is perhaps the most important attribute an excellent teacher can have," explained Kyle McCarthy, associate professor of wildlife ecology. "We all know the best learning occurs when a student is interested in the content. Dr. Delaney's enthusiasm for insects and student learning led to both growth in our insect ecology and conservation major and enrollment in Insects and Society (ENWC205) course."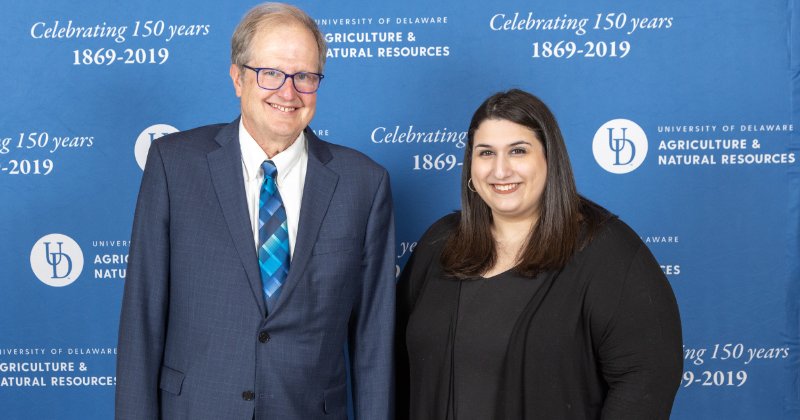 To conclude the awards, Keeler then surprised two CANR employees with the Dean's Distinguished Service Award, created to honor exceptional achievements, superior performance and dedicated service. The first in the pair was Emily Salanon, who began her UD human resources career in 2021. A responsive and empathetic team player, Salanon arrived mid-pandemic, guiding the college through new processes, work schedules and hires.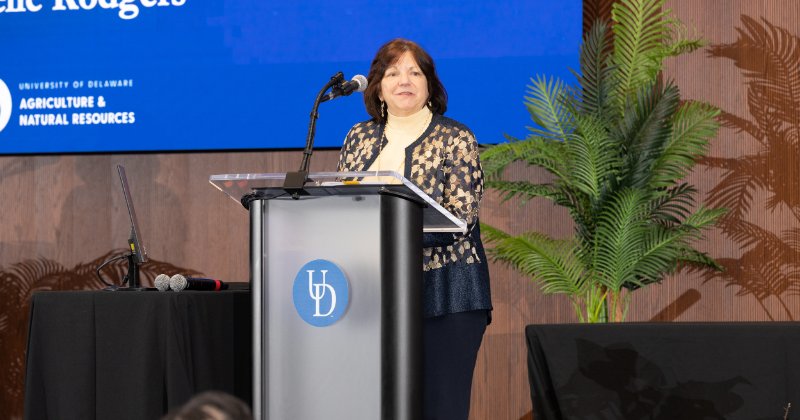 The scene then shifted to Michelle Rodgers, who was already on stage to congratulate the other award winners. Keeler successfully surprised the director of Cooperative Extension, who's set to retire from UD in June.
"Michelle Rodgers lives and breathes Cooperative Extension," attested Keeler. "Michelle is a true champion of community engagement. Her life's work has been Extension and she has succeeded in helping us fulfill that critical part of our tripartite land-grant mission."
In addition to her in-state work, Rodgers took national leadership roles with the Extension Committee on Organization and Policy, the Extension Collaborative on Immunization Teaching and Engagement, and the Extension Foundation, an organization that supports professional development.
The college will honor Rodgers and her impactful extension career at a separate ceremony before her retirement.