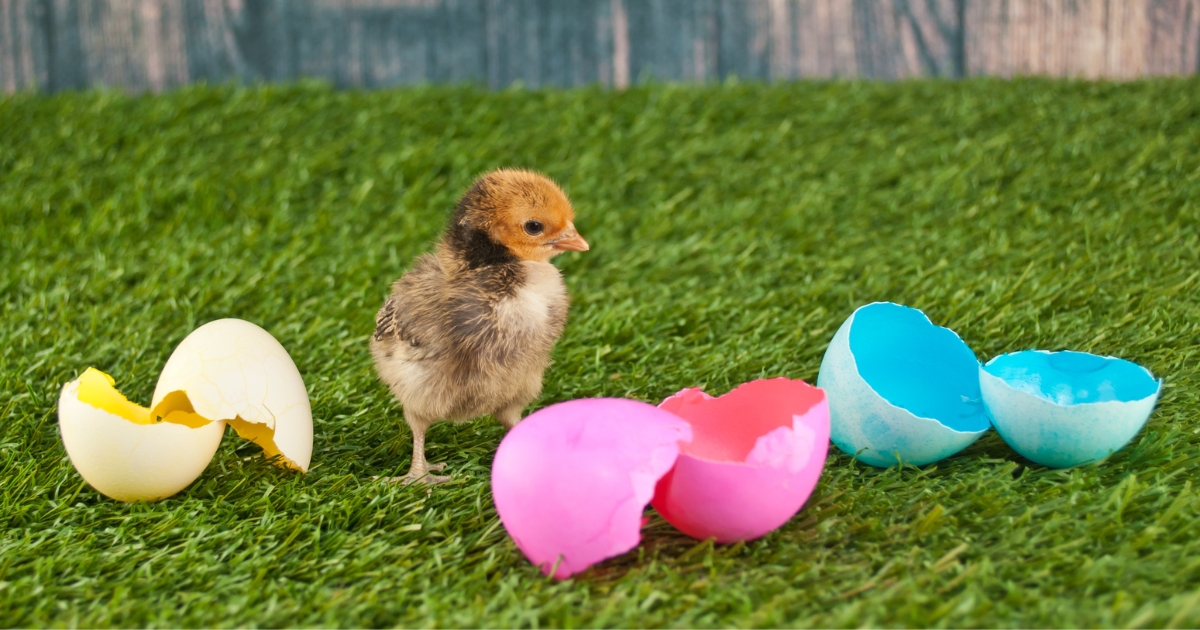 Don't wing it: What you should know before adopting that chick
March 21, 2023 Written by Katie Young, Digital Content Specialist
Let's face it, chicks are adorable and with the rise of egg prices, raising your backyard flock can seem rather tempting. Plus, with springtime and Easter just around the corner, what better time to start your own flock than this season of rebirth?
You've seen the stories; each year, well-meaning folks adopt chicks only to find themselves unprepared for the commitment. We won't let you be one of them—here's what you need to consider before you commit a fowl.
1: Know the rules where you live
In Delaware, each county and town has laws and ordinances covering everything from flock size limits to acreage requirements to outright bans. In addition to local regulations, many neighborhoods and homeowner associations have their own rules about backyard flocks, and rightfully so. Your neighbors may not share your dream of waking to the classic "cock-a-doodle-doo!"
Additionally, within the state of Delaware, owners must register their small flocks with the Delaware Department of Agriculture. Registration is important because it keeps track of poultry in the state, tracks flock health, keeps you in the know and "protects the health and welfare of the domestic animal and avian species from the introduction and spread of infectious and contagious diseases, including those transmissible to the human population." See No. 5!
2: Know what it will cost
It's all fun and games until you realize just how much feed it takes to produce that one egg. (Eggs or meat? Does the same chicken produce both?) It's true; hidden costs can catch up with you! Starting your venture properly can cost several hundred dollars by the time you're finished setting up. Start-up costs include building or purchasing a sturdy and size-appropriate chicken coop. Depending on the breed, plan for four to eight square feet per bird, fencing for their outdoor area, miscellaneous items like hardware, boots, shovels (for litter) and more.
Last but certainly not least is the cost of feed—the most important and expensive part of raising your own flock. Their health and egg production is dependent on it. And feeding a chick is very different from feeding an adult hen or rooster, so be prepared for the cost to increase. A fully-grown hen can eat one-quarter to one-half pound of feed per day!
So consider, while you may get two to three eggs per day from a small chicken coop (at least for the first 18 months), it will be less consistent after that. Is it more cost-effective to raise your own flock or to splurge on the eggs from the grocery store? That's not to say that you can't raise chickens and enjoy the eggs as an added benefit. You certainly can! But it's important to consider what you aim to get out of the venture—the experience and excitement of raising chickens or saving money. You're far more likely to experience the former than the latter.
3: Know that time is a valuable resource
Obviously, the largest time commitment here is in the beginning—purchasing, building and learning as you get started. But there is more to consider. Chickens are creatures of habit, so you'll need to keep them on a schedule. Who will be responsible for feeding your flock and at what times? Will you be home to protect them from predators before dark? How often will litter be cleared out and what will you do with it? Who will take over when you have a late night at the office or take the family out of state for vacation?
4:  Know that adoption is for a lifetime
This is no short venture; adopting an animal means committing to its care for its lifetime. Depending on the breed, on average, hens can live seven to 15 years and grow into full-sized egg-laying adult chickens in 16 to 20 weeks. Similarly, roosters can live up to five to eight years, crowing all the way!
Many folks like the idea of gifting a chick for Easter. Don't! Gifting an animal is rarely a good idea. Trust those of us who have made that mistake. It's best not to make a commitment like this for someone else, even if you're sure it's something they would enjoy. 
5: Know the hazards
Safety is important to keep in mind when raising chickens. Safety hazards come in two forms—human health and avian health.
Concerns with human health often boil down to safe handling. Chickens spend a lot of time traipsing through their litter. As a result, the birds can easily pass salmonella to humans. Handwashing is incredibly important when handling chickens, particularly when working with small children. These excitable young helpers aren't as cognizant of touching their eyes and mouth, and may even try to kiss or cuddle their new pet. Additionally, immunocompromised individuals and those over age 65 are more likely to become ill and should take extra precautions when working with flocks and handling farm-fresh eggs. In fact, in the spring and summer of 2020, the CDC noted an increase in salmonella cases as a result of people buying chicks and not knowing how to handle them properly.
And finally, with the news of avian influenza in the region, follow safe practices to avoid the spread of disease among native birds, backyard flocks and commercial poultry. As the Delaware Department of Agriculture's Avian Influenza Information Center explains, "While influenza strains in birds, just as in people, vary considerably in severity, some influenza viruses can be devastating to domestic poultry."
So here's the bottom line. When considering whether or not to adopt chicks and raise a flock, be prepared. Do your homework. Don't buy on impulse. Really consider what you want to get out of the experience. Have questions? We can help! Submit your question using our Ask Extension web portal and we'll put you in touch with a University of Delaware Cooperative Extension expert.