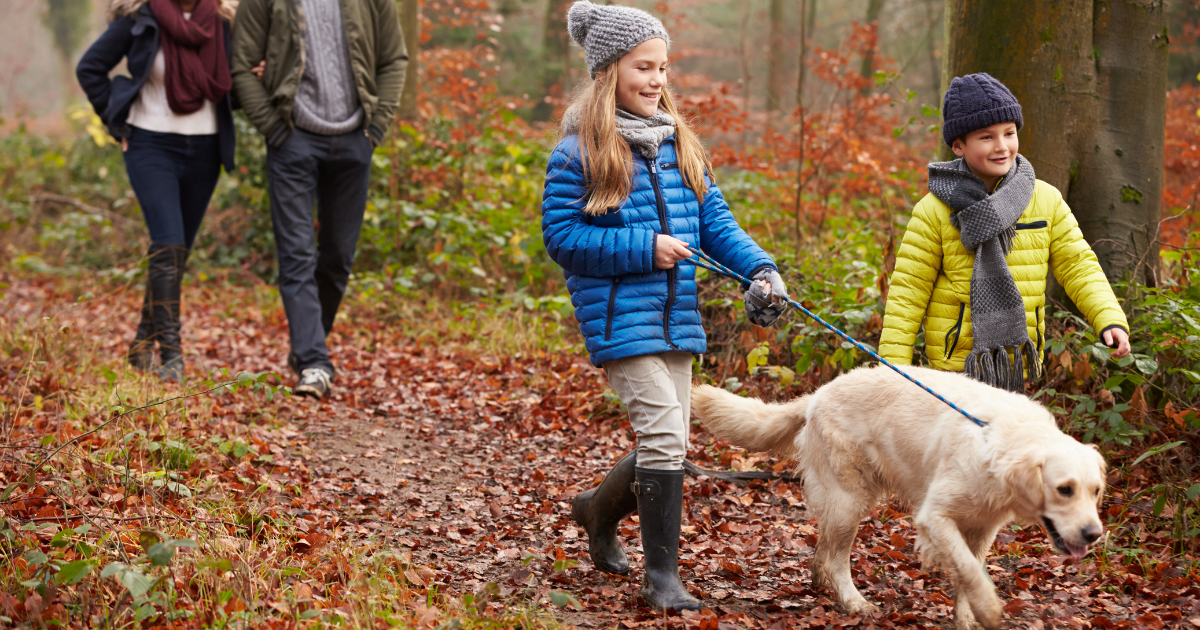 Four Fun Wellness Walks for Family Connection & Wellness
November 21, 2022 Written by Alyssa Whittaker | Photos by Katie Young
Fall and winter bring a lot of change and may be especially busy for families! Take some time to check in with your family and boost wellness by going on one of these Four Fun Wellness Walks:

1) Spot a Leaf, Spot the Tree Walk for Intellectual Wellness
First, plan to go for a walk a few days in advance. In the days leading up to your walk, all family members take some time to learn about the native trees in your area by researching native tree images online or using a tree identification manual, which you can check out from your local library. Help younger kids get involved by explaining to them there are many types of trees, each with its unique features and showing them different pictures of leaves native to your area. There are many great online resources and apps to help you do this; if you are in Delaware, you can check out our Fact Sheets: Native Plants for Delaware Landscapes.
After looking at some examples, the day is finally here for your walk! During your walk, have children pick up leaves from the ground and look up! See if you can all:
1) Recall the tree name from your research and/or
2) Identify which tree it fell from! It can be tricky as leaves blow all around and sometimes get crinkled and crushed. Enjoy this bonding time of learning something new with your family, boosting intellectual wellness!
Planning: A few days in advance, choose an area to walk with a few types of trees around
Materials: Native tree identification book, manual, app, or online guide
Time: 15 minutes+
2) Fall Colors, Fall Feelings Walk for Emotional Wellness
Plan for a 20-30 minute walk in a neighborhood or park. Gather your family and discuss the fall colors. Typical fall colors include; brown, orange, red and yellow. Assign each color a feeling such as; [brown-sad, orange-happy, red-mad, yellow-excited, etc.], then ask all members how they are feeling- this will assign them their fall color!
Once each family member has their fall color, you can start your walk. Have them identify their fall color/feeling on outdoor items- these could be leaves, pumpkins, fire hydrants, etc. The family member to identify the most unique items of their color wins. Enjoy this time fostering a sense of emotional wellness by allowing all family members to share their feelings while also taking in all the fall colors.
Planning: No planning needed
Materials: None
Time: 10 minutes+
3) Fall Decor Walk for Social Wellness
Are spooky or festive houses around your neighborhood? Many people enjoy fall decorating and start to do so in early fall. Take the family out on a walk and vote on the spookiest and/or most festive house.
*Bonus: Leave a note for the house saying they won your family vote for spookiest or most festive*
Enjoy this time creating community around you by letting others know you appreciate their decoration efforts, boosting social wellness and connectivity!
Planning: You may need to plan in advance if your neighborhood is not walkable
Materials: Sheet of paper, small card
Time: 20 minutes+
4) Weekly Fall Color Change Walk for Environmental Wellness
Plan for a once-a-week walk in a location of your choice at a time that will be convenient for your family for four weeks in a row. The place should have a few trees, so aim for a park or a tree-lined neighborhood. Each time at the start of your walk, take a photo of a tree/trees in the same exact spot. At the end of the four weeks, compare your photos to see how the colors changed. Enjoy this time appreciating the change of seasons and connecting with the environment for environmental wellness!
Planning: You may need to plan up to 4 weeks in advance to consistently walk at the same time and same place each week
Materials: Phone camera
Time: 10 minutes+
Thanks for taking time to connect with your family this fall season! #4HHealthyHabits. Want to learn more about the types of wellness mentioned in the article? Check out our Health and Wellness Resources page.