Archery takes 4-Her Abby Sparpaglione across the globe
November 30, 2022 Written by Dante LaPenta | Courtesy of Eddie Sparpaglione
Archery is one of the oldest human disciplines still practiced today. Yet, the great majority of people are never exposed to a bow and arrow.
Abby Sparpaglione first took aim at an archery target while attending 4-H State Camp at Camp Barnes in Frankford, Delaware. She was quickly hooked. Through a group of friends, Abby then discovered the nation's largest youth program: 4-H. She took part in the 4-H Shooting Sports Program for youth 8- to 19-years-old, where leaders teach safe shooting and wildlife management to assist young people develop life skills.
Abby joined a 4-H club based in Georgetown, Delaware. In addition to archery, the club does 4-H projects in areas like health, science, agriculture and civic engagement. Abby greatly prefers to learn the 4-H way: the "learn by doing" method and loves the hands-on experiences for which 4-H is known. She credits longtime 4-H leader Bo Waller and current organizational leader Kimberly Elliott for giving her and her fellow club members a fantastic experience.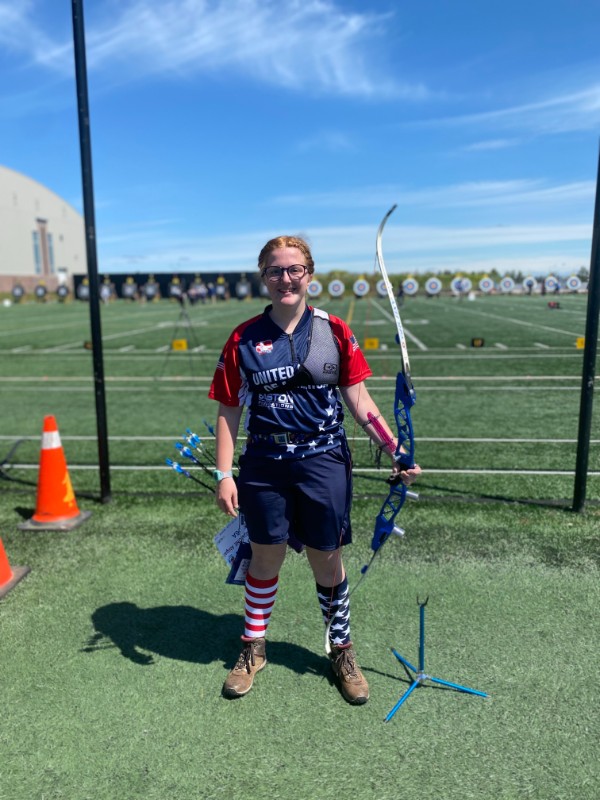 As she continued to draw her bow, Abby found that she not only enjoyed archery, but was excellent at it. Sparpaglione is now competing at the international level in the Under 18 Barebow Women's Division. In the barebow discipline, competitors shoot without sights or stabilizers—using only the top of their arrow to aim.
Great archers can eliminate distractions and focus only on themselves, something which Abby internalized in a competition in Nova Scotia, Canada where she faced archers from North America, South America and the Caribbean.
"When I was on the stage, I didn't focus on anyone else," recalled Sparpaglione. "I just focused on my shot, my process and how it felt to me. I didn't focus on the fact that there were cameras, people talking and everyone watching."
After the competition, Abby displayed the same poise in a post-event media interview with Canadian Olympian Crispin Duenas. In practice, she prepares for exactly that—maintaining her poise. Whether it's her coach squeezing a squeaky toy next to her ear or holding an object directly above her head, distraction training is regular part of her preparation.
Sparpaglione travels far and wide to test her skills, including Alabama, Florida and the Pacific Northwest. Now a regular at major archery events, the Georgetown resident sees many of the same competitors, who have become new friends.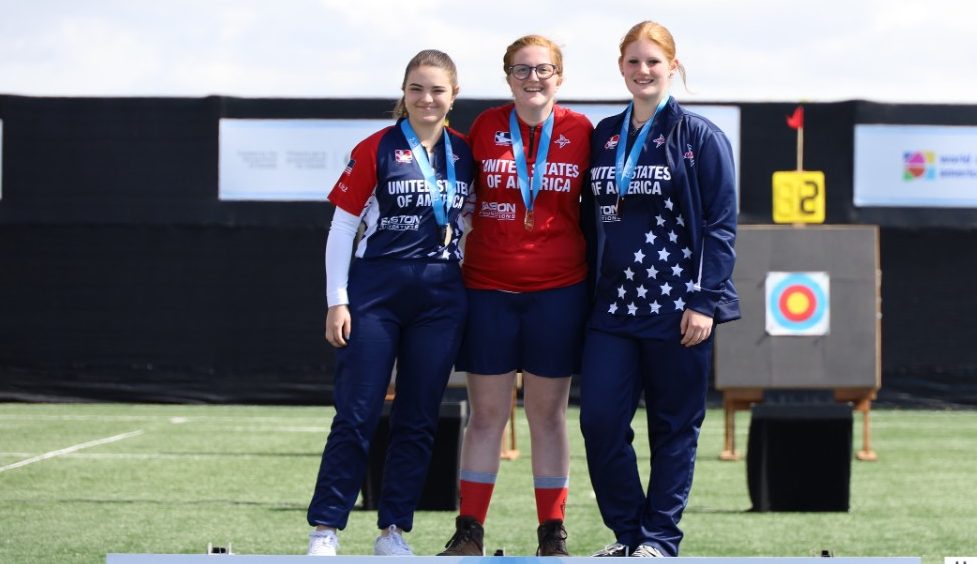 "It is nice to see familiar faces because, especially with bigger international tournaments, it can be really stressful," explained Sparpaglione. "It's nice to have someone that you know that you can talk to. "You make a lot of friends through archery."
Competing in national and international competitions comes with sacrifice. Abby spends a lot of time on the road traveling to competitions. That can mean missing school days, so she is proactive in communicating with her teachers and asking for work in advance. Long car rides are spent diligently with a laptop as she keeps up with assignments.
"There are certain things that I don't do as often as other teenagers," said Sparpaglione, a senior at Sussex Technical High School in Georgetown, Delaware. "I hang out with friends, but not all the time because I'm either practicing for or traveling to competitions."
Abby's father Eddie grew up with archery, but was no longer shooting. Abby's interest reignited his archery passion. He's become an extremely active supporter of young archers, leading the Lower Delaware Archers 4-H Club and helping with the 4-H Shooting Sports Program on the county, state and national level.
"Abby is a great example for a lot of kids. She provides a lot of encouragement, including young girls in our club," praised Eddie. "Being able to coach these young people has been an awesome opportunity. They've been able to wear a United States Archery jersey and represent the U.S. in another country."
And that's exactly what Abby will do this fall as she represents the U.S. in Santiago, Chile at the Pan-American Games.
A few fellow 4-Hers are following in Abby's footsteps. Lexington Chisenhall, a member of the Bridgeville Mustangs, will compete in the national circuit for the first time in the 2022 Junior Archery Olympic Development Target Nationals.
Abby hopes other young Delawareans join 4-H to discover the positive experience that's she's enjoyed.
"You make friends that are going to be your friends for life," emphasized Abby. "You can rely on them, and they can rely on you."
Delaware 4-H is open to all youth who are between the ages of 5 and 19. Learn more about 4-H youth development.