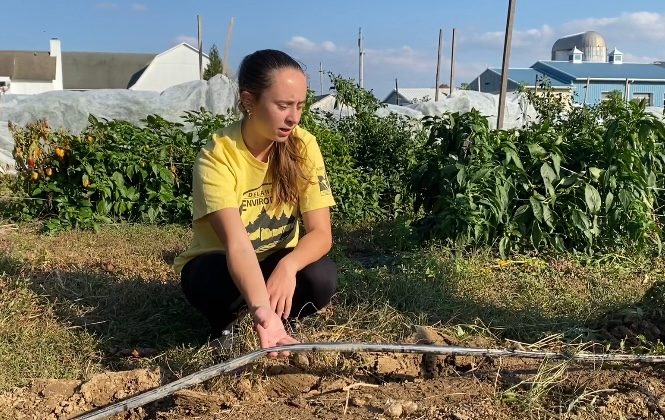 Pursuit of plant science
June 23, 2022 Written by Dante LaPenta | Photos courtesy of Maci Carter and Bethany Knutsen
Two University of Delaware students, Maci Carter and Bethany Knutsen—both of Harrington, Delaware—earned scholarships from the Mid-Atlantic Certified Crop Advisers (MACCA) Board. The awards are given to undergraduate students pursuing plant science with the goal of becoming certified crop advisers.
"The board sees value in individuals working towards an agricultural degree and strives to support the next generation of agriculture professionals," said Isaac Wolford, MACCA board chair.
Carter is working towards a double major in plant science and agriculture and natural resources. As a high school student, an environmental science pathway drew her into sustainability topics.
"I enjoyed planting vegetables and flowers in the greenhouse and learning about how to grow food sustainably," said Carter, who served as an FFA state officer as a high school student. "I chose the University of Delaware for many reasons, but one of the main reasons was because of their strong agricultural program."
Carter began her Blue Hen career as an agriculture and natural resources major. After a year of experience and ongoing interest in crop and soil research, she doubled up with plant science. Over UD's Winter Session, Carter began a research project with the help of her academic advisor on testing the effects of salinity in the soil. The UD Center for Food Systems and Sustainability (CENFOODS) jumped in to sponsor her research.
"Soil salinity will continue to be a relevant topic as sea-level rises along the coast and affects a large yield of crops on the Delmarva Peninsula," explained Carter, a UD Class of 2024 student. "Through this project, I hope to learn how salinity directly affects the agriculture industry; my findings could potentially help to feed the growing population."
This summer, Carter is interning with Willard Agri-Services where she evaluates field conditions and surveys crop fields. Her responsibilities also include collecting and submitting soil and tissue samples and record keeping.
"Through this internship, I hope to learn how to use crop management technologies and emphasize the importance of nutrient management, as well as network with people in the agricultural industry," emphasized Carter.
"Interns are instrumental in providing our farmers with valuable services in the peak of our busy season," added CEO Billy Willard. "The experience allows the intern to have a good look at Willard Agri Service, and how we serve our customers. It's a hands-on learning venue that helps develop their skills for a career in the agricultural industry. We are excited to have a Blue Hen on board this year!"
Now entering her junior year, Carter envisions a career as a Cooperative Extension specialist in plant science.
Knutsen, who recently graduated from Woodbridge High School in Delaware, already has a lifetime of agricultural experiences. Raised on her family's dairy farm, Knutsen was an active member of 4-H and FFA. She developed and ran several farm day camps for kids to learn about where their food originates.
Knutsen's interest in soils and plants arose as a middle school student when her agriscience project finished fifth in a national FFA competition.
The UD Class of 2026 student arrives in the College of Agriculture and Natural Resources as a plant science major with the goal of becoming an agronomist.
"I am interested in the field of agronomy because I want a fun agricultural career where I work outside in the fields. I didn't want an office job," said Knutsen. "I am very interested in helping farmers improve their yields and profitability."
With an agricultural college close to home and plenty of friends already enrolled in Newark, Knutsen is excited to become a Blue Hen.
"I loved that UD also had a lot of fun activities to do as well as many shops and restaurants along Main Street [in Newark]," highlighted Knutsen. "I also have friends that attend UD, which helps make the transition to college life easier and makes it feel more like home."