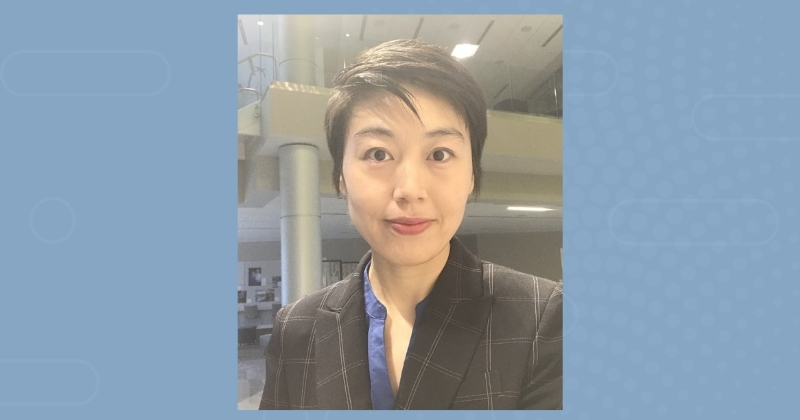 Pairing crime and data
September 13, 2021 Written by Dante LaPenta | Courtesy of Lin Liu
Former graduate student Lin Liu uses statistical imagination in criminology
Lin Liu was a prosecutor in the district attorney's office in Beijing. As she witnessed rapid social and economic shifts in her native China, she dug deeper into the story of crime — how issues like poverty, family dysfunction or institutional inequality played a role in the tale. How could she find patterns and use them to make a difference in policy?
Liu saw an opportunity for a unique, complimentary pairing of fields — criminology and statistics — and chose the University of Delaware to study both at the graduate level.
"To examine crime as a human behavior and the criminal justice system as a social institution, a strong background of research methods is a must," stressed Liu, who graduated in 2020 with a M.A. in Criminology and M.S. in Statistics. "As researchers, we pine for clarity of knowledge and the demystification of the puzzles especially those that cause pain and suffering."
Liu wanted to expand her imagination about the most effective approaches to test hypotheses. She appreciated how the two disciplines shed complementary insights on each other.
For her imminent career as a professor and research scientist, Liu set her sights on research interests in multi-level modeling, multi-variate regression and random forests.
"The M.S. in Statistics allows me to have a strong expertise and contribute substantially to society," said Liu. "Additionally, the program provided me opportunities to collaborate with the professors in statistics and other graduate students on research projects."
A favorite course was Survival Analysis (STAT621) where Jing Qiu, associate professor of statistics, provides a useful application of survival models widely used in medical and biopharmaceutical research. Liu learned statistical techniques used in the analysis of censored data including the Kaplan-Meier estimator, the analysis of one, two and K sample problems, and regression analysis based on the Cox proportional hazards model.
"Dr. Qiu was very supportive to students and generously spared her time to listen to students and give them advice and recommendations," said Liu.
Now a tenure-track assistant professor at Florida International University, Liu chose UD because of the Department of Applied Economics and Statistics supportive and collegial environment of faculty and graduate students.
Her current research revolves around criminal justice actors' focal concerns, criminal offense trajectories, the needs of released prisoners and quantitative methodologies.
For up-and-coming professionals, Liu stresses the need to start networking early with professionals in a variety of institutions.
"If you are a graduate student who is planning to go on the job market, seek opportunities to have conversations with people about their job or organization through which you can learn about their career and ask for advice," said Liu. "Talk to people with job titles that intrigue you as well as those working at a variety of companies and organizations."