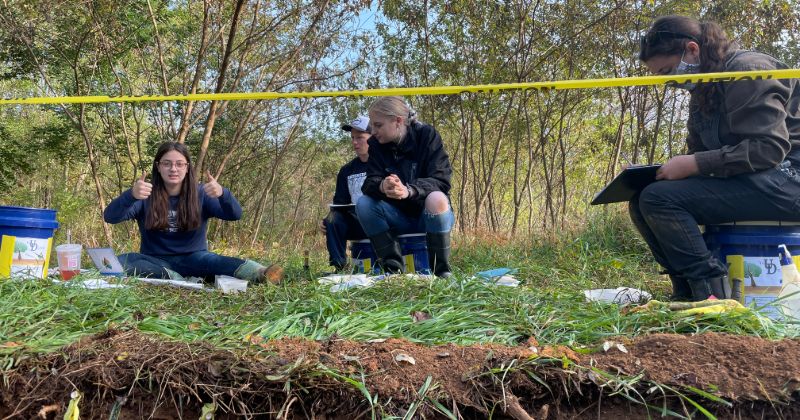 Judging the soil
December 07, 2021 Written by Dante LaPenta | Photo by Jenwei Tsai
UD team finishes strong at 2021 Northeast Regional Soil Judging Contest
Soil judging is a hands-on experience for students to visualize and apply classroom knowledge in a field environment. Students describe soil morphology, classify soils and make land use interpretations. Students learn to tell the story of the arrangement of the soil's layers.
In only its second year of competition, a UD team of undergraduates finished strong in the 2021 Northeast Regional Soil Judging Contest against other universities, earning a spot in April's national competition in Ohio. The competition took place at Rodale Institute in Kutztown, Pennsylvania.
The team included two second-year veterans — pre-veterinary medicine major Kate Mina and wildlife ecology and conservation major Duke Williams — and rookie sustainable food systems majors Zoe Bara and Jake Gioffre.
"From a sustainability perspective, the soil is one of our most important resources, and is one that often gets overlooked," said Gioffre, UD Class of 2022. "I joined the team to learn more about soil health and soil quality, and how to see these features in the field."
The team was coached by Jenwei Tsai, a scientist with the Delaware Department of Natural Resources and Environmental Control.
"They can have a career in assessing environmental impacts," said Tsai, who competed in soil judging as an undergraduate student at the University of Illinois at Urbana-Champaign. "In identifying and classifying soils in the field, they use morphological properties and determine drainage at this site, what type of septic systems could be installed, and if a site qualifies as prime farmland."
Coach Tsai praised the foursome's togetherness in a competition where communication and delegation are paramount in the group judging component. Mina and Williams took on the responsibility of explaining the rules and expectations to soil judging newcomers Bara and Gioffre.
"Participating on the soil judging team confirmed for me that I'm really passionate about and interested in soils, what makes them different from each other, and how those differences can affect the biotic community that they support," emphasized Bara, UD Class of 2022.
UD placed fourth in the group competition. During the individual showcase, all four UD participants earned high finishes in a field of 64 students with Gioffre in fifth, Williams in 11th, Bara in 13th and Mina in 15th.
"It was hands-on. The soil pits are on a massive scale. It was really cool to see a cross-section two-, three-, four-plus feet into the ground," detailed Gioffre. "I also liked the competitive aspect of the whole thing, and the sense of being on a team."
Soil judgers have high employment rates across the U.S. — sought after by organizations such as the U.S. Department of Agriculture Natural Resources Conservation Service, state agencies and private environmental consulting firms.
"The experience provided me with a good foundation of soil science knowledge to engage in informative conversations with others," said Bara. "I really hope to be able to apply the experience from soil judging to my career in sustainable agriculture. The experience will be invaluable for my future.

"The whole experience brought me into contact with people who have made working with soil a big part of their life," added Gioffre. "I was able to get inside advice on what certain jobs would be like, and made some initial connections in the field of soil science."
At nationals in the spring, they'll face up to 25 test pits in a region of the country with soils that they have never seen before.