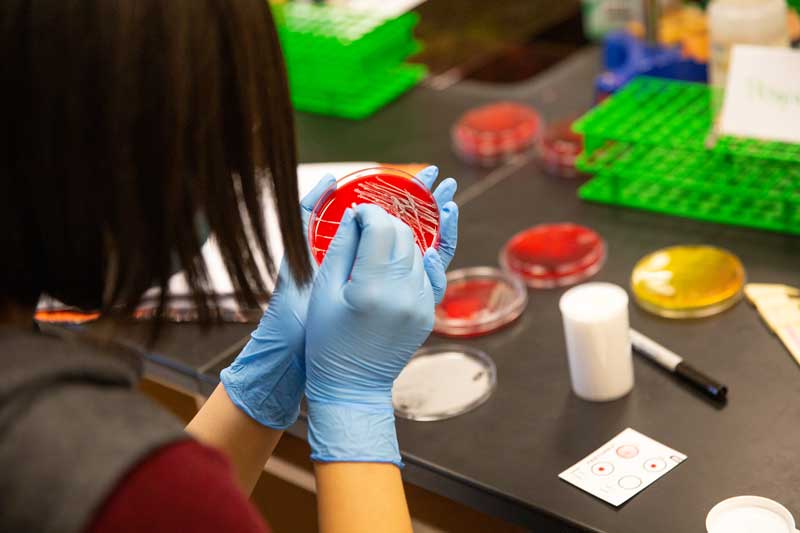 Why Major in Medical Diagnostics?
Access to quality healthcare for all is one of the most significant grand challenges of the 21st century.  Quality healthcare begins with an accurate and timely diagnosis, and this is where Medical Diagnostics majors have a distinct advantage in their pursuit of graduate and/or professional studies in medicine, dentistry, podiatry, and optometry.  Medical Diagnostics is a clinical-oriented science program that incorporates the basic science courses required for admission to medical school with medical-related courses that impact on the diagnosis and therapy of disease. Students learn the pathophysiology of diseases in five major areas of study: Clinical Chemistry, Hematology, Immunohematology, Immunology and Medical Microbiology. Students study detailed information about laboratory analysis and how laboratory data correlates to human disease.
Uniqueness of Our Program
The Medical Diagnostics major studies a wide range of disease processes and patient diagnostic patterns, and applies this information to patient case studies in order to evaluate hematological, microbiological and biochemical disease states. The program is enhanced by excellent faculty working at the frontiers of their field. Faculty are noted researchers who are making fundamental contributions to their respective fields including cancer, diabetes, nanomedicine, immunology and infectious disease. Students often participate in faculty research through independent study. Capstone experience includes opportunities to interact with healthcare providers in areas such as mental health, emergency medicine, pediatrics and others.
The medical diagnostics major culminates in the awarding of a bachelor of science degree. Students enter the University as freshmen or transfer students with a declared interest in medical laboratory and diagnostics (MTI) for the purpose of advisement. Consideration for admission to the major at the end of the sophomore year is based on the following criteria:
Approximate grade point index of 3.00 for the first 4 semesters; and
Completion of at least 60 credits including designated chemistry, biological science, physics, mathematics, and kinesiology and applied physiology prerequisites prior to admission into the major. The science prerequisites include BISC 207, BISC 208, BISC 300, CHEM 103, CHEM 104, CHEM 321, CHEM 322, and the science sequence of BISC 276 and PHYS 201/PHYS 202 or KAAP 309/KAAP 310. The mathematics prerequisites include one of the following courses: MATH 114, MATH 115, MATH 117, MATH 221, or MATH 241. In addition, the student must have made satisfactory progress towards a baccalaureate degree.
The first two years provide courses in the basic sciences and liberal arts. The third and fourth years primarily focus on medical-related courses. Students pursuing this major are interested in attending professional or graduate schools immediately upon graduation. Medical schools and other professional graduate programs require that students complete volunteer experience in a health-related or a people-oriented environment.
Students interested in medical, dental, or optometry school, should contact the Center for Health Profession Studies. Advisors in the Center will help students be strong candidates for these professional schools. In addition, students planning to apply to these professional schools should open a Health Professions Evaluation Committee (HPEC) file. Students evaluated by this UD committee will have an institutional letter submitted to their application to professional schools. Advisors in the Center can assist students in completing the HPEC file.
STAR Ambassador alumna grateful for med diagnostics major in PA school: youtube.com/watch?v=qKpLo2gko_0
MEDICAL DIAGNOSTICS RESOURCES: