Climatology Degree Programs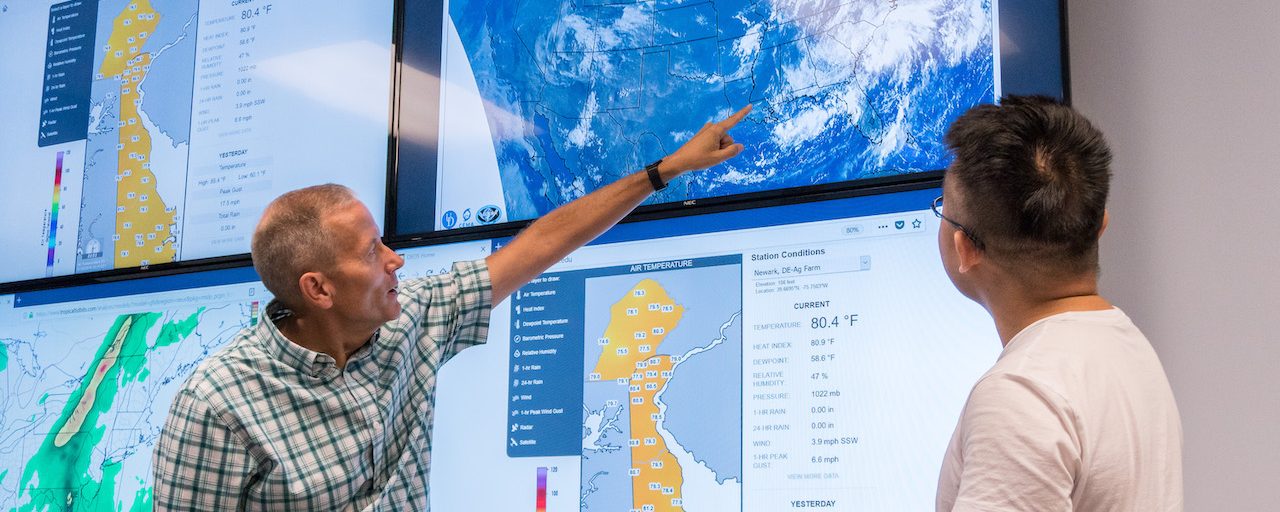 Students in our climatology degree programs study the climate, which is usually considered to be an average of weather conditions over a long period of time, along with understanding the variability of climate and its extreme events. Studies in this area will include land-ocean-atmosphere interactions, as well as the role of the sun and astronomical forces. The skills students develop in weather and climate prediction are important skills used in the agricultural, tourism, disaster management, resource management, communication and renewable energy industries.
Our program boasts a solid tradition of climate research with strong connections between weather and various sectors of society such as renewable energy, disaster management and agriculture. Students have immediate access to climate and weather experts and resources through the Office of the Delaware State Climatologist and the Center for Environmental Monitoring and Analysis, both based at the Department of Geography and Spatial Sciences along with the major. Students also benefit from strong, established partnerships with the National Weather Service, broadcast agencies and national climate centers.
Program areas include the physics of climatology (thermodynamics, radiation and cloud processes), atmospheric dynamics (forces and flows), measurement (microclimatological methods and instrumentation, and remote sensing) and computational methods for data analysis and synthesis.
For more information on degree requirements, visit the UD Course Catalog and review the current GSS graduate policies.
graduate grade point index of 3.0 or higher

GRE verbal and quantitative score of 300 or higher
A prior Master's degree in Geography is expected. Applicants with degrees from a program other than Geography may be considered if students can demonstrate similar preparation.
Applications should demonstrate applicants' preparation in methodological techniques appropriate to their particular interests
Applicants to the Ph.D. program in climatology are expected to have completed a master's degree in geography, geology, atmospheric science, oceanography, environmental science, or meteorology, but students from other sciences, engineering, and the social sciences are encouraged to apply. Admission eligibility is evaluated on the basis of both the quality and the range of their education. Requirements of specific mathematical background (calculus through ordinary differential equations) and of computer analysis and programming skills will be required prior to admission, whereas any deficiencies in the topical core may be taken care of by course work during the degree program.
Through the Ph.D. program, students are expected to acquire general knowledge of climatology, including physics of climatology (thermodynamics, radiation, and cloud processes), atmospheric dynamics (forces and flows), measurement (microclimatological methods and instrumentation, remote sensing) and computational methods for data analysis and synthesis.  
The courses listed below constitute the areas expected during the written qualifying examination.
GEOG 612 - Physical Climatology (4cr.)
GEOG 620 - Atmospheric Physics and Thermodynamics (3cr.)
GEOG 623 - Atmospheric Dynamics (3cr.)
GEOG 653 - Meteorological Analysis I (3cr.)
MAST 609 - The Oceans and Climate Change (3cr.)
Methodological Courses
Methodological courses provide the groundwork for our graduate students along with additional courses in statistics, computer science and engineering.
Specialized Knowledge
In addition to the core knowledge, specialized knowledge is required in two areas, one of which is topical (covering the specific research area) and the other being in technical methods. Typical technical methods include graduate course work in statistics, mathematics, computer science, or related sciences that are relevant to the area of research of the dissertation. Determining that a suite of courses adequately fulfills these requirements is the responsibility of the student's Advisory Committee.
The doctoral dissertation must be original research contributing to knowledge following the traditions of the scientific method.
This research is conducted by the candidate in collaboration with the Advisory Committee.
Leadership and clear contributions to scientific knowledge must be demonstrated by the candidate.
The dissertation must not be based solely on literature review, but include new data collection, data analyses, experimentation, and/or modeling.

Step 3
Click the Submit Application link to create an online account. You will receive a temporary account PIN that you can use to create a new password.

Step 4
Start a new application. Fill out your biographical information, select your program of study and follow the on-screen prompts.